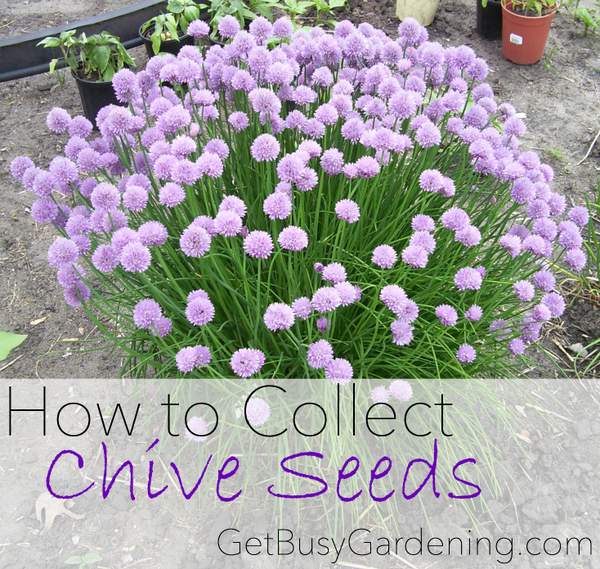 Chives are an easy to grow perennial herb. Not only are they delicious to eat, but chives also look gorgeous in the garden when they're in full bloom. But soon those flowers will fade and start to turn brown, which is a good thing if you want to collect chive seeds. Chive seeds form inside the flower heads after the flowers have faded and dried out.
Collecting chive seeds is easy. Allow the flower heads to dry out on the plant, but don't leave them on for too long or the seeds will blow away.
You can tell the seeds are ready to harvest when you see black spots inside the flower heads. If you shake the plant and seeds start to fly out, you know it's time to collect the chive seeds.
How to Collect Chive Seeds in Your Garden
To collect chive seeds, gently shake the flower heads over a container. You could also clip the flower heads off the plant and drop them into a paper bag. Then fold over the top of the bag and shake it to release the chive seeds from the flower heads.
Chive seeds are easy to spot and separate from the chaff (the flower pieces and other debris). Chive seeds are black, and they're about the size of sesame seeds.
If you want to separate the seeds from the chaff (you don't need to do this), dump them onto a flat surface, and lightly blow on the pile. The lighter pieces of chaff will blow away.
Allow the chives seeds to dry out completely before storing them. I like to make my own seed envelopes for storing and sharing my chive seeds.
Chives will also self sow, so if you don't want volunteer chive seedlings you should deadhead your chives as soon as the flowers fade, before the plant sets seed.
Chives are easy to collect and grow from seed. Take a little time to collect the seeds, and you'll have lots of chive seeds to share with your friends or trade for other seeds.
If you don't have chives growing in your garden, here are some great, quality seeds you can buy to get started… Chive Seeds or Garlic Chives Seeds.
More Posts About Collecting Herb Garden Seeds
What tips would you add for collecting chive seeds from your garden?
Pin It!