Harvesting radish seeds is fun, and a great way to save a little money. In this post, I'll tell you everything you need to know about when and how to collect radish seeds from your garden, step by step!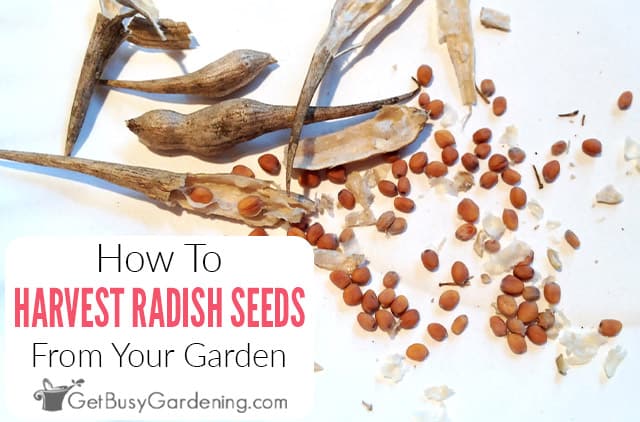 Collecting radish seeds from your garden is a no brainer. It's frugal, and you can even trade with your friends for different varieties.
Every year that I grow them, I always make a point of gathering radish seeds. It's one of my favorite veggie seeds to harvest and save from my garden, and also one of the easiest.
If you have radishes in your vegetable garden this year, you should absolutely try saving the seeds. Below I will show you exactly how to do it for the best success.
Here's what you'll find in this detailed guide for how to harvest radish seeds…
Harvesting Radish Seeds From Your Garden
No matter which variety you grew, you can easily harvest radish seeds from your garden.
You will have to forfeit a few radishes in the process, but the tradeoff is worth it for tons of free seeds to plant next year.
Do Radishes Have Seeds?
Yes, radishes have seeds. But, if you pull them so you can eat them, you'll never see the seeds. That's because they don't form on the plant until after the root is no longer edible.
If you're interested in saving them, you have to sacrifice some of your bounty. This is unfortunate, but think of all the seeds you'll be able to save for next year.
How Do Radishes Produce Seeds?
In order to produce seeds, radishes must first bolt (i.e.: flower). Once that happens, the root will no longer be edible.
Don't worry, you will get lots of seeds from one plant, so you don't need to sacrifice too much of your food in the process.
When Do Radishes Go To Seed
Hot weather triggers bolting. So, they usually go to seed sometime in early to mid summer. It could be sooner or later than that though, depending on where you live.
Where Do Radish Seeds Come From?
Radish seeds come from the seed pod that forms on the plant after the flowers fade. Not long after forming, the pods will turn brown, which makes them hard to miss.
When To Harvest Radish Seeds
Radish seeds are ready to harvest when the pod is brown and completely dried out. To know for sure, give the pods a gentle shake. If you hear rattling inside, that's a sure sign they're ready.
Eventually the pods will split open on their own. So be sure to harvest radish seeds before the pods start opening, otherwise they will scatter and be lost.
What Do Radish Seed Pods Look Like
Once the tiny flowers fade, you will notice the pods starting to appear. Radish seed pods look similar to a small bean, and are green when they first form.
Fun fact, you can actually eat the pods when they're tender and green! However, at that point, the seeds inside are not viable. So, if you want to save them, then you need to leave the pods on longer.
What Do Radish Seeds Look Like
Radish seeds are oval shaped, and slightly larger than a sesame seed. Their color varies depending on the variety, and can be anywhere from tan to dark brown.
How To Harvest Radish Seeds
Collecting radish seeds doesn't take much time, and you don't need any special equipment to do it. Here are the few things you'll need…
Supplies Needed:
Step 1: Remove the seed pods – Use a sharp precision pruner to clip the seed pods from the plant, Then simply drop them into your baggie, paper bag, or whatever type of container you're using.
Optional method: If you prefer, you can break open the pods while they are still attached to the plant.
To do this, position your small bucket or bowl so it's directly under the pod. Then squeeze it to break it open and gather the seeds.
Step 2: Bring them inside – After you've harvested all the radish seeds or pods that you want, bring them inside the house to prepare them for storage.
What To Do With Radish Seeds After Collecting
After you're done harvesting radish seeds from the plants, it's time to prepare them for storage.
For the best success, you should remove them from the pods, separate the chaff, and thoroughly dry them.
How To Separate Them From The Chaff
It's important to separate the seeds from the pod and chaff (i.e.: pod pieces, and other debris) before storing them.
If you've gathered the whole pods, gently break them apart, and the seeds will fall out.
To clean out the chaff, spread everything out on a flat surface. Pick out the largest pieces of chaff by hand. Then, gently blow on the rest to get rid of the lighter and smaller debris.
How To Dry Them
After harvesting radish seeds, make sure they are completely dry before storing them. If there's any moisture left at all, the seeds can mold.
To dry them, spread them on a flat surface, and protect from moisture. Then, let them air dry for at least a week, and you're good to go.
How To Save Radish Seeds For Next Year
You can plant radish seeds as soon as you harvest them, or store them until spring. Use a plastic container or paper bag to stash them.
Other options are to put them into a small envelope to save them, or share them with friends. Learn how to make DIY seed packet envelopes.
Take it one step further and organize your seed packets into pocket sheets, then put them into a 3-ring binder or a storage box.
How Long Do Radish Seeds Last?
When kept in a cool, dark, and dry location, radish seeds can last 5-6 years. So you don't have to worry about using them right away.
But, to keep the freshest stash possible, I recommend harvesting new radish seeds yearly, and either planting, trading, or discarding the oldest ones.
Where To Buy The Seeds
You can easily find lots of different varieties of radish seeds at any home improvement store or garden center in the late winter or early spring.
Or you can buy them online pretty much any time of the year. Here are some great, quality ones to get you started…
Harvesting and saving radish seeds from your garden is fun, and super simple. It is so great to be able to use your own collected seeds year after year, without ever having to purchase new ones.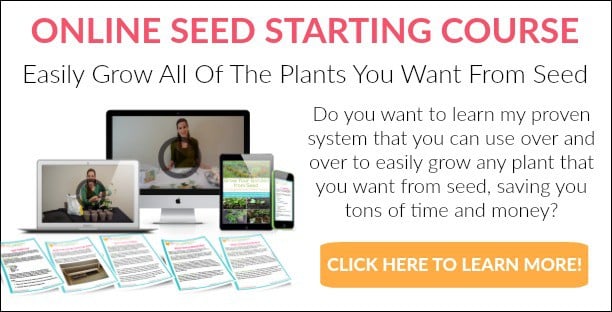 If you're tired of trying to figure out how to successfully grow your seeds by trial and error, you should take my Seed Starting Course! It's a comprehensive online course that you can take at your own pace, and it will walk you thorough everything you need to know step by step. Enroll and get started right now!
Otherwise, if you just need a quick start guide or refresher, then my Starting Seeds Indoors eBook is perfect for you. Download your copy today!
Up next, learn all you need to know about how to grow radishes from seed.
Related Products
More Posts About Saving Seeds
Share your tips for collecting and saving radish seeds in the comments below.
Print This Guide On How To Harvest Radish Seeds