Unseasonably warm weather seems to be the trend across North America this winter. How is this affecting winter sowing?
Some people have been reporting premature sprouting of their containers, and others have told me they are waiting to start winter sowing because they're concerned it's too warm.
Winter sowing containers in snow
I have had the same concerns and that's partly why I've waited until recently to start winter sowing. The main worry is that the containers will sprout too early during a warm spell, and then be killed off by freezing temps. For the most part, you shouldn't have to worry.


Perennials, hardy annuals and cold weather vegetables will survive just fine. Last year, my broccoli was sprouting in containers where the soil was still frozen, and there was ice on the inside of the lid!
Broccoli sprouts in frozen container
However, if you have tender annuals or warm weather vegetables that are sprouting, you will probably need to protect them from freezing temperatures.
Here are a few tips to try…
Put your non-sprouting containers in full shade. If the sun doesn't hit the containers, they should stay cold enough to keep them from sprouting. Also, cover them with snow whenever you can. The snow will help keep the sun out, and act as an insulator to keep them cold.
If the containers are sprouting and the weather forecast calls for freezing temperatures, then you could either cover the containers with a blanket, or move them inside until the freezing spell passes. (If they're already covered with snow, they should be fine) As a general rule, if the mature plant wouldn't survive a frost outside unprotected… then I would cover the container (only if it's sprouting) during freezing weather.
Depending on where you live, you might want to wait to winter sow your warm weather annuals and vegetables. Here in z4, I usually wait to start mine until March. This year, I may wait a few weeks longer, depending on the weather forecast.
Save some of your seeds just in case. I always save a few seeds until spring just in case something goes wrong with my winter sown containers. It's a good habit to get into, no matter what seed sowing method you use.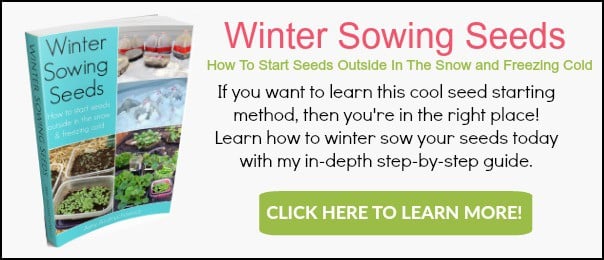 How about you, has this unseasonably warm winter weather changed your winter sowing plans this year?