Winter sowing containers can be made out of items you throw out every day; like milk jugs, 2 liter bottles, food containers from a restaurant, deli or bakery, or even ice cream buckets. There are many different types of containers you could use for winter sowing, but there are certain things to keep in mind when looking for the best containers.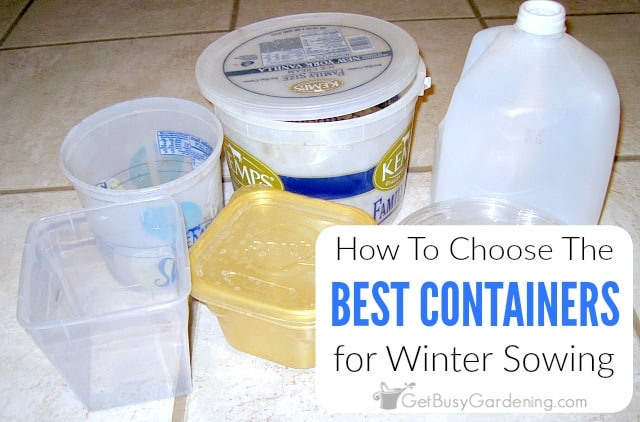 One of the main questions I hear from first time winter sowers is, what type of winter sowing containers are the best?
This is definitely something that becomes a personal preference over time. Everyone has their own favorite types of containers, so it's best to experiment with all kinds of different ones to see what you like.
There's really no limit to the type and shape of containers you can use for winter sowing, but there are a few important rules to follow when looking for winter sowing containers…
Rules For Choosing Winter Sowing Containers
Winter sowing containers should be made out of plastic or foil
Use containers with clear lids so that sunlight can shine through
Each container needs to be deep enough to hold 2-3 inches of soil
Your winter sowing containers should be tall enough to allow for a few inches of headspace so the seedlings have plenty of room to grow
Choosing The Best Types Of Containers
When it comes to choosing winter sowing containers, the final decision boils down to what you prefer and what types of containers are available to you.
The types of containers I prefer to use for winter sowing are ones with lids that are easy to take off and put back on, like ice cream buckets and food containers. Milk jugs also work very well for winter sowing, and are readily available to most people.
How Long Do Winter Sowing Containers Last?
Some containers will hold up to the elements better than others. I've had containers that start to disintegrate after only a few months of being outside. I've had others that hold up very well, and I can use them for multiple years.
I especially like containers that can withstand the heat of the dishwasher without melting. This makes the task of cleaning hundreds of winter sowing containers much easier.
I've noticed that if my winter sowing containers can survive in the dishwasher, they usually last longer so I can use them for more than one year.
One thing to note is that some "plastic" take-out containers are actually made out of corn, which is great for the environment… but not great for winter sowing seeds unfortunately (and these will disintegrate in the dishwasher).
Types Of Containers You Can Use For Winter Sowing
Large milk, soda, juice or water bottles
Old food storage containers (look for these in the free bin at garage sales)
Disposable food storage containers (I like the larger 64 oz size, or the 48 oz size for shorter seedlings)
Ice cream buckets
Restaurant take-out containers (these are some of my favorites)
Food containers from the grocery store deli (I like these)
Containers from bakery goods

Pros And Cons Of Various Containers
Like I said, there are tons of options when it comes to choosing containers for winter sowing, and by now your head might be spinning.
So, if you're still not sure how to choose the best containers for winter sowing, let me break down the pros and cons of the various types of containers to help you decide.
Large milk, soda, juice or water bottles
Hands down the most popular type of container used for winter sowing is one gallon milk jugs! Winter sowing milk jugs and other types of plastic jug containers are great, but they are not necessarily the best choice for everyone. I don't know about you, but I don't drink much milk (or soda or juice for that matter), and when I do, I usually buy small containers of it. So, milk jugs aren't as readily available to me as they are to others.
Oh, and keep in mind that many manufacturers are making milk jugs opaque because light is apparently bad for the milk… and the opaque jugs won't work for winter sowing. So be sure to use clear milk jugs.
Benefits:
Most can be used for multiple years
Plenty tall enough
The tops come off allowing for the perfect amount of ventilation, no need to poke holes in the lid
Things to look out for:
They aren't dishwasher safe
Not always easy to find unless your family are big milk, juice or soda drinkers
You have to cut them in half to plant them, then tape them back together (this tape works great by the way!)
Disposable and old food storage containers
I have tons of these types of containers in my winter sowing stash. I've purchased some of them, but most of them I've saved and reused. In addition to disposable food storage containers, old Tupperware (and other name brand) containers can work great too. I find them in the free bins at garage sales. It seems they'll last forever!
Benefits:
Dishwasher safe
Most can be used for multiple years
Lids fit on tight and won't blow away
Things to look out for:
Some types of disposable containers will start to disintegrate after only one season
The smaller sizes aren't deep enough for winter sowing
Ice cream (or other large) buckets
Ice cream, and other large buckets are another one of my favorites. I've found that the type of containers that sherbet comes in are more durable than one gallon ice cream buckets.
Benefits:
Deep enough and allow plenty of headspace for seedling growth
Dishwasher safe
Lids fit on tight and won't blow away
Things to look out for:
Most ice cream buckets I've used only last one season before they start to crumble
Grocery store deli, produce and baked goods containers
There are tons of potential winter sowing containers in the deli, bakery and produce sections at the grocery store. My favorites are the ones that salad greens come in. Disposable deli and produce containers are generally more durable and last longer than the types of containers baked goods come in. Just be sure to choose containers that are deep enough.
Benefits:
There are many sizes to choose from
Most deli containers (that come with potato salad, etc.) are dishwasher safe and can be reused
Things to look out for:
Most containers from the bakery section are not dishwasher safe
Many can be flimsy and start to crumble after only one use
Some don't have removable lids (they fold over), making them harder to work with
Lids don't always fit on tight and may blow away
Restaurant take-out containers
Some types of take-out containers you get when you order salads or other food from a restaurant would work great for winter sowing. There's a wide variety of take-out containers, and some are more durable than others.
Benefits:
Wide variety, and some are reusable
Some are deep enough for tall seedlings
Things to look out for:
Most are not dishwasher safe
Many aren't deep enough for winter sowing
Making Modifications to Winter Sowing Containers
What if you have a great winter sowing container, but it doesn't have a lid… no problem. You can make some easy modifications to turn it into the perfect container for winter sowing seeds.
All you have to do is simply cover the container with a plastic bag and secure it at the bottom with a twist tie, then poke a few holes in the plastic to allow moisture in and to vent the container.
Make sure to pull the plastic as tight as you can so it won't blow away. If the container will fit into a plastic bag, you can put it all the way inside… but make sure that you poke holes in both the top and the bottom of the bag, as well as in the bottom of the winter sowing container.
If you're just starting out with winter sowing, it's best to experiment with several different types of containers to find your favorites. Even if you know a container will only last one season, try it out. Sometimes you have to take what you can get until you build up a collection of reusable containers.
The possibilities are endless, but if you're struggling to find good containers in your own recycling bin, ask your friends and neighbors to save containers for you!
If you want to learn more about winter sowing seeds, then my Winter Sowing eBook is just what you need! It's an in-depth step-by-step guide that will show you how to winter sow your seeds. Download your copy today!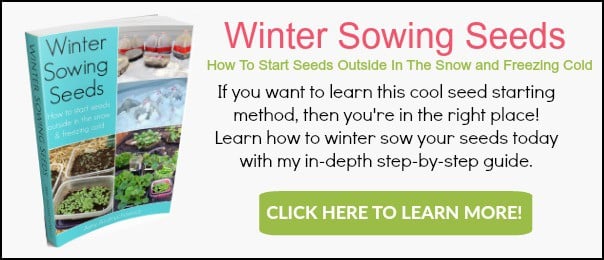 If you want to learn how to start all of your seeds for your garden, and how to mix the different methods of sowing seeds (including winter sowing, indoor seed sowing, and direct sowing) to make growing seeds super easy, then my Online Seed Starting Course is just what you need! This fun course is designed to help gardeners learn how to start their plants from seed in order to save money on their gardens, and grow any type of plant they want from seed. Enroll in the course and get started today!
Recommended Products
More Posts About Winter Sowing
Share your favorite types of winter sowing containers in the comments section below.