Winter sowing is a technique that is used to start seeds outside during the winter. The seeds are sown in miniature greenhouses that you make yourself using recycled plastic containers. There are many different types of containers you could use for winter sowing, and it's fun to experiment.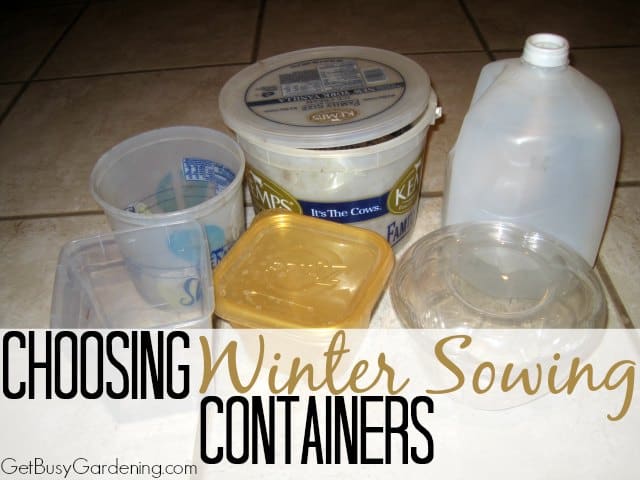 Rules for choosing winter sowing containers
Winter sowing containers can be made out of items you throw out every day; containers like milk jugs, 2 liter bottles, restaurant/deli/bakery food containers, ice cream buckets… etc. There's really no limit to the type and shape of containers you can use for winter sowing, but there are a few important rules to follow when looking for winter sowing containers…

Winter sowing containers should be made out of plastic (you could use containers where the bottom is made of Styrofoam or foil too, as long as you can poke holes in them)
The lid on a winter sowing container should let light through (i.e.: the container should not be completely opaque)
Winter sowing containers need to be deep enough to hold 2-3 inches of soil
Your winter sowing containers should be tall enough to accommodate the height of the seedlings as they grow (allow a few inches of headspace)
My top picks for winter sowing containers
Old food storage containers (look for these in the free bin at garage sales)
Disposable food storage containers (I like the larger 64 oz size, or the 48 oz size for shorter seedlings)
Ice cream buckets
Food take out containers (these are some of my favorites)
Food containers from the grocery store deli (I like these)
Containers from bakery goods
When it comes to choosing winter sowing containers, it boils down to what you prefer and what types of containers are available to you. The types of containers I prefer to use for winter sowing are ones with lids that are easy to take off and put back on, like ice cream buckets and food containers. Milk jugs also work very well for winter sowing, and are readily available.
I especially like winter sowing containers that can withstand the heat of the dishwasher without melting. This makes the task of cleaning hundreds of winter sowing containers much easier. I've noticed that if my winter sowing containers can survive in the dishwasher, they usually last longer so I can use for more than one year.
Some winter sowing containers will hold up to the elements better than others. I have had containers that start to disintegrate after only a few months of being outside. I've had others that hold up very well and I can use them for multiple years.

Making Modifications to Winter Sowing Containers
What if you have a great winter sowing container, but it doesn't have a lid… no problem. You can make some easy modifications to turn it into the perfect container for winter sowing seeds.
Simply cover the container with a plastic bag and secure it at the bottom with a twist tie, then poke a few holes in the plastic to allow moisture in and to vent the container. Make sure to pull the plastic as tight as you can so it won't blow away. If the container will fit into a one gallon zipper bag, you can put it in and zip it up… but make sure that you poke holes in both the top and the bottom of the bag, as well as in the bottom of the winter sowing container.
One thing to note is that some "plastic" take out containers are now made out of corn, which is great for the environment… but not great for winter sowing seeds unfortunately (and these will disintegrate in the dishwasher). It's best to experiment with containers and see what you like. Sometimes you have to take what you can get, and then you'll know what winter sowing containers to choose for next year.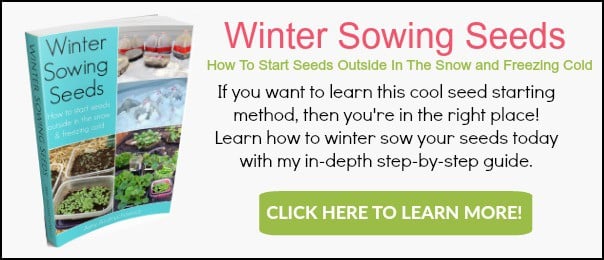 To learn more about winter sowing and how to winter sow seeds, click here… Winter Sowing
What are your favorite types of winter sowing containers?

Pin It!