Winter sowing is a fun and easy way to start seeds outside during the winter. Seeds are sown in miniature greenhouses that you make yourself using recycled plastic containers, and then put outside in the snow and freezing cold. The rest of the work is left to Mother Nature. Once the weather starts to warm in the spring, the seeds will germinate at their own pace, just as in nature.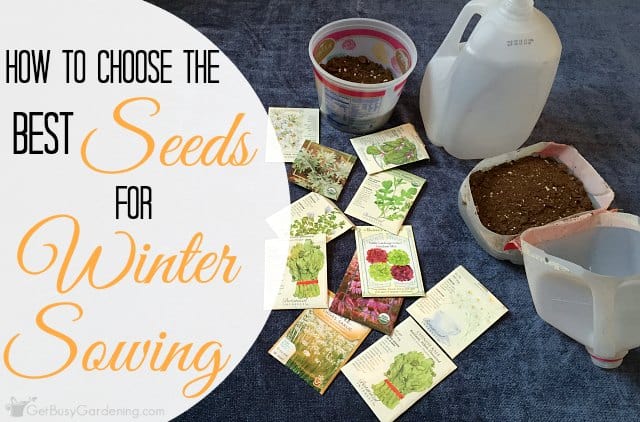 Sounds awesome, right? Well, it is but.. (there's always a "but" right?) you can't just use any type of seed with the winter sowing method. Some types of seeds work great, but others will only rot. It's important to know what to look for in finding what seeds to winter sow.

What Seeds To Winter Sow
Generally speaking, perennial seeds, cold weather vegetables and herbs, and cold hardy annuals are the best seeds for winter sowing. Some warm weather vegetables, like certain varieties of peppers and tomatoes, could work with the winter sowing method. But (there's that "but" again), depending on where you live, these warm weather veggies might not do very well. The seeds may sprout, but in cold climates like mine (Minneapolis z4b), they won't always have enough time to mature before it's time to transplant them into the garden.
Related Post: Cleaning Winter Sowing Containers
If you're unsure whether a seed will work for winter sowing or not, check the seed packet. There are certain keywords to look for that will tell you if that is the right type of seed to winter sow.
How To Choose The Best Seeds For Winter Sowing
Keywords like these are good indicators of seeds that will work well for winter sowing. Look for these keywords on the seed packet…
"self sowing"
"direct sow outside in the fall"
"direct sow outside in early spring"
"cold stratification"
"cold hardy"
"perennial"

If after reading the seed packet you're still unsure if your seeds will work with winter sowing or not, then try experimenting! Plant one container of the seeds, saving several seeds to start with your regular method. That way you will know if those seeds work with the winter sowing method. And, if they don't sprout, you still have your favorite seeds to sow in the spring. Heck, experimenting with different varieties of seeds is half the fun of winter sowing.
Winter Sowing Seed List
Here is a list of several types of seeds that work great with the winter sowing method. Of course, this isn't meant to be an "all-inclusive" list. This list is just a small sample of seeds that have worked for me, and should help give you an idea of the types of seeds that work great for winter sowing. Here's a quick list with examples of some of the best seeds for winter sowing.
If you're looking for a nice mix of seeds you can winter sow to get an early start your vegetable garden, this mix of edibles would be perfect to add to your winter sowing seed list.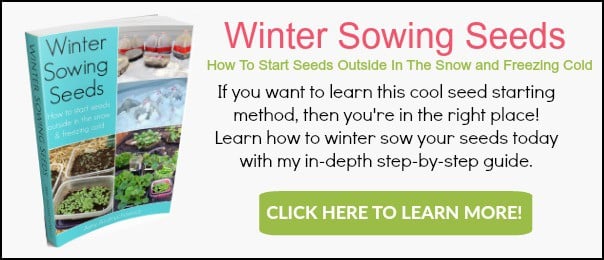 More information about winter sowing
Other winter sowing resources
To learn more about winter sowing and how to winter sow seeds, click here… Winter Sowing
Share your list of the best seeds for winter sowing in the comments section below.
Pin It!