The winter sowing method for starting seeds is a cool way to start seeds outside during the winter. The seeds are sown in miniature greenhouses (winter sowing containers) that you make yourself using recycled plastic containers. There are many different types of containers you could use for winter sowing, and many of these containers are durable enough to be used year after year.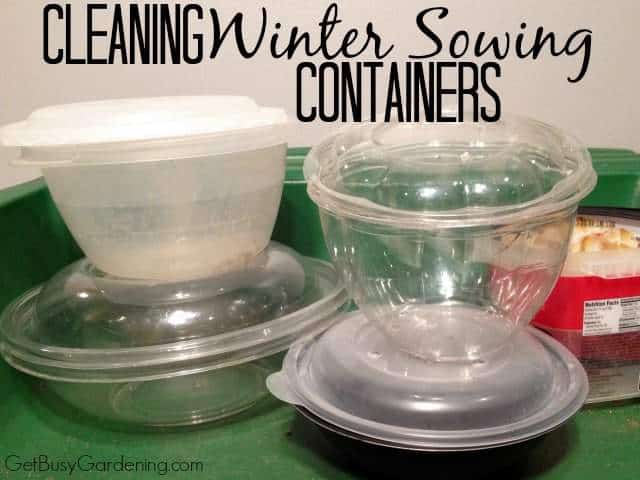 As I mentioned in the post about choosing winter sowing containers, my favorite types of winter sowing containers are the ones that will survive the dishwasher and can be reused for a few years. Not only does this make life easier every year, since I don't have to find all new containers, but it makes cleaning all of those winter sowing containers a much easier task. So every year, I dig my reusable winter sowing containers out of the garage and started cleaning them.


Cleaning Winter Sowing Containers
It's easy to clean winter sowing containers using the dishwasher. First I use a dry rag or a brush to wipe off the bulk of the dirt left over from last year, then I load the containers into the dishwasher. Once the dishwasher is full, I run it on the rinse or quick wash cycle, which runs just long enough to clean off the dirt and residue. I don't put soak into the dishwasher, because the hot water rinse will clean them good enough.
Related Post: Winter Sowing FAQs – Getting Started
To clean the non-dishwasher safe winter sowing containers (like milk jugs, 2 liter bottles and containers from bakery goods/food takeout), I soak them in the sink with soapy water and wash them by hand. It's just a quick wash to remove some of the dirt and residue. Don't worry, you don't have to clean winter sowing containers as well as you do with indoor seed sowing equipment, where you have to disinfecting the seed flats and trays.
Examples of Dishwasher Safe Winter Sowing Containers
It probably goes without saying… but not all types of winter sowing containers will survive the dishwasher. Most containers you find in the bakery section, and many types of food takeout containers are not dishwasher safe. But, most types of food storage containers are dishwasher safe.
Even if something looks like it would be dishwasher safe, sometimes I will find one or two that have melted in the dishwasher (oops!) – so keep that in mind before you load up your dishwasher. Here are a few of my favorite types of winter sowing containers that are usually dishwasher safe…
Old food storage containers (look for these in the free bin at garage sales)
Disposable food storage containers (I like the larger 64 oz size, or the 48 oz size for shorter seedlings)
Ice cream buckets
Food take out containers (these are some of my favorites and they are dishwasher safe) – Food take out containers are hit or miss in the dishwasher, so use caution.
Food containers from the grocery store deli (I like these)
Finding winter sowing containers that can withstand the dishwasher, and survive outside in the harsh elements year after year is a huge time saver. It gets me busy winter sowing in no time.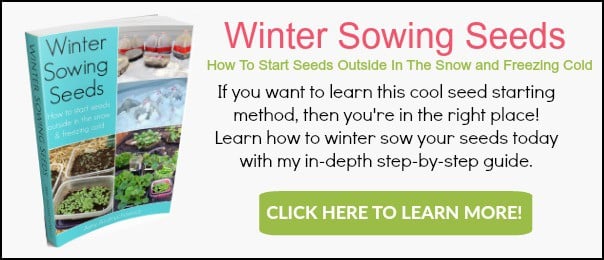 What about you, do you reuse your containers? Leave a comment below and share your tips for cleaning winter sowing containers.
Pin It!