Spider mites are sneaky little suckers. They are difficult to see, and usually by the time you notice them on a houseplant, it's already been heavily damaged. You might notice spider webbing on a houseplant, or the plant may look dirty.
From a distance, the houseplant might look like it isn't getting enough water… but take a closer look, hold the plant up to the light and look under the leaves. You should be able to see the tiny little mites moving around on fine webbing. Yuck!

What Are Spider Mites?
Spider mites are not technically insects, therefore cannot be controlled with insecticides, systemic or other. (So you don't have to worry about using any type of toxic chemical pesticides on your houseplants, we'll be able to stick with safe pest control methods!)
Spider mites thrive in warm, dry conditions – and during the winter, your house becomes the perfect breeding ground.
They tend to start their webs on the underside of leaves and at the leaf joints, so that's why they go unnoticed for so long.
Related Post: How to Control Soil Gnats
Spider mites multiply very quickly and, in the right conditions, can double their population every couple of weeks.
Spider mites become fully grown about a week after they hatch. It only takes a few weeks for an adult females to lay hundreds of eggs, and for those eggs to start to hatch, resulting in exponential population growth. Eek!
Spider Mite Damage On Houseplants
In my experience, spider mites are one of the most destructive houseplant pests. They can devastate or even kill a houseplant in a very short period of time.
Spider mites suck the sap out of the leaves making them look discolored, speckled, curled under, dried or shriveled up.
The infested leaves will die and start to fall off, which will ultimately kill the houseplant.
How To Control Spider Mites On Houseplants
There are chemical pesticides that are specifically designed for mites, but spider mites may develop resistance to them in a short time so I don't recommend them (plus pesticides are toxic to humans and pets too, so I wouldn't recommend using them anyway).
Try these safe pest control methods instead…
Use an organic insecticidal soap, or mix a solution of soapy water and spray it on the leaves of the infested houseplant (I use 1 tsp of Dr. Bronner's Baby-mild Liquid Soap per 1 liter of water). If the plant is small enough, bring it to the sink or shower and wash the leaves with this soap and water solution. Keep in mind that soap can damage the plant, so it's best to test it on a few leaves before spraying the entire plant.
Neem oil is very effective to control spider mite infestations, and also works for pest prevention as well. You can buy neem oil for pretty cheap, and a big bottle will last a long time. A pre-mixed horticultural oil or hot pepper wax spray also work very well for controlling houseplant pests.
Be sure to focus your sprays on the undersides of the leaves, this is where spider mites lay their eggs.
Since spider mites thrive in dry conditions, so keeping the air around your plants humid is one of the best spider mite pest prevention methods. Misting houseplants regularly helps to prevent spider mites. You could also try leaving a container of water near the plant or use a humidifier to help keep the humidity up around your plants.
Make sure to keep your houseplants healthy, and maintain adequate soil moisture. A soil moisture gauge is a great tool to use to figure out how moist the soil is. Maintaining healthy houseplants will allow them to protect themselves against spider mite infestations.
Trim heavily infested leaves from the plant and throw them in the garbage (but don't remove all the leaves from a houseplant).
The best way to avoid heavy spider mite damage to your houseplants is to start treating the plant as soon as you discover the pests.
As with any houseplant pest problem, make sure you check your houseplants on a regular basis for any signs of problems.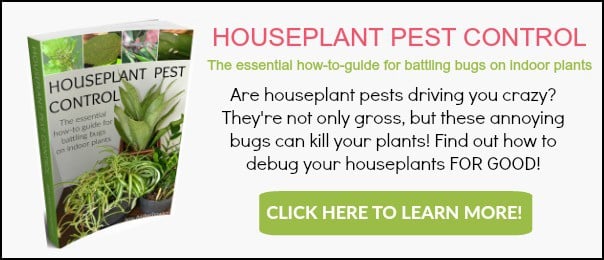 More Information About Plant Pest Control
Organic Pest Control Products I Recommend
For more information and tips for how to combat those super annoying indoor plant pests, click here… Houseplant Pests
Do you have any tips for controlling spider mites on houseplants? Share them in the comments below.