Spider mites look like tiny white spiders that create webs on houseplants, and they are extremely destructive pests. It can be difficult, but don't worry, you can get rid of spider mites on indoor plants, and eliminate them FOR GOOD!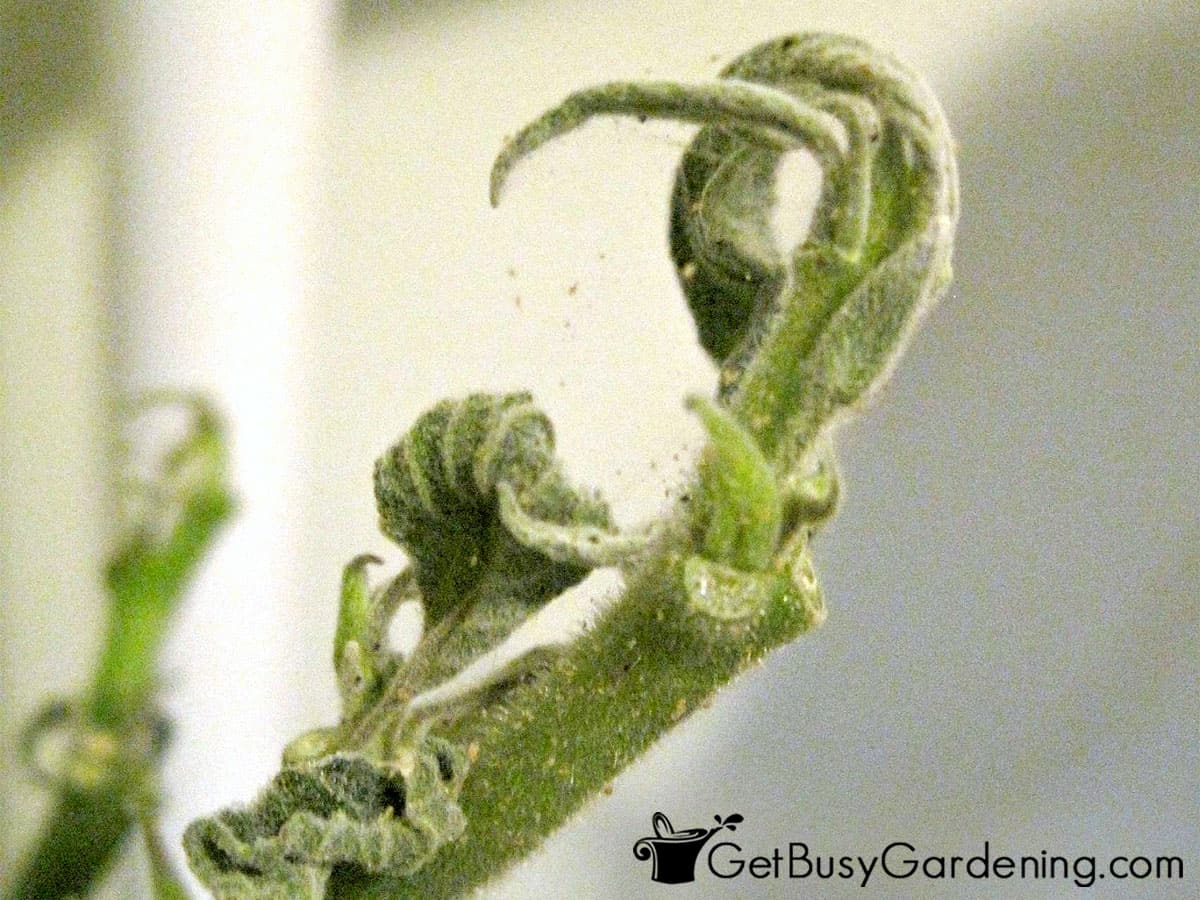 There's nothing more frustrating than finding a spider mite infestation on one of your beloved indoor plants.
They are one of the most destructive plant pests there is, so it's super important to get rid of them as quickly as possible.
But the good news is that, when it comes to getting rid of bugs on houseplants, these guys are pretty easy to control.
Simply follow the natural spider mite treatment methods below, and you'll be able to eradicate this annoying pest, for good!
In this detailed guide, I'll show you all you need to know about getting rid of spider mites on houseplants, and keep them from ever coming back.
What Are Spider Mites?
Spider mites are tiny bugs that can attack many different types of plants, and can be a major problem on indoor plants. Often times they look like tiny white spiders on plants, but can also appear to be tan, red or black.
They create telltale spider webs on houseplants, which they use for protection and to crawl around on. Since they are so small, spider mites aren't noticeable until their population explodes.
You'll likely notice the webbing on plants first, and then see the mites when you take a closer look. It will look like there are tiny spiders crawling all over your plant.
Spider mites thrive in warm, dry conditions and can become a major problem during the winter, when your dry house becomes the perfect breeding ground for them.
If you see small bugs crawling around in your houseplant soil rather than on the leaves, then you might have fungus gnats instead of spider mites. Here's how to get rid of fungus gnats in houseplants soil.
Otherwise, if the bugs are crawling around on the plant leaves, and you see spider webs on houseplants, then keep reading…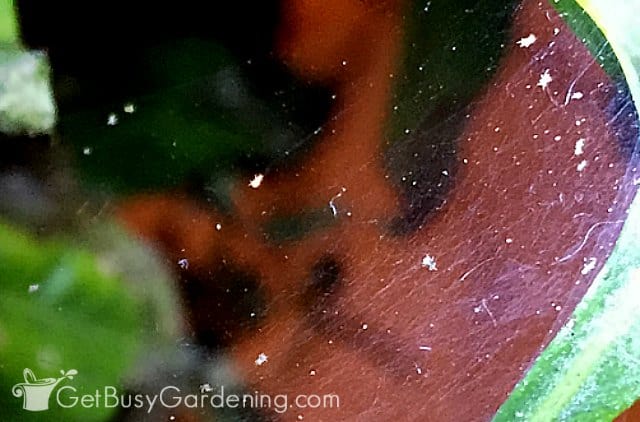 Indoor Plant Mites Identification
Spider mites are easy to identify, and finding spider webs on plants is a dead giveaway.
They tend to start their webs on the underside of leaves and at the leaf joints, so that's why they usually go unnoticed for so long.
They are sneaky little suckers. Like I mentioned above, they are difficult to see, and usually by the time you discover them on a houseplant, it's already been heavily damaged.
You might notice the whites spider web on plants first, or the plant leaves may just look dusty. From a distance, the houseplant might look like it isn't getting enough water and the leaves are drying out.
If you notice any of these, take a closer look. Hold the plant up to the light and look under the leaves. It may take a minute, but you should be able to see the tiny mites moving around on the fine webbing.
Yuck!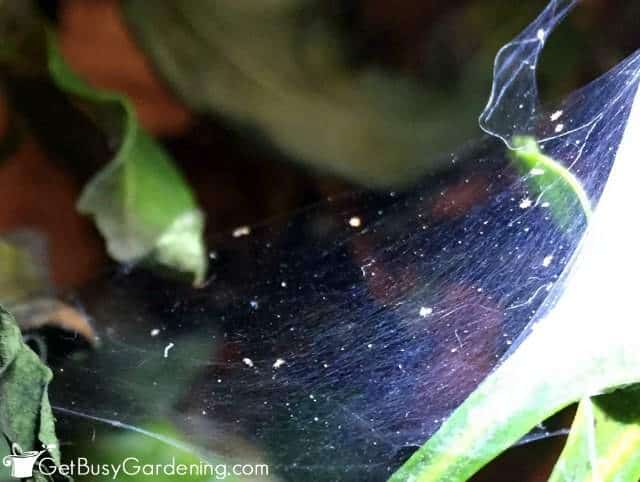 Spider Mite Life Cycle
Spider mites multiply very quickly and, in the right conditions, can double their population every couple of weeks.
Spider mites become fully grown about a week after they hatch. It only takes a few weeks for an adult female to lay hundreds of eggs, and for those eggs to start to hatch.
The end result is in an exponential growth in their population over a very short amount of time.
Eek!
Since the eggs are invisible to the naked eye, and the adults are minuscule, most people don't discover spider mites on their houseplants until after the population has exploded.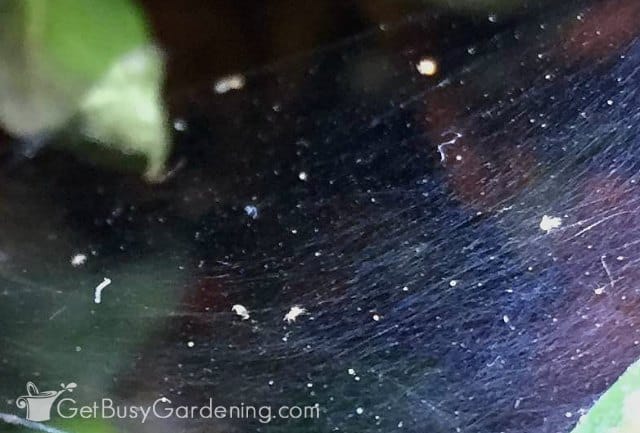 Where Do Spider Mites Come From?
The tricky part about mites is that they can come from anywhere, and you'll probably never know where they came from in the first place.
But, here are several common places where spider mites can come from…
Buying a new plant that has mites
Repotting plants with unsterile potting soil
Moving your plants outside for the summer
Flowers and vegetables brought in from your yard and garden
Since they're so small, they could easily come in through the screens of open doors and windows
Spider Mite Damage On Houseplants
Spider mites are one of the most destructive houseplant pests. They can heavily damage or even kill a houseplant in a very short period of time.
They suck the sap out of the leaves making them look discolored, speckled, curled under, dried or shriveled up.
The infested leaves will shrivel up and die, and usually fall from the plant, which will ultimately kill the houseplant.
Spider mites can kill indoor plants pretty quickly, so it's important to take fast action to get rid of them as fast as possible.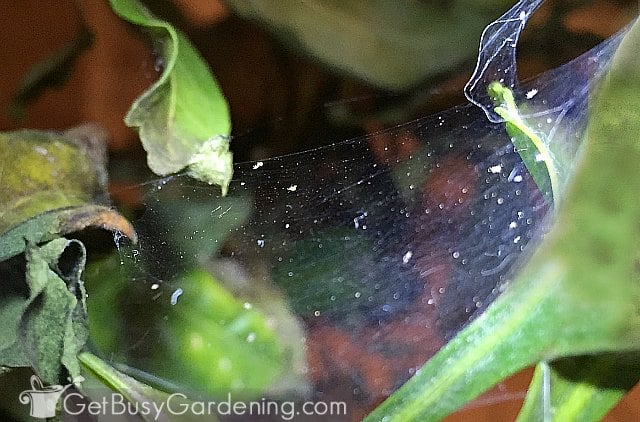 How To Get Rid Of Spider Mites On Houseplants
Once you discover the infestation, it's super important to begin spider mite treatment immediately, before they spread to the rest of your collection.
The first thing you should do is to quarantine the infested plant and inspect all surrounding houseplants for mites. You want to contain the problem immediately.
There are chemical pesticides that are specifically designed for mites. But spider mites may develop resistance to them in a short time.
So, I don't recommend them (plus these types of chemicals are toxic to humans and pets, so I wouldn't recommend using them anyway).
It's best to use safer pest control methods and products to get rid of mites on houseplants. You can learn more about natural pest control for your houseplants here.
Below you'll find the best methods that will work for treating a spider mite infestation on your houseplants…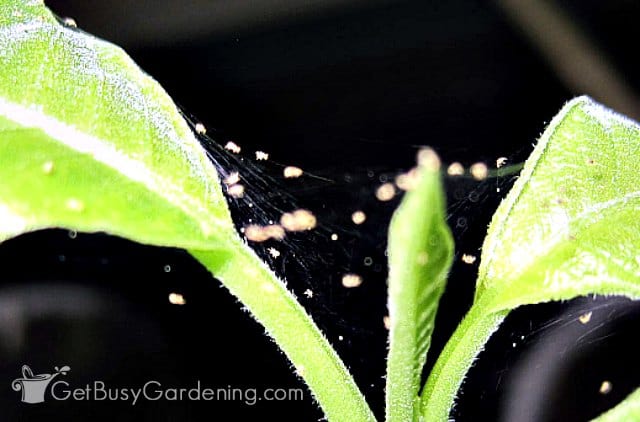 Spider Mite Treatment For Indoor Plants
The best way to avoid heavy spider mite damage to your houseplants is to start treating the plant as soon as you discover the pests.
As soon as I notice the spider webs on any of my plants, I bring the plant to the sink or bathtub.
Then I wash the leaves with my homemade insecticide soap, and rinse the leaves well to wash away as many of the dead mites as I can.
After cleaning the leaves, I use a variety of home remedies for spider mites, and all of them are very effective for controlling plant mites indoors.
Keep in mind that pesticide sprays, even organic ones, can damage sensitive plants, so it's best to test it on a few leaves before spraying the entire plant.
Also, be sure to focus your sprays on the undersides of the leaves, this is where spider mites lay their eggs.
Spider Mite Insecticide Soap
To kill mites on plants, use an organic insecticidal soap, or mix a solution of my homemade spider mite insecticide soap (recipe below).
My homemade spider mite insecticide soap recipe:
Mix the ingredients in a spray bottle and then spray directly the leaves of your houseplant. This homemade spider mite killer is great for getting rid of the bugs right away.
Use Neem Oil For Spider Mites
Neem oil is very effective to control spider mite infestations long term, and also works for pest prevention as well.
I like to buy neem oil concentrate, and make my own spray for mites on plants using the recipe below.
While neem oil does kill bugs, it can take some time to get rid of spider mites, so I use it after washing the leaves and spraying the plant with insecticidal soap first.
A pre-mixed horticultural oil or hot pepper wax spray also work very well for controlling spider mites on houseplants by repelling them.
My homemade neem oil spider mites spray recipe:
Keep Humidity Levels High
Since spider mites thrive in dry conditions, keeping the air around your plants humid is one of the best spider mite pest prevention methods. Ensuring your plants are properly watered is important to keep them well hydrated.
Misting houseplants regularly helps to prevent spider mites. You could also try leaving a container of water near the plant, or use a humidifier to help keep the humidity up around your plants.
If it's really dry in your house, then I recommend getting an inexpensive indoor humidity monitor so you can be sure the air around your houseplants isn't too dry.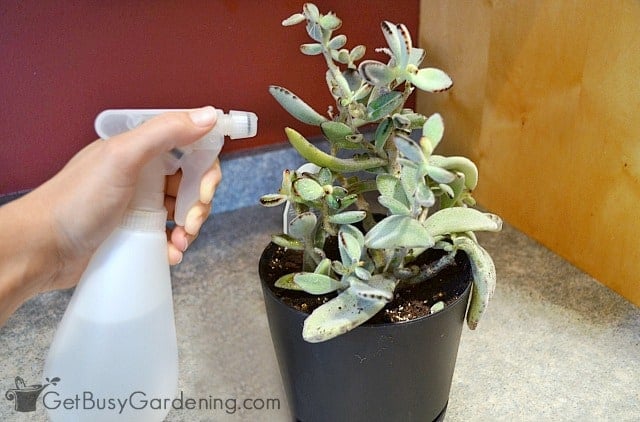 In addition to washing and spraying the plant, you can trim off heavily infested leaves and throw them into the garbage to get rid of even more of the spider mites and eggs.
Be sure to throw the infested leaves into the garbage outside of your house! Don't prune all of the leaves from your plant though.
How To Prevent Spider Mites From Ever Coming Back
Keeping your plants healthy, and maintaining adequate soil moisture are two of the best ways to prevent spider mites on indoor plants.
A soil moisture gauge is a great tool to use to figure out how moist the soil is, and ensure you're watering your plants properly.
Here are a few other tips for getting rid of spider mites for good…
Mist sensitive houseplants regularly, and keep the humidity level high around the plant
Use neem oil as a preventative spray or as a leaf polish to keep your plants leaves clean
If you move your plants outdoors for the summer, be sure to debug all of your houseplants before bringing them back indoors
They key to getting rid of spider mites for good is good houseplant care habits, and keeping your houseplants healthy. Healthy houseplants are the best way to prevent recurring problems with spider mites and other houseplant pests. Also make sure you check your houseplants on a regular basis for any signs of problems.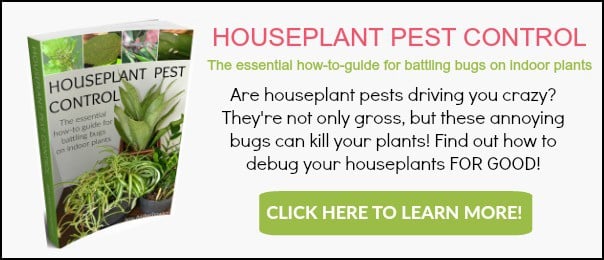 If you're sick of battling bugs on houseplants, then my Houseplant Pest Control eBook is for you! This eBook is jam-packed with information about how to get rid of bugs on indoor plants, using organic pest control methods. It shows you how to identify common pests, and how to prevent recurring infestations so you can debug your houseplants for good. Download your copy today!
More About Houseplant Pest Control
Share your tips for how to get rid of spider mites indoors in the comments below.