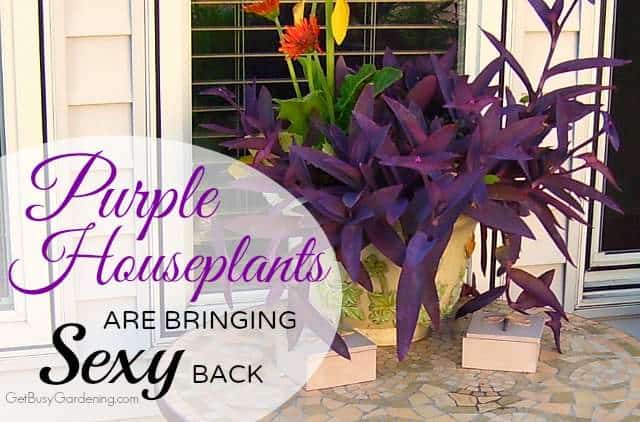 Boring green houseplants are so last year. Purple houseplants is where it's at people!
Wait, what? Purple houseplants? Sounds like something out of a Dr. Seuss book doesn't it? Well, I'm hear to tell you that such a thing does exist! And they're bringing sexy back!
Oh, and I'm not talking about plants with purple flowers here! These are all plants that have purple (or purple-ish) leaves, and they are super fancy!

Purple Houseplants That You Must Have NOW!
Purple Queen (Tradescantia pallida) – One of my favorite, easy to care for (and very purple) houseplants.
Pilea – There are lots of varieties of pilea plants out there, and a few of them have purple splashes, splotches or edges on their leaves.
Wandering Jew (Tradescantia zebrina) – A super common plant that's easy to propagate and looks great in a hanging basket or trained to grow on a topiary form.
Purple Velvet (Gynura aurantiaca) – Gorgeous and unique plant with purple fur on the leaves.
Prayer Plant – Another unique beauty that comes in many varieties, including some that have purple stems or veins.
Purple Oxalis – There are a couple different types of oxalis that have purple leaves. Such a cute little plant, and looks great in hanging baskets.
Purple Waffle Plant (Hemigraphis colorata) – Unique little plant that has green and purple crinkly leaves.
Peacock plant (Calathea makoyana) – Another gorgeous plant to add to our collections! I haven't grown this one myself, but I want!
African Milk Bush (Euphorbia bicompacta var. rubra) – The plant tag on mine says 'Brown Jug' but mine definitely has purple leaves (and looks great in my family room next to my purple ottoman). I seem to remember that it does turn a bit more redish-brown outside during the summer.
Calathea – There are a lot of different varieties of calathea out there, and all are beautiful. These make gorgeous houseplants!
Rex Begonia – Rex begonias are so stinkin' pretty, I want one of each – especially the ones that have purple on their leaves!
Succulents – There are many different types of succulents and even some cacti that are purple or purple-ish. Plus, they are super fun to collect and mix in indoor succulent gardens.
Rubber Tree 'Burgundy' (Ficus elastica) – The name says burgundy, but the mature leaves look dark purple. The leaves are bright red when they're opening and new, which makes a striking contrast against the mature leaves.
Ti Plant (Cordyline fruticosa) – This one comes in lots of different colors. Go ahead, collect them all!
Silver Squill (Ledebouria socialis) – The tops of the leaves are silver polka dotted (it's very fashionable), and the undersides of the leaves and the stems are purple. I find it easier to care for if I let it go dormant inside during the winter (it has bulbs).
Purple sweet potato vine – Usually grown as an annual, sweet potato vine can be brought inside in the fall and grown as a houseplants (or overwinter the cuttings).
Coleus – Also usually found sold as an annual for the garden, coleus is fairly easy to grow as a houseplant (or you can overwinter the cuttings), and there are tons of shades of purple coleus plants on the market.
Caring For Purple Houseplants
Purple houseplants are definitely more exotic than boring green ones, and they can also be higher maintenance. Most of them will require bright light in order to keep their deep purple color and their compact, bushy shape (they can grow leggy without enough light). A south facing window would be the perfect spot to grow them, or you can add a grow light.
Also, since these purple beauties are more exotic than common houseplants, most of them will need consistent watering. You can use a soil moisture gauge to make sure you're not over or under watering. They would also benefit from added humidity (adding a humidifier near your plants will help a ton during the winter). A few of the plants on this list (succulents, rubber tree and African milk bush to name a few) don't require consistent moisture (and will suffer or die if overwatered), so make sure to check the growing requirements of each specific plant so you know how to care for it.
How's that for a list of AH-mazing houseplants? If you had all these plants, your friends would be in awe (they would be purple with envy, haha). I mean, you would totally be the talk of the town!
Ok, well maybe nobody else will really care, but YOU will know how cool you are, right?!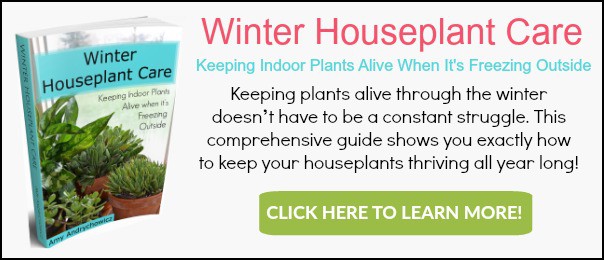 More Posts About Growing Houseplants
To learn more about different types of houseplants, click here… Houseplant Types
Tell me, what do you think? Will you be adding any purple houseplants to your collection? Which of these do you love the most?

Pin It!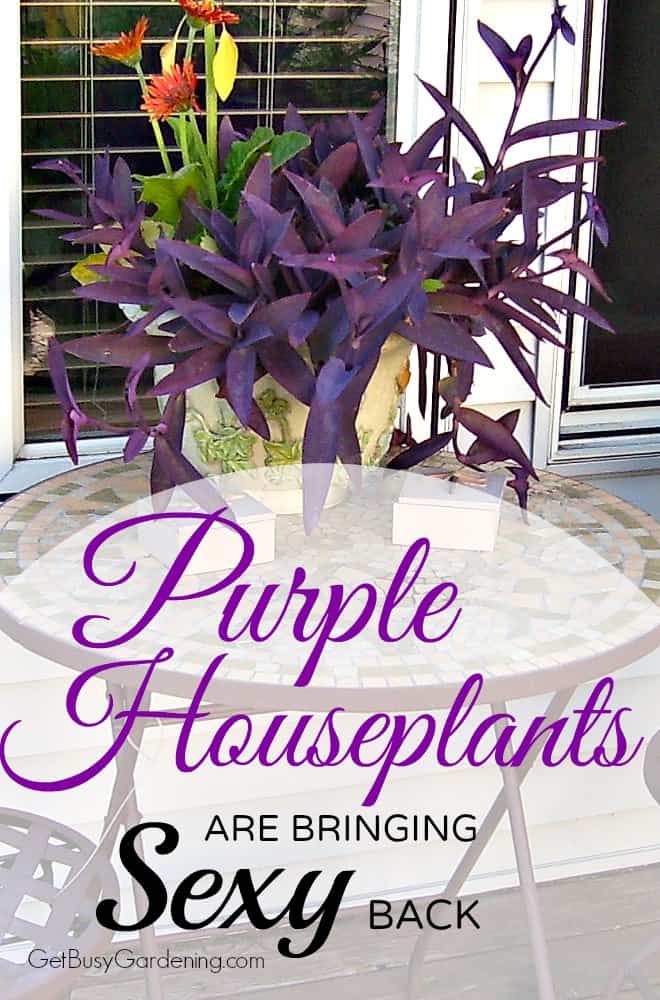 .