Houseplants hate drafty areas, and extreme cold or hot blasts of air can kill them. Yikes! I don't want that to happen to your indoor plants. So in this post, I'm going to talk about common drafty areas, signs that your plant is suffering, and ways to avoid this problem in the first place.
Many people think of houseplants as a decorations, and don't pay much attention to where they display them. But it's important to remember that they are living creatures, and they require certain conditions in order to thrive.
You might not know it, but one of the most important factors for successfully growing houseplants is temperature. Indoor plants are very sensitive to extreme temperatures. Placing them in a hot or cold drafty area can kill them pretty quickly.
Houseplants Don't Like Drafts
So many times I see people put their houseplants next to a fireplace or air conditioner, near an exterior door, or even on top of an ugly old radiator. These are all popular places to display indoor plants, but they can end up creating a lethal environment.
I learned this lesson the hard way several years ago. One day I noticed that the leaves on one of my houseplants were turning brown, and it looked like it was slowly dying.
For several weeks, I could not figure out what was wrong with this plant. Then one day during it dawned on me. It was sitting right next to the patio door… and it was January (in MN!).
We open that door quite often during the winter to let our cats out into the screened in porch, and sometimes we even leave it cracked open for extended periods of time.
The problem with my poor houseplant was that it was slowly freezing to death from the extremely cold draft of air that would hit it every time I opened the door (oops!).
Once I figured out the problem, I moved the plant to a new non-drafty spot where it thrives today. But how do you know when it's too cold or too hot for indoor plants? Let's dive in to the details…
How Cold Is Too Cold For Houseplants?
Most common types of indoor plants come from tropical or arid climates where it's warm year-round, and they can't handle the cold. The ideal temperature for them to thrive is between 60-75F.
Some houseplants can survive just fine in a cooler room that gets down below 60F, but most will start to suffer when it's consistently below 50F.
When it comes to freezing cold air drafts, they are much less tolerant. It only takes a second for their leaves to freeze when exposed to frigid air. And frozen houseplants tend to die fairly quickly.
So think about that the next time you open a door, turn on the A/C, or feel a cold draft coming from a window on a freezing winter night.
Common Sources Of Cold Drafts
Some sources of cold air are more obvious than others. Here are some examples of cold drafts that can end up causing major damage to your plants…
Front or back door
Patio or porch door
Drafty windows
Clean air intake vent
Air conditioning unit
How Hot Is Too Hot For Houseplants?
As I mentioned above, most houseplants grow best between 60-75F. Of course, many of them can survive much warmer temperatures when they're outdoors during the summer. There are also several types of houseplants that like dry heat (like succulents and cactus plants).
However, indoor plants cannot handle hot drafts. Blasts of extreme hot air can quickly burn the leaves, causing major damage, or even killing the plant.
Common Causes Of Hot Drafts
There are lots of sources of hot drafts, some you might not have even considered before. Here are some of the most common sources of hot air drafts that can damage houseplants…
Heat vents
Radiators
Fireplace
Space heater
Wood burning stove
Appliances (refrigerator, dryer, dishwasher, stove, oven… etc)
Signs Your Indoor Plant Is Suffering From Drafts
As I mentioned in my story above, it took me a few weeks before I figured out what was killing my houseplant. So, to help you figure it out faster, here are some of the most common signs that your indoor plant suffering from cold or hot drafts…
The entire plant is drooping or wilting
Brown, yellow, white, or faded leaves
Leaves that look like they've been burned
Some of the leaves turns brown overnight
The plant looks like it's slowly dying
If you start noticing any of these signs, then take action. Most of the time, it's best to move your houseplant to a new, non-drafty location.
But sometimes you can add a barrier that will protect indoor plants from drafts. For example, closing the blinds or curtains at night to protect them from cold drafty windows.
Houseplants hate drafty areas, so it's important to keep that in mind when you're deciding where to display them. If you notice your indoor plant is struggling, then move it to a new spot where it's protected from drafts. It's a simple fix to a very common problem.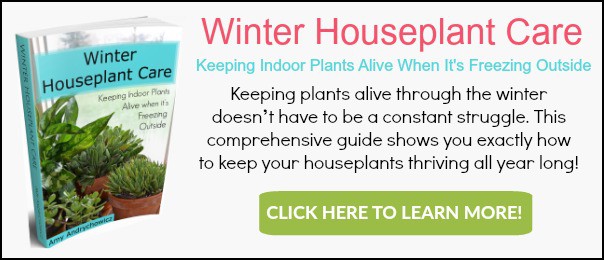 If you struggle to keep houseplants alive during the winter months, then my Winter Houseplant Care eBook is exactly what you need. It will show you everything you need to know in order to keep your indoor plants thriving all year long. Download your copy today!
More Houseplant Care Posts
Have you ever killed a houseplant by accidentally exposing it to drafts? Tell me your story in the comments below.