Freezing radishes is simple and quick to do, and a great way to keep them on hand whenever you need them.
If you have an abundance of radishes from your garden, or you want to keep them on hand for all your recipes year round, then try freezing some.
In this post, I'll show you exactly how to freeze radishes fresh from your garden, the farmer's market, or the grocery store, step by step.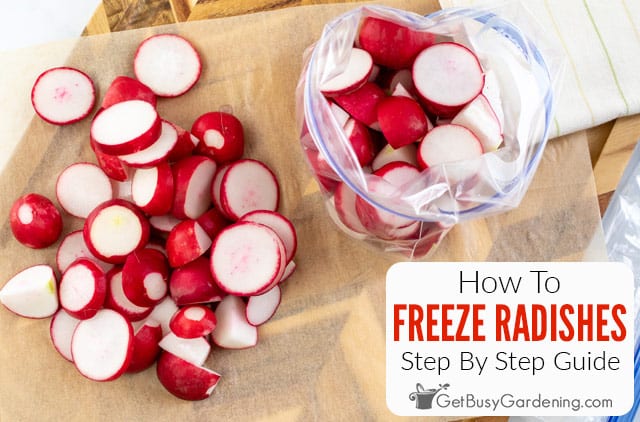 Preparing Radishes For Freezing
Before freezing your radishes, there are a few steps you'll need to take to make sure they retain the best flavor and texture.
First you should wash them to remove the dirt. If they have a lot of soil on them, use a vegetable brush to gently scrub them.
Otherwise, simply run them under cool water while rubbing them with your fingers to clean them.
Next cut off the green tops and the root end. Then you can choose to keep your radishes whole (they may split while freezing, so be aware), cut them into quarters, or slice them.
Related Post: How To Grow Radishes At Home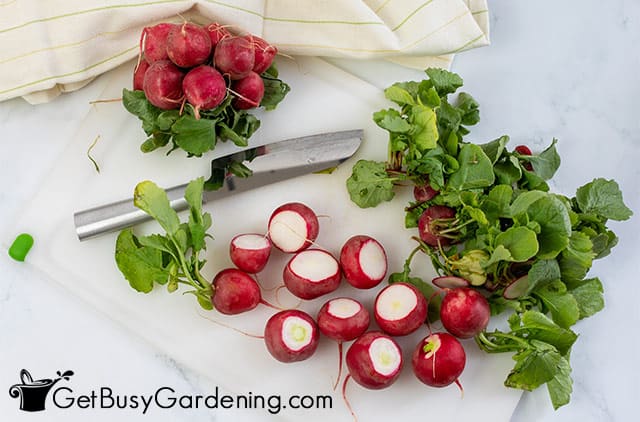 Do You Have To Blanch Radishes Before Freezing?
I recommend blanching your radishes before freezing them because it helps them maintain their crisp texture. They tend to become mushy when left raw.
Blanching also locks in the fresh flavor, and helps to maintain their color better.
How To Blanch Radishes To Freeze
To blanch radishes before freezing, all you need to do is flash-cook them in boiling water for 2-3 minutes.
Remove them quickly and place them into an ice bath for 1-2 minutes to stop the cooking process, and then drain them using a kitchen colander.
Methods For Freezing Radishes
There are a few ways that you can freeze radishes. The method you choose depends on how much time you have, and how you plan to use them later.
Freezing Radishes Whole Or In Pieces
You can freeze radishes whole, cut in quarters, or in slices. Keep in mind that when you leave them whole, there is a chance they will split and lose some flavor and texture quality.
Generally, quartering or slicing them are the best options, and the most efficient for adding to your cooking, as they're already cut and ready to use.
Flash Freezing Radishes
I prefer to flash freeze my radishes. This is an optional extra step, but will prevent them from sticking together in one large clump.
To do this, simply place the radishes on a cookie sheet lined with parchment paper, and put them into the freezer for 1-3 hours.
Can You Freeze Radish Greens?
Yes, you can freeze radish greens. First wash them and pat them dry, or use a salad spinner to remove the excess water.
Then you can simply pack them into freezer bags. Or you could blanch them then freeze them in an ice cube tray to portion them out for your recipes.
Related Post: How To Plant & Grow Radishes From Seed
Tools & Supplies Needed
Below is a list of the tools and equipment you'll need. But, depending on the process you choose to use, you might not need everything.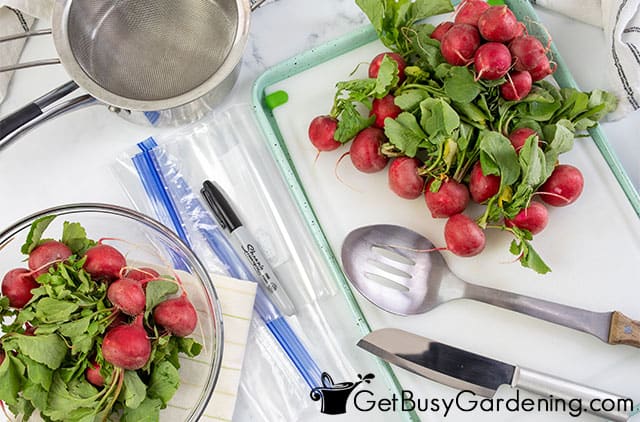 How To Store Frozen Radishes
The best way to store frozen radishes is to put them in freezer-safe baggies. Make sure to squeeze out all of the extra air before zipping them so they take up less space.
Instead of plastic bags you could use any type of container you have, as long as it's airtight to prevent freezer burn.
How Long Do Frozen Radishes Last?
Frozen radishes can last up to 2-3 months when prepared correctly and properly stored. But they could last longer if you use a food vacuum sealer.
Related Post: How To Get & Collect Seeds From Your Radishes
FAQs
Below I've answered some of the most common questions about freezing radishes for you. If you can't find yours here, ask it in the comments section.
Can you freeze radishes whole without slicing?
Yes, you can freeze radishes without slicing them, instead you could quarter them or leave them whole. But whole radishes may split as they freeze, which can alter their texture and flavor.
Do radishes freeze well?
Yes, radishes freeze very well as long as you follow the proper steps. It's best to blanch them first, as raw radishes do not freeze well and can become mushy after thawing.
Why do you have to blanch radishes before freezing?
You have to blanch radishes before freezing to preserve the quality, texture, and flavor, and also to stop the ripening process. If you don't blanch them they might be mushy once thawed.
How do you thaw frozen radishes?
To thaw your frozen radishes simply run cool water over them, or put them in a bowl of cold water for a few hours to defrost them.
How do you use frozen radishes?
The best way to use frozen radishes is to add them to soups, stews, casseroles, or any of your other cooking. If they are thinly sliced you can add them to salads.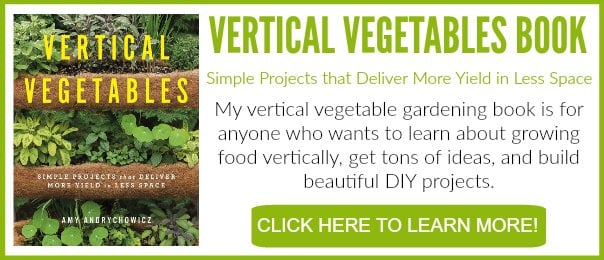 If you'd like to learn how to make the most of your space and get as much homegrown food as possible, then my Vertical Vegetables book is perfect! It will teach you all you need to know, has tons of gorgeous photos, and includes 23 DIY projects you can build for your own garden. Order your copy today!
Learn more about my Vertical Vegetables book here.
More About Food Preservation
Share your tips for freezing radishes in the comments section below.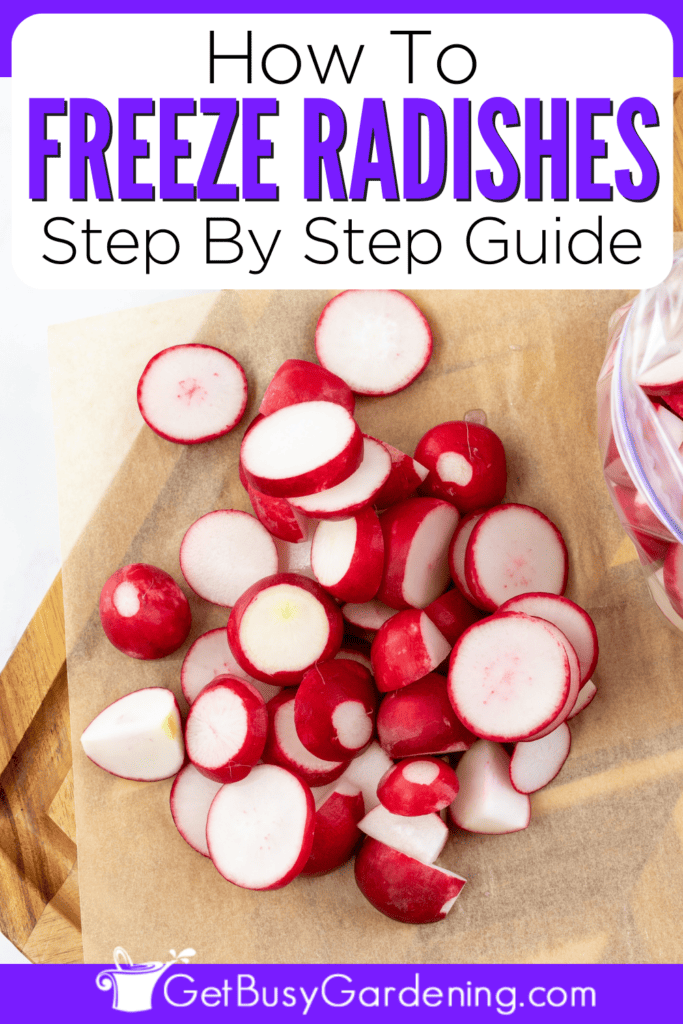 Step By Step Instructions