Radishes are one of the easiest vegetables to grow, and ideal for a beginner who wants to quickly see the results of their efforts.
Plus, garden fresh radishes taste a million times better than store-bought.
In this article, I'll guide you through how to grow radishes, whether you're a beginner or an experienced gardener.
Learn everything you need to know about growing them including water, soil, planting, and light requirements of radishes, as well as different varieties, pest and disease control, harvesting, and more.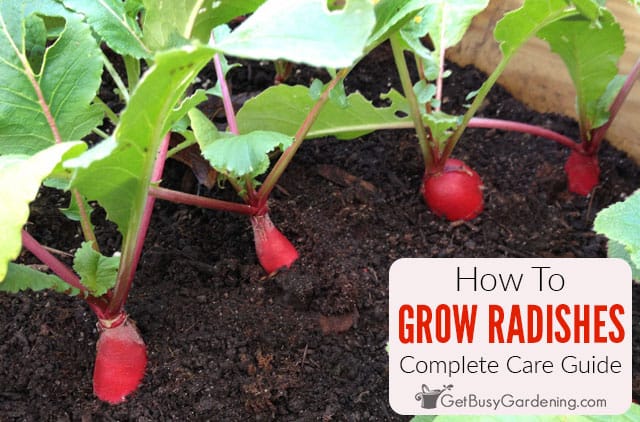 Quick Radish Plant Care Overview
| | |
| --- | --- |
| Scientific name: | Raphanus sativus |
| Classification: | Vegetable |
| Common names: | Radish |
| Hardiness: | Annual cool weather crop |
| Temperature: | 55-70°F (12-21°C) |
| Flowers: | White or pale pink, blooms late spring-summer |
| Light: | Full sun to part shade |
| Water: | Keep soil evenly moist, never allow to dry completely |
| Humidity: | Average |
| Fertilizer: | General purpose diluted liquid plant food, once per week. |
| Soil: | Loose, light, impediment free, well-drained soil |
| Common pests: | Cabbage root maggot, cabbage worms, flea beetles |
Information About Radishes
Radishes (Raphanus sativus) are a member of the Brassicaceae family that includes other garden favorites like broccoli, cabbage, and kale.
They're an annual root vegetable most often grown for the crisp, peppery bulb. But all parts of the radish are edible, either raw or cooked, including the fuzzy green leaves and seed pods.
The bulbs come in many colors, including green, white, red, yellow, and black. They can be round, oval, or long and carrot-like.
The exact size, flavor, and color depend on what variety of radishes you choose to grow.
Different Radish Types
At a high level, there are two main types of radishes, spring and winter. Spring varieties are smaller, grow faster, and are tender and mild.
Winter varieties take twice as long to grow, but become larger and are more suited to long-term storage.
Thankfully, all types require the same care to grow. Here are a few of my favorite varieties I'd recommend.
Cherry radish – These small, round, bright red radishes are a well-known variety that can grow in just 3 weeks.
White radish – A crisp and mild, round white spring radish that keeps well and can be harvested in just 25 days.
French Breakfast – This red and white oblong spring radish is crisp, peppery, and only takes 4 weeks to grow.
Watermelon radish – The white bulb on this variety is pink on the inside and has a sweet, peppery, crisp texture.
Black radish – This winter variety is large, spicy, and crisp, with a pure white interior and black exterior.
Radish Growing Season
Radishes grow well in the spring and fall when temperatures aren't too hot. They're very frost hardy, but cannot handle the heat of summer.
If your region doesn't experience regular highs above 80°F (26°C), you can even grow them year-round with succession planting.
How Do Radishes Grow?
Raphanus sativus plants develop an edible swollen root under the soil which most people call a bulb.
Above ground, radish plants have leafy, fuzzy greens that absorb and store energy in the bulb.
Every part of the radish is edible, including the bulbs, leaves, flowers, and pods.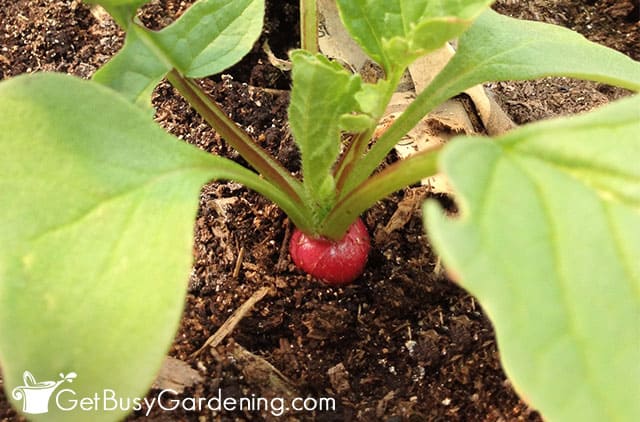 How To Grow Radishes
Radishes are one of the easiest vegetables to grow. But choosing the right location and timing of when to plant them is key to a quick, successful crop. Use these tips to help you plan where and when you'll get started with yours.
Where To Grow Radishes
Radishes grow well in cool, loose soil that is free of impediments and receives sun for at least 6 hours a day.
They grow very quickly, which makes them ideal for interplanting between rows of other vegetables. They'll be ready to pull before the other plants are large enough to shade them.
You can also grow them in containers. Choose something wide rather than deep to maximize the space. Smaller varieties need just 6" of depth, while larger ones need up to 12" or more.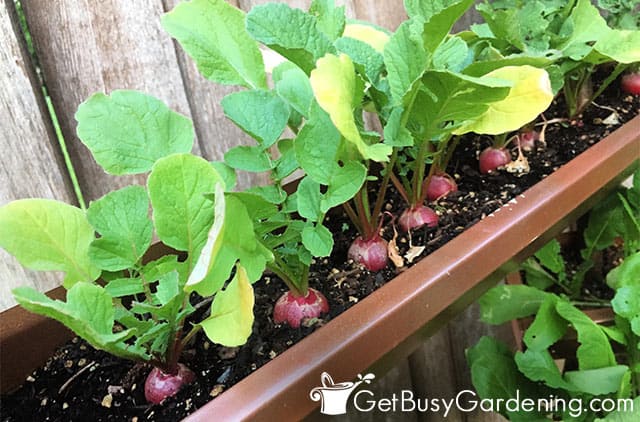 When To Plant Radishes
The best time to plant radishes depends on your climate. They're very cold hardy, which makes growing radish from seeds very easy, even when temperatures are still frosty.
Radishes hate to be transplanted, so I recommend sowing them directly into the ground rather than starting them indoors.
If you're growing spring radishes, plant them as soon as the ground is workable in early spring, or 4-6 weeks before your average last frost date.
Otherwise, if you want to plant them in the fall for winter radishes, do it 4-6 weeks before your first frost date.
It's a good idea to successively plant them over the course of a few weeks to space out your harvest. This way, you'll be enjoying radishes from your vegetable garden for several weeks through the spring and early summer, and again in fall and winter.
Hot weather makes radishes bolt (flower) however, so make sure they'll have enough time to mature before that happens.
How Long Do Radishes Take To Grow?
The exact time from when you plant radishes to when you can eat them depends on the variety, the environment, and climate.
Many spring radish varieties are ready in as little as 3-4 weeks from seed to harvest. Winter radishes take longer, averaging between 70 to 80 days.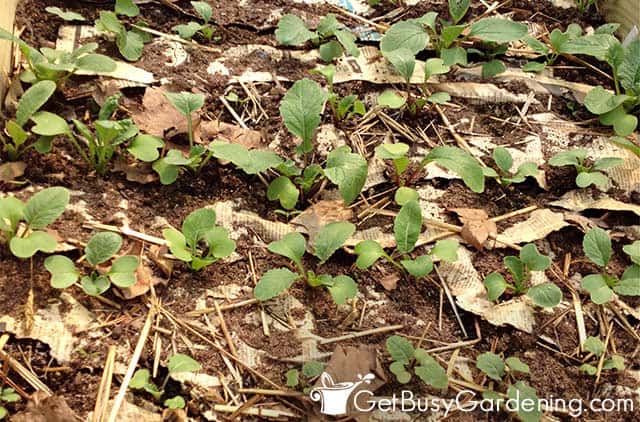 Radish Plant Care & Growing Instructions
Now that you have a good idea of where and when to plant them, let's talk about how to grow radishes. These tips will help you care for them so you can enjoy fresh radishes from your garden in just a few weeks.
Sunlight
Radishes need at least 6 hours of sun a day, but no more than 10. If they get too much sunlight, they'll prematurely bolt.
Full sun speeds up growth, but partial shade can help to keep them cool and extend your growing season as the weather turns warmer.
Water
Even, consistent moisture is key to growing radishes. They need damp soil and do not like to dry out. However, overwatering can cause bulb and root rot.
Aim to add 1" of water per week if it doesn't rain. Mulch around them with grass clippings, straw, or compost to prevent them from drying out too quickly.
It's also helpful to use a moisture meter to guide you if you struggle to know when it's time to water.
Temperature
Radishes are very cold tolerant and can survive lows down to 28°F (-2°C). The optimal temperature for them however is between 50-70°F (10°-21°C).
Frequent freezes may slow or stall growth. High heat will cause them to flower and set seed, making the root inedible. Mulch or partial shade will help regulate the temperature.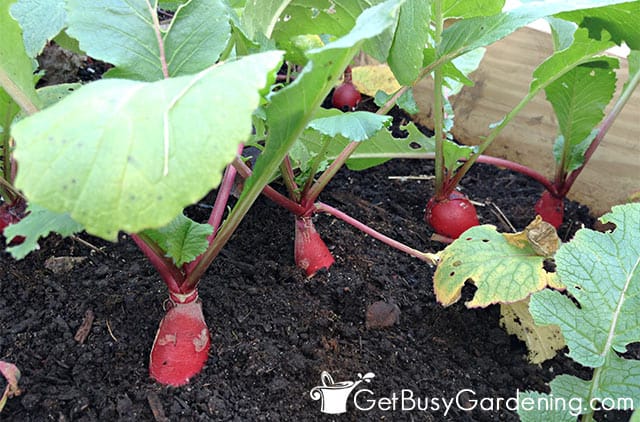 Fertilizer
Radishes grow so quickly they don't require regular feeding to thrive, however it can give them a boost. Work slow-release all-purpose granules into the soil before planting.
After they have a few true leaves, apply a half dose of organic, all purpose liquid fertilizer like compost tea or fish emulsion every time you water.
Soil
It's important to have loose, well-draining soil that's free of impediments like twigs and rocks so the roots and bulbs can properly form. The soil should also be rich and fertile.
Amend heavy clay or sandy garden beds with compost or worm castings at least 6" down before planting to improve drainage, nutrients, and aeration.
Pest Control Tips
There are three main pests that like to feast on radish plants – cabbage root maggots, cabbage worms, and flea beetles.
Yellow sticky traps can capture adult cabbage root flies and help to stop them from laying their eggs.
Row covers and mulch are useful in preventing pests from reaching the bulbs or damaging the leaves. Hand pick any worms or large bugs that you can.
Related Post: How To Freeze Radishes The Right Way
Tips For Harvesting Radishes
In addition to the bulbs that we all know and love, radish greens and pods are also edible. All three are best when they're young and tender.
When it's time to harvest your radishes, gently pull straight up, or loosen the dirt around them with a trowel so you do not disturb neighboring plants.
You can pick the greens by clipping them off just above the bulb with sharp, clean scissors or precision pruners.
But, you should never remove all of the greens before harvesting the bulb, leave some of them so the radish can continue growing.
If you want to get pods, the plant needs to flower first. This means sacrificing the bulb, but there is usually a good yield of pods from just one plant.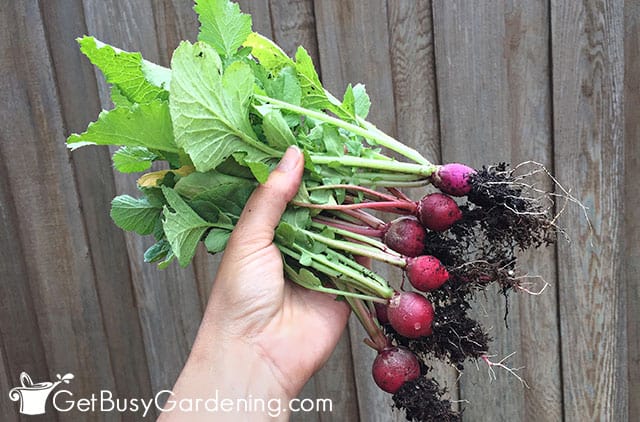 Troubleshooting Common Problems
Radishes are one of the fastest vegetables to grow so you may not face many issues. But if you run into one of these more common problems, the tips below will help you learn how to fix it, or prevent it in the future.
Radishes Bolting / Flowering / Going To Seed
The most likely culprits behind your radishes bolting, which means flowering and developing seed pods, is high heat, too much sun, transplanting, not enough water, or waiting too long to harvest.

If left in the ground long enough, all radishes will eventually bolt, and you can't stop it once it happens. So it's important to pull them as soon as the bulbs are mature.
To prevent premature bolting, direct sow them, keep light exposure between 6-10 hours, avoid letting the soil dry out, and protect them from temperatures above 80°F (26°C) if possible.
Bulbs Splitting / Cracking
Split or cracked radish bulbs are caused by uneven watering or being left in the ground too long.
It's important to water consistently and keep the soil evenly moist, instead of going from dry to soggy.
Harvest spring radishes as soon as they're the proper size. Winter radishes can last longer in the ground, but still may split if left for too long.
Woody Texture
Uneven watering, high heat, bolting, or growing too large will lead to woody, unpleasantly textured radishes.
Mulch or choose a partial shade location to keep the soil temperatures lower. Use a moisture meter to help you keep the watering consistent, and be sure to pick the bulbs as soon as they are ready.
Leaves But No Bulbs
If your radishes are all leaves and no bulbs, they haven't been receiving enough sun, are too crowded, too hot, or are growing in high-nitrogen soil.
Avoid feeding them with high-nitrogen fertilizer, and thin them to 3" apart if they're clustered too close together.
Ensure they're not getting too much shade and the temperature is between 50-70°F (10°-21°C).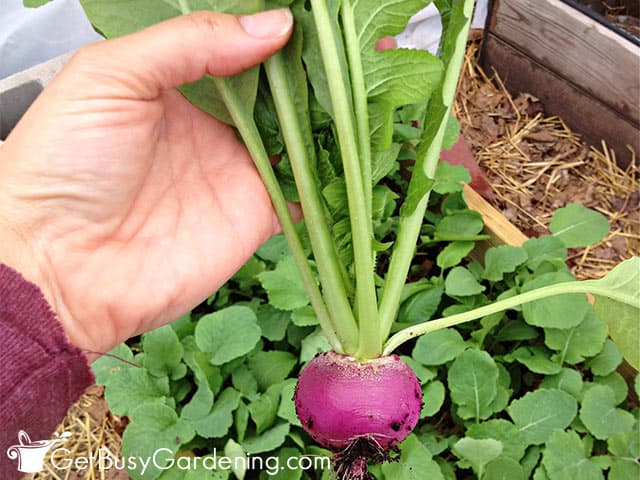 FAQs
Here I've answered some of the most commonly asked questions about growing radishes. If yours isn't listed, please add it to the comments section below.
Are radishes easy to grow?
Yes, radishes are very easy to grow. They often take just weeks to be ready to harvest and can be grown in small areas during colder seasons. Planting radishes is a great option for beginner gardeners.
Why is it so hard to grow radishes?
Radishes are not hard to grow once you understand how to create the right temperature, soil, and light requirements they need to thrive. Most people find them difficult to grow because they plant them too late and the warm weather causes them to bolt right away.
What is the secret to growing radishes?
The secret to growing radishes is giving them consistent moisture and loose airy soil, and planting them early so that they can mature before temperatures are too warm.
Do radishes come back every year?
No radishes do not come back every year, they are annual vegetables.
Can you eat radishes that have gone to seed?
You cannot eat radishes that have gone to seed because the bulb will become woody and poorly flavored. But you can still eat the young and tender pods, flowers, and greens.
What are the pods on my radish plants?
The pods on your radish plants form after flowering. They are edible when green and tender, but will eventually form seeds inside as they mature and turn brown, which you can collect and save to replant.
Do radishes grow better in sun or shade?
Radishes can grow well in both sun or partial shade. Full sun invigorates growth, but too much can cause them to bolt prematurely. Partial shade extends the season in warmer regions, but too much will hinder growth.
How many radishes will one plant produce?
Each plant will produce only one radish bulb.
What should not be planted with radishes and why?
Radishes grow so quickly you can often plant and harvest them before nearby plants have taken off. However it's a good idea to keep them away from those that will shade them, like squash and melons, or other root vegetables, like potatoes and turnips, that use the same nutrients to grow.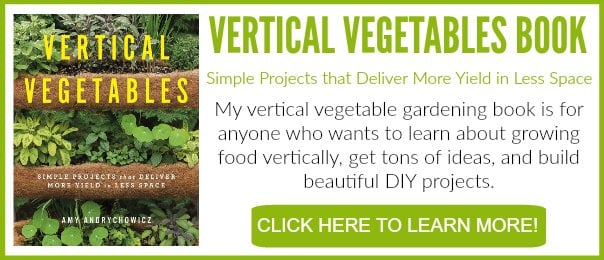 If you'd like to learn how to make the most of your space and get as much homegrown food as possible, then my Vertical Vegetables book is perfect! It will teach you all you need to know, has tons of gorgeous photos, and includes 23 DIY projects you can build for your own garden. Order your copy today!
Learn more about my Vertical Vegetables book here.
More About Vegetable Gardening
Share your tips for growing radishes in the comments section below.