One of my favorite things to do is propagate my plants, and I talk about it quite a bit. Recently a reader pm'd me and asked me to define propagation – more specifically, what does propagation mean in gardening. Excellent question!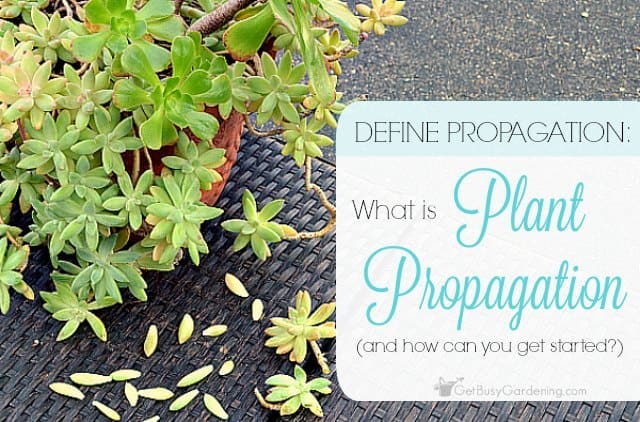 Define Propagation
You might already have a basic understanding of what the word means… but what does it mean when it comes to gardening?
Propagation is a big word, but the definition is simple (well… at least my definition is simple!)…
Plant propagation is the process of creating new plants from existing ones.
That's how I define propagation, cause I like to keep it super simple! But let's dig a little deeper, shall we…
Introduction to Plant Propagation
Plants reproduce and multiply by propagation, so technically you could propagate any type of plant that you have in your collection.
But some plants are easier to propagate than others (some can only be propagated by the pros in labs with lots of expensive equipment).
I propagate a lot of my plants, both houseplants and garden plants.
Not only is it super fun, it saves a ton of money too! (I've started entire garden areas for free using plants that I propagated myself!)
Types of Plant Propagation
There are a few different methods for propagating plants.
Heck, you've probably already got some experience propagating plants without even know it!
I think most people think of growing plants from stem cuttings when they think about propagation.
The funny thing is that tons of people have the most experience with propagating plants by growing them from seed.
That's right, seed starting is technically a form of plant propagation!
Here are a few of the most common methods of plant propagation…
seed
stem cuttings
division (another method I'm guessing you have some experience with)
stolons (aka offsets or runners)
leaf cuttings
layering
leaf sections
Many plants can be propagated using more than just one method, and it's fun to experiment to see which method works the best for each type of plant you have.
Easiest Plants for Propagating
Like I said before – some plants are easier to propagate than others.
So, if you want to try propagating plants for the first time (or just want to experiment on different types of plants), then I recommend starting out with plants that are super easy to propagate.
Here are a few of my favorite plants that are easy to propagate…
Sedums
Stonecrop
Coleus
Burrow's tail
African violet
Holiday cactus (Christmas and Thanksgiving cacti)
Kalanchoe
Strawberry Begonia
Strawberries
Ajuga
Sempervivum
Agave
Haworthia
Pothos
How To Get Started Propagating Your Plants
Make a list of plants that you're interested in propagating (I recommend choosing them from the list above if you can).
Most of the plants I have listed above can be propagated by stem and leaf cuttings, while others (aloe, agave, haworthia) would be easier to propagate by division; meaning removing the babies (aka suckers) around the base of the mother plant.
Keep in mind that it takes much longer to grow a mature plant from leaf cuttings or seeds than it does from division or stem cuttings.
So if you want to grow mature plants faster, then propagating them by taking stem cuttings, or by division are your best bets.
Basic Plant Propagation Supplies
Before you can propagate your plants, you will need a few supplies.
Don't worry, you won't need a bunch of expensive equipment to get started propagating plants – and you probably already have some of this stuff at home.
Plant Propagation Supplies:
I've created a full list of supplies that I recommend if you want to start propagating your own plants. See the full list here… Plant Propagation Supplies
Tips for Successful Plant Propagation (by cuttings)
Dip the stem of a leaf or cutting in rooting hormone before sticking it into the rooting medium. (Rooting hormone makes cuttings root faster.)
Keep your rooting medium moist but not soggy, and don't allow it to dry out completely.
Keep the cuttings out of direct sunlight. An area near a sunny window is the perfect spot inside the house; outside the house, kept them in the shade.
Cuttings will root faster in higher humidity, so mist the cutting or put a humidifier in the room to raise the humidity level.
Use bottom heat to help facilitate the rooting process. In the winter, you can place your cuttings on a heat mat or near a heat vent (be careful if it's near a vent, because the dry air from the heat vent will cause the soil to dry out faster).
New growth is usually the first sign that a cutting has rooted.
I'm sure there are lots of different ways we could define propagation – but like I said, I prefer to keep it super simple.
Wait, maybe I should have said that the definition plant propagation is "plants from plants". Talk about keeping it simple!
It's fun to push the limits and see what you can do with plants, and propagating them is so much fun! Just be careful because it's super addicting, and soon you could be drowning in plants! (Wait, who said that was a bad thing?)


If you want to learn even more about how to propagate all of your favorite plants, then you will love my Plant Propagation eBook. It will teach you how to use each of the basic methods so that you can propagate any plant that you want. Download your copy today.
More Information About Plant Propagation
How would you define propagation (and what are some of your favorite plants to propagate)? Leave a comment below and let us know!