Who doesn't love lavender? Not only does it add a gorgeous contrast of bright purple flowers against their silver/gray foliage to the garden, but the bees love it too… PLUS it smells amazing!
Growing lavender is great for so many reasons! Once you learn how to propagate lavender plants from your garden, you'll be able to grow as much lavender as you want – and you can share it with all your friends too!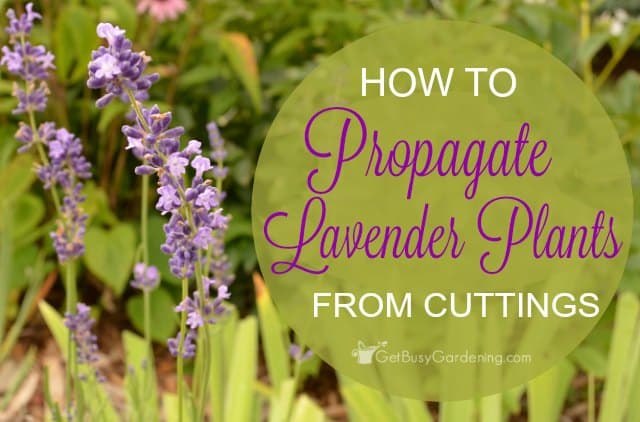 There are a few different ways you can propagate lavender plants: by rooting the stems in soil, by rooting the cuttings in water, or by collecting lavender seeds from your garden.
In this post, I'm only going to talk about how to propagate lavender from cuttings taken from mature plants, and then propagating them either in water or soil.
How To Propagate Lavender Plants
Before you can propagate lavender, you'll need to collect a few supplies. Don't worry, you won't need a bunch of expensive equipment – and you probably already have some of this stuff on hand.
Supplies Needed:
If you're going to be propagating lavender inside the house or outside in a dry climate, you'll need to add humidity.
It will be easiest to use a propagation chamber, or cover your cuttings with a plastic bag if you put them in a pot (simply tent the bag over the top of the cuttings).
But if you live in a humid climate like I do, lavender cuttings will root pretty quickly outside in a shady spot.
Prepare the soil or vase of water before taking your cuttings, that way you can get them into the dirt or water fairly quickly.
You don't want to let lavender cuttings dry out before you try propagating them.
Related Post: How To Harvest Lavender Fresh From The Garden
Taking Lavender Cuttings For Propagation
There are a few things you need to look for before you take cuttings from your lavender plants.
Ideally you want to take cuttings of branches that haven't flowered yet. Flowering takes a lot of energy from the plant, and a branch that hasn't flowered yet will be able to put all of that energy into growing new roots instead.
It's also best to take cuttings from a mature lavender plant rather than one that's brand new or immature. Once you find the perfect branch, cut it from the plant at the base of the stem.
Take cuttings that are several inches long. You want the cuttings to have 3-5 leaf nodes on the stems that you can remove, but still have several inches of growth at the top. Learn how to prune lavender plants.
Preparing Lavender Cuttings For Propagation
After taking cuttings from your lavender plant, remove the bottom 3-5 sets of leaves from the stem of the cutting. You can pinch them off with your fingernail, or snip them off with a sharp pair of clippers.
You want to leave small wounds on the stems, that's where the roots will grow out of.
Longer stems make it easier to propagate lavender plants because there will be more stem area to stick in the dirt/water, and that gives you a better chance of rooting.
If any of the lavender cuttings you took had already started to flower, simply snip or pinch off the flower spike to encourage the cutting to put that energy into growing new roots.
A cutting with a flower on it is probably not going to root.
Propagating Lavender Cuttings In Soil
Once your cuttings are ready, dip the base of the cutting in rooting hormone. Rooting hormone helps plants root faster (and gives you a better chance of success!).
Make a hole in the dirt with your finger first, this way the rooting hormone won't rub off when you stick the cutting into the soil.
Then place the cutting into the hole and gently press soil around the stem of the cutting so that it stays firm in the soil, and also so that the soil will come in contact with the stem.
Repeat the same steps for the rest of your lavender cuttings. You can put several cuttings into one large pot or your propagation chamber, but try to space them apart far enough so they don't touch each other.
This will ensure adequate airflow, and will help to avoid molding or rotting of the cuttings.
Protect your lavender cuttings from sun, wind and heavy rain during propagation – but make sure the cuttings never dry out completely.
Try to keep the soil evenly moist, and you can also mist the cuttings if you're not using a propagation chamber or plastic bag.
Once you start to see new growth, that's a good indication that the cutting has started to grow roots.
It takes 3-6 weeks for roots to develop on lavender cuttings, depending on the temperature and humidity level. Adding bottom heat will help to speed things up, and helps the cutting root faster.
Related Post: How To Dry Lavender From Your Garden
Rooting Lavender Cuttings In Water
Propagating lavender plants in water is even easier than using soil. But on the down side, cuttings rooted in water have a harder time being potted up than those that are propagated in soil.
It's fun to experiment, so I encourage you to try both methods to see which one works the best for you!
To propagate lavender plants in water, follow the same steps above to take the cuttings and prepare them for propagation.
Then all you need to do is put your lavender cuttings into a vase of water just like you would with fresh cut flowers.
Don't allow any of the leaves to touch the water, or they will only rot. I like to use a clear vase for propagating my cuttings so I can easily see when the roots start to form.
Potting Up Your New Lavender Plants
Once the roots are established, it's time to pot your lavender cuttings up into their own pots. At this point, you can move them into the sun, and allow the soil to dry out a bit between waterings.
After your lavender plants become established in their new pot, you can plant them into the garden. I recommend planting your baby lavender plants on a shady day, or in the early evening after the intense heat of the sun has passed.

Propagating plants is fun and addicting! If you want to learn how to propagate even more of your favorite plants, then you will love my Plant Propagation eBook. It has everything you need to get started using basic propagation methods to propagate any plant that you want! Download your copy today.
Now that you know how to propagate lavender, read our comprehensive lavender plant care guide next!
Products I Recommend
More Information About Plant Propagation
Have you ever tried to propagate lavender plants from your garden? Share your tips in the comments section below!