You may be wondering what a propagation box is. A propagation box, or propagation chamber, is something that can be used for rooting plant cuttings. It works like a mini greenhouse that will protect plant cuttings and give them enough moisture so they can survive until they sprout roots.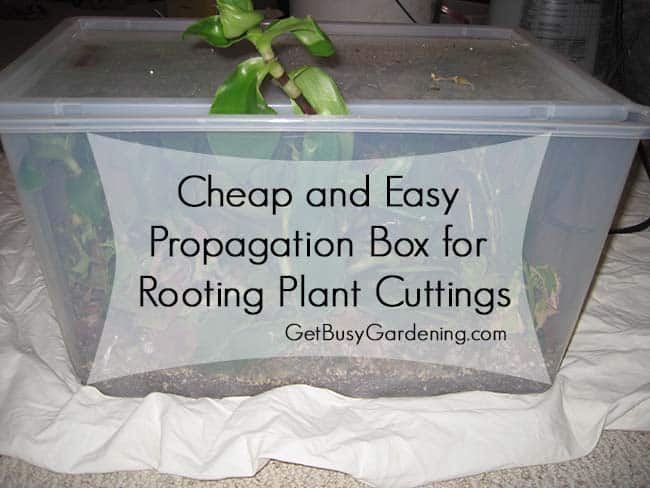 Some plants are easy to propagate by simply putting the stems in water, but other plants will rot if you try rooting them in water because they need a more controlled environment to root. That's where a propagation box comes in handy. There are many different types and styles of propagation boxes. Some are very fancy (and expensive) and others are not so fancy, but cheap (or free!). I made my own propagation boxes with materials that I got for free, and they work great.

How to Make an Easy Propagation Box
It's very easy to make your own propagation box using an inexpensive clear plastic storage bin with a lid. All you have to do is add a 3-4 inch layer of rooting medium on the bottom of the box and you have everything you need to start using your propagation box. I use a mixture of 1/2 peat moss and 1/2 perlite for the rooting medium in my propagation boxes. You can also add vermiculite to that mixture if it dries out too quickly. Don't use regular potting soil, it holds too much water and the cuttings can rot.
Whenever I trim a plant or a piece breaks off, I'll put the cutting into one of my propagation boxes. I check the boxes every few days to see if there are any new roots, and check the moisture level of the medium. The rooting medium should never be soggy or completely dried out. It's best to keep the medium consistently moist.
Related Post: How To Propagate Spider Plants
There are many different types of plants that are easy to root using a propagation box. I mainly use mine for propagating houseplants, but they could be used for perennials and annual plants too. I use my propagation boxes for everything except plants that are easy to root in water and succulents (the boxes tend to be too humid for succulents and they will just rot).
Related Post: Succulent Propagation During The Winter
Here are some tips for success with a propagation box…
Dip the stem of the cutting in rooting hormone before sticking it into the rooting medium.
Keep the rooting medium moist but not soggy, and don't allow it to dry out completely.
If you added too much water to the propagation box, you can leave the lid off the box for a day or two to allow the excess water to evaporate.
Keep the propagation box out of direct sunlight. An area near a sunny window is the perfect spot inside the house; outside the house, it should be kept in the shade.
Use bottom heat to help facilitate the rooting process. In the winter, you can place your propagation box on a heat mat or near a heat vent (be careful if it's near a vent, because the dry air from the heat vent will cause the soil in your propagation box to dry out faster).
If the storage bin you plan to use for a propagation box is air tight, add a few ventilation holes in the lid to help avoid mildew growth.

More Information About Plant Propagation
For more details about propagating your favorite houseplants, click here… Houseplant Propagation
Do you have a propagation box? Leave a comment below and tell me about it.