Aloe vera is one of my all time favorite plants, and they make excellent low maintenance houseplants. Every year my aloe vera grows a bunch of new baby plants around the base of the mother plant.
Once these baby plants are mature enough, you can propagate aloe vera plants by removing the babies from the mother plant and potting them up on their own.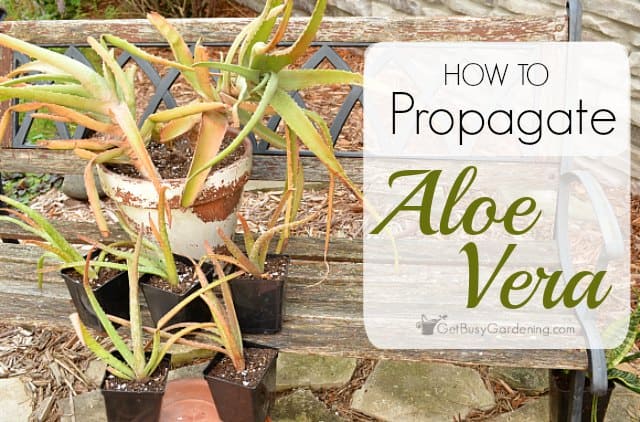 I don't propagate my aloe vera plant every year, I wait until the baby plants are mature enough to live on their own.

The pups don't have to be removed from the mother plant, they could stay in the same pot as long as you want.
But if you're ready to propagate your aloe vera plant, keep reading.
How To Propagate Aloe Vera Plants
Aloe vera plants are propagated by division, which means removing the mature pups from the mother plant.
You'll know the pups are ready to be removed from the mother plant because they'll have their own roots.
Only remove pups that have their own root system because pups without roots won't survive on their own.
To propagate aloe vera plants, carefully slide the entire plant out of the pot. Then brush away the dirt around the base of the mother plant and pups until you can see the roots of the pups.
Gently tease and untangle the pup's roots away from the mother, disturbing the roots as little as possible.
If the stem of the pup is still attached to the mother plant, sever the connection with a sterile knife or precision clippers. This will make it easier to untangle the roots.
Once the pups are removed, slide the mother plant back into the original pot, or a new one if you want to re-pot it.
If any of the pups you remove don't have a lot of roots, you can dip the end into rooting hormone to help the pups develop strong roots faster.
Now you can plant each individual pup into it's own pot. Aloe vera plants are succulents and prefer a sandy, fast draining soil.
You can purchase potting soil that's specifically made for succulents, or make your own using a mix of sand, potting soil and perlite. A gritty succulent soil mix also works great for growing aloe vera.
If you tend to overwater plants, choose a pot with drainage holes or a clay pot. Always use a clean pot and sterile succulent soil when potting up aloe plants.
Related Post: Make Your Own Succulent Potting Soil
Plant each pup in the new pot at the same depth it was in the old pot.
After potting them, wait for several days before watering the pups. This will give them time to recover from the shock.
Don't forget to add a plant tag to each plant.
Look at all those new aloe plants! Be sure to share them with friends. They make great gifts!

Products I Recommend:
Recommended Reading:
More Information About Plant Propagation
For more details about propagating your favorite houseplants, click here… Houseplant Propagation
Have you ever tried to propagate aloe vera plants before? Share your tips and experiences in the comments section below.