Figuring out what plant propagation tools, equipment, and supplies you need can be confusing and stressful, especially if you're just starting out. So, in this post, I'll share a list of the most important things you'll need, along with some "nice-to-have" items.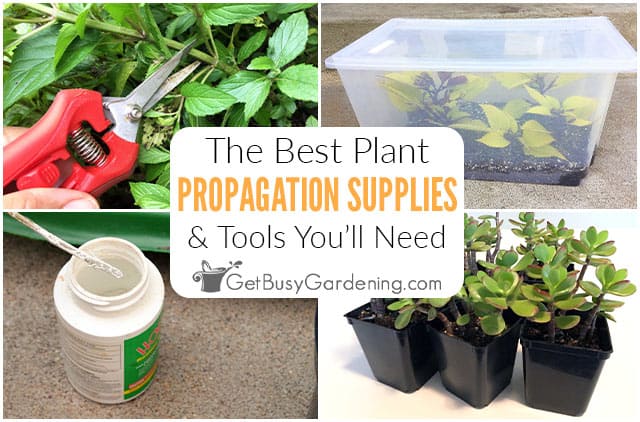 If you want to start propagating plants, then you're probably wondering what you'll need to get going.
The good news is that you don't need a ton of expensive tools and equipment to propagate plants. But you will definitely needs a few things.
To get you started quickly, I put together a list of essential supplies you'll definitely want to get.
But I didn't stop at the required items, I also included some optional things that will make your life easier, and increase your chances of success.
Plant Propagation Tools & Equipment List
In this list, you'll find lots of great options for tools, supplies, and equipment used in plant propagation.

You certainly don't need to buy everything on the list. I'll give you several options so you can choose what will work best for you and your budget.

I hope this list of plant propagation tools, supplies, and equipment will give you some good ideas for what you need to get started. As you become more experienced, you can get additional items to help you become faster and more efficient.
Want to learn exactly how to propagate your plants step by step? Then you need a copy of my Plant Propagation eBook. It has all you need to get started quickly, and have the best success. Download your copy today!
More About Propagating Plants
Share your must-have propagation tools and equipment in the comments below.