Butterfly weed is easy to care for, low maintenance, and also grows very quickly.
This gorgeous butterfly and bee-friendly plant adds color to any landscape, and is great for beginners. But it still needs the right attention and environment to thrive.
In this detailed guide you'll learn all about how to care for butterfly weed. You'll find tips on water, light, soil, pruning, and so much more.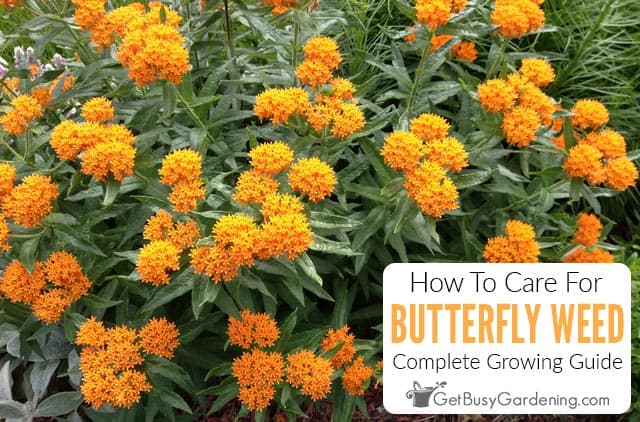 Butterfly Weed Quick Care Overview
| | |
| --- | --- |
| Scientific name: | Asclepias tuberosa |
| Classification: | Perennial |
| Common names: | Butterfly Weed, Butterfly Milkweed |
| Hardiness: | Zones 3-11 |
| Temperature: | 65-85°F (18-29.4°C) |
| Flowers: | Orange, red, yellow, white, blooms in the summer |
| Light: | Full sun |
| Water: | Allow soil to dry between waterings, do not overwater |
| Humidity: | Little to high, very tolerant |
| Fertilizer: | Diluted general purpose liquid fertilizer in late spring |
| Soil: | Fast-draining, sandy, or rocky soil |
| Common pests: | Milkweed aphids |
Information About Butterfly Weed
Butterfly weed (Asclepias tuberosa) is a herbaceous perennial that is native to the Northern and Eastern United States. It's a relative to common milkweed.
It grows from a thick, deep taproot, and reaches heights up to 3' with an average width of 2'.
Thick, arrow-shaped green foliage forms along the upright stems. In the summer, clusters of colorful flowers form at the tips.
The bright blooms are attractive to many pollinators like bees, hummingbirds, and butterflies. It's also a host plant for monarchs, earning its second common name, butterfly milkweed.
Different Types Of Butterfly Milkweed
There are many types of butterfly milkweed to choose from, but thankfully they can all be cared for in the same way. Here are a few of the most popular cultivars.
Western Gold Mix – This 2' tall plant grows best in zones 4-8 and produces orange flowers.
Prairie Gold – This yellow-flowered variety is best for gardeners in zones 4-9 and can grow taller than 2'.
Gay Butterflies – Enjoy a mix of red, orange, and yellow flowers on this cultivar. It grows in zones 4-11 and reaches 30" tall or more.
Hello Yellow – The 1-2.5' stems of this variety feature yellow-gold flowers, and it grows best in zones 3-9.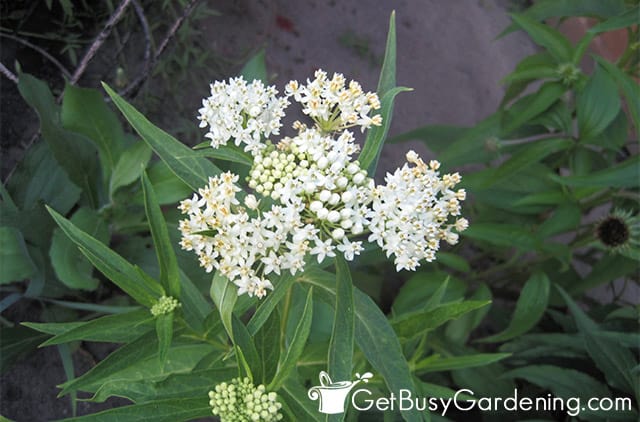 Flowers
Typically in mid to late summer, butterfly weed will produce clusters of red, orange, white, yellow, or mixed-colored flowers.
The exact time of year they will bloom varies depending on the climate, environment, and cultivar.
The blossoms are small, star-shaped, and lightly fragrant. They're attractive to hummingbirds, bees, and butterflies.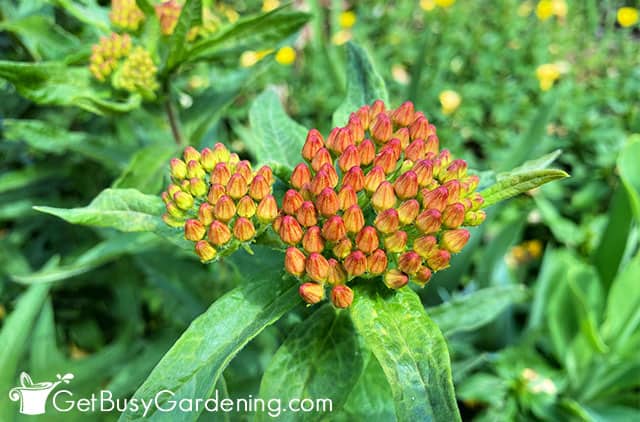 Toxicity
The sap of butterfly weed is considered toxic to cats and dogs if ingested, and it can also be irritating to the skin.
If you're concerned, it's best to keep pets away from this plant, and also wear protective glasses and gloves when handling it. To find out more information visit the ASPCA website.
How To Grow Butterfly Weed
Before we get into how to care for butterfly weed, first we need to talk about where it grows best. Choosing a good location is key to achieving long-term health.
Hardiness
Asclepias tuberosa is a very hardy perennial. Some varieties can survive lows of -30°F (-34°C) and highs up to 114°F (42°C).
They can survive the winter in growing zones 3-11, but in areas where it's consistently below 40°F (4.4°C), the plant will drop its leaves and go dormant.
Where To Grow Butterfly Weed
Butterfly milkweed is extremely tolerant of a wide variety of locations, and even does well in containers. Simply provide full sun and avoid heavy, clay-based soils.
Whether you keep it in a pot or plant it in the garden, make sure you're happy with the location. They do not like to be transplanted once established, and the long taproot makes it difficult to relocate them.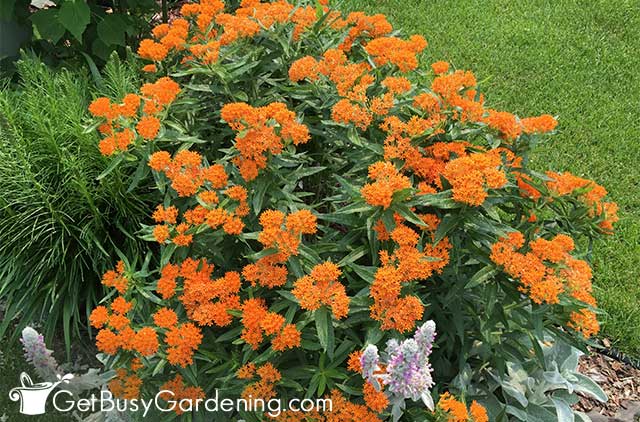 Butterfly Weed Plant Care & Growing Instructions
Now that you have the ideal spot in mind, let's chat about the best butterfly weed care. Use these tips to create the perfect environment for yours to thrive.
Light
Asclepias tuberosa does best in a full sun location with 6 or more hours of direct exposure a day. It can tolerate partial shade, but lack of light usually causes legginess and less blooms.
In very hot climates or during heat waves, intense afternoon sun can cause the leaves to burn or the plant to wilt.
In this case, you can use a shade cloth to protect them during the hottest part of the day to help prevent problems, and irrigate your plant more often.
Water
Butterfly weed is a drought-tolerant plant and they do not like a lot of water, especially once established. Overwatering it can lead to rot and eventually kill the plant.
It's important to wait until the soil has dried out before giving them another drink, and always make sure your containers drain completely after watering.
Use your finger to test the soil, or get an inexpensive moisture gauge probe. The gauge should read between 3-5 before it's time to water again.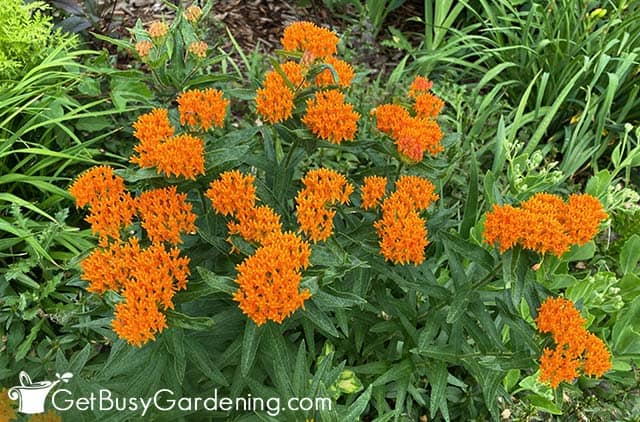 Humidity
Another great thing that makes butterfly weed so easy to care for is that they're tolerant of both high humidity and arid regions.
In very humid areas, space your plants 15-18″ apart to allow for plenty of airflow, which can help to prevent issues with mildew or diseases.
Temperature
The ideal temperature range for growing butterfly weed is between 65-85°F (18-29.4°C), but most cultivars can tolerate ranges between 32-100°F (0-37.7°C). Some varieties can even survive cold down to -30°F (-34°C) or heat up to 114°F (42°C).
Always check the tag to make sure you know what's best for your particular plant, because some can handle temperature extremes better than others can.
Cold temperatures will cause leaf drop, but the root often survives, especially if you provide some winter protection, like mulch.
In extreme heat, provide afternoon shade and water your plant more often to help prevent sun damage and wilting.
Fertilizer
Butterfly milkweed does not typically need much fertilizer. It thrives in poor soil and adding too many nutrients can actually lead to legginess and less flowers.
At most you can top-dress it with a layer of compost, or add a diluted dose of all purpose liquid fertilizer, a compost tea, or fish emulsion once in the spring.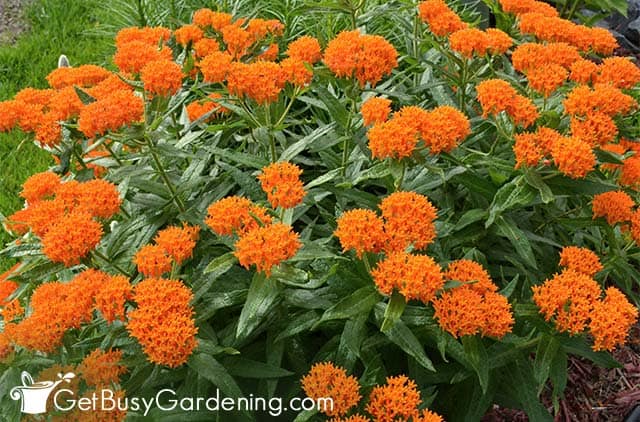 Soil
Butterfly milkweed can grow in a wide variety of soils, even poor quality ones. Ideally the soil should be sandy, porous or rocky, and well-draining.
If you have very heavy, clay-based garden soil, then mix in compost and coarse sand to improve drainage.
For containers, you can use a fast-draining mix, or amend a general purpose potting soil with sand and perlite or pumice.
Transplanting
Unfortunately, it's very difficult to transplant butterfly weed. They have a deep taproot and, once fully established, the taproot does not like to be disturbed.
If you'd like to move yours to a new location, you can try to dig it up in the fall or spring, but take extra care not to damage the main taproot.
They can stay in the same container for a long time. Simply cut your containerized plants back in the fall or winter to make room for new growth the following year.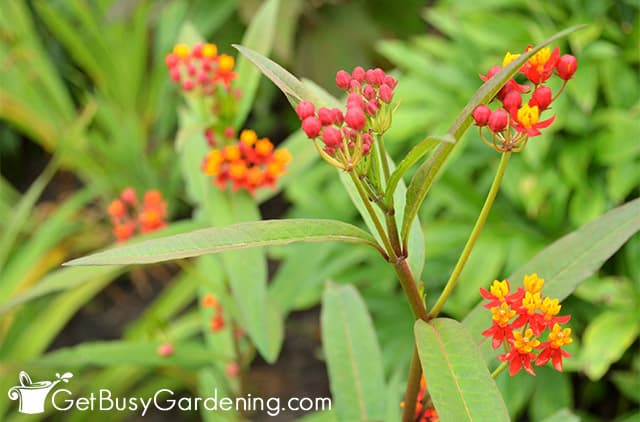 Pruning
Pruning is not a necessary part of butterfly weed plant care, but it can help encourage more blooms, prevent self-seeding, and keep it looking tidy.
Deadhead the spent flowers or damaged stems as you see them throughout the season. Use a sharp, sterile pair of pruners and wear gloves to protect your hands from the potentially irritating sap.
In the fall after flowering, or once it drops all of its leaves, you can cut it back to just above the soil line. That won't damage the plant, and new growth will emerge in the spring.
Pest Control Tips
Butterfly weed is typically not bothered by many pests, but they can become targets for an orange aphid species, called oleander, or milkweed aphids.
These pests can be treated just like traditional aphids, but I recommend using mild methods of either insecticidal soap or a sharp blast of water.
However, you should treat bug infestations with caution. Asclepias tuberosa is a host plant for monarchs, and spraying the plant with anything, even organic treatments, can disturb or kill the beneficial caterpillars and other pollinators.
Neither the aphids nor the caterpillars feeding on the foliage typically cause enough damage to actually harm the plant, so it's usually best to leave them alone rather than risk killing any monarch larvae in the process.
Dormancy
Butterfly milkweed will enter a period of dormancy in the fall or winter when the temps drop below freezing and the days get shorter.
The leaves will turn yellow and then fall off, leaving empty stems behind. You can cut the empty stems down to the ground in the fall, or leave them until spring.
When the days get longer and temperatures warm up to above 60°F (15.5°C) in the spring, they'll come out dormancy. Don't be alarmed if it takes longer to show new growth than your other plants, it's very common for them to lag by a few weeks.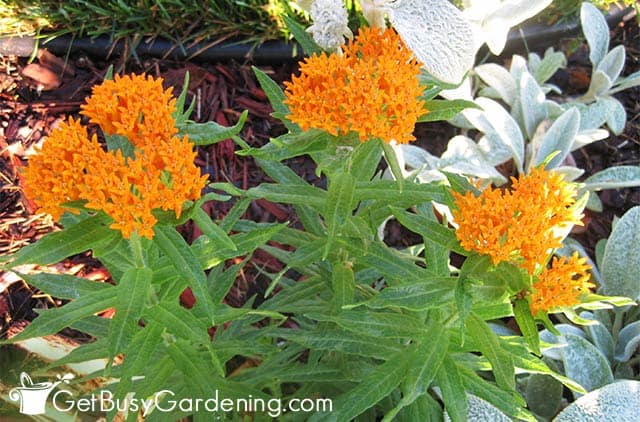 Butterfly Weed Propagation Tips
You can propagate butterfly weed from stem cuttings or by planting seeds. They self-seed prolifically once the pods that develop after flowering dry and split open. You can easily collect butterfly weed seeds and use them to start new plants.
To propagate with cuttings, take a healthy 4-5" long piece of stem and remove all but the top leaves. Dip the end in rooting hormone and bury it in a lightly moistened, coarse planting medium.
Keep the cuttings in a warm and humid location out of direct light for several weeks until they have 3-4″ long roots, then pot them up or transfer them into your garden.
Troubleshooting Common Problems
Butterfly weed care is usually very easy, even for beginners, but no plant is problem-free. If you run into one of these more common problems, my tips will help you get back on track.
Butterfly Weed Plant Dying
Butterfly weed plants are very hardy, but the main reasons they start dying are from overwatering, or if the main taproot is damaged or severed.
The best way to prevent it is to plant them in well-drained soil and leave them there, rather than trying to move them to a new location.
Overwatering will lead to root or crown rot. A moisture gauge can help you better understand exactly when to water.
Brown Spots On Leaves
Mildew, rust, and insect damage can all lead to brown discolored spots on butterfly weed leaves.
Make sure your plants have plenty of space and airflow, especially in humid climates, and check periodically for aphids. Brown spotting is usually not deadly, just unsightly.
FAQs
Here I've answered some of the most commonly asked questions about butterfly weed care. If yours isn't listed, please add it to the comments section below.
What's the difference between butterfly weed and milkweed?
The difference between butterfly weed and milkweed is mainly the flowers, foliage, and the size of the plants. Common milkweed has rounded flower clusters that are typically purple, large, wide leaves that are lighter in color, and the plant can grow 6' tall. While butterfly weed has umbel shaped flowers that range from orange to yellow, white, or red, smaller and darker green leaves, and the plant only gets 2-3' tall.
Is Asclepias tuberosa good for monarch butterflies?
Yes, Asclepias tuberosa is excellent for monarch butterflies. It's a host plant where the females will lay their eggs, and the foliage provides food and shelter to the larval caterpillars so they can feed and form their chrysalis.
Is butterfly milkweed invasive?
No, butterfly milkweed is not invasive, it's actually native to many areas of North America. Unlike common milkweed, it has a taproot and does not form underground runners. However, it can self-seed, but this is easily controlled by deadheading spent flowers.
Does butterfly weed spread?
Butterfly weed can spread by self-seeding if you leave the large pods that form on the plant after it blooms. The pods will eventually dry and open up, scattering the seeds. They do not spread through underground runners like common milkweed does though.
Is butterfly weed hard to grow?
No, butterfly weed is not hard to grow, it's actually quite easy. It's very tolerant of different temperatures, soil types, humidity levels, and is typically pest and disease free, making it a low-maintenance option for gardeners.
Does butterfly milkweed come back every year?
Yes butterfly milkweed will come back every year in zones 3-11, where it is a hardy perennial. Some varieties can handle temperatures as low as -30°F (-34°C) during the winter.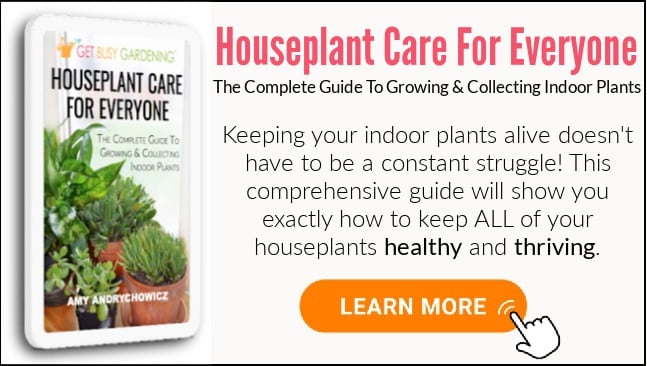 If you want to learn all there is to know about maintaining healthy indoor plants, then you need my Houseplant Care eBook. It will show you everything you need to know about how to keep every plant in your home thriving. Download your copy now!
More About Flower Gardening
Share your butterfly weed plant care tips in the comments section below.