Amaryllis plants are popular holiday gift plants, and make excellent Christmas gifts! But the best part about them is they can easily be grown as houseplants for years to come. And, when given the right care, amaryllis plants will bloom for the holidays year after year. It's the gift that keeps on giving! This may sound intimidating, but keeping these gorgeous holiday gift plants growing is easy with these simple amaryllis flower care tips.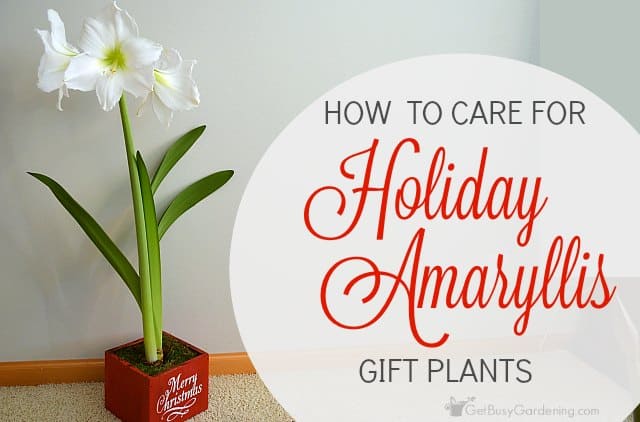 Even though both white amaryllis and red amaryllis are classic colors for Christmas, these impressive flowers can come in a variety of colors. They make great winter blooming plants, and are the perfect addition to your holiday decor.

Plus, amaryllis gift plants will bloom shortly after the hustle and bustle of the holidays is over, which is the perfect time to keep away the winter blues.
Flowering Bulbs For Christmas
Potted amaryllis flower bulbs given as gifts require vey little care. Simply unpack them, give the bulb a good drink of water, and put it near a sunny window. It may take a few weeks for amaryllis gift bulbs to wake up and start to grow.
But once they do, the'll grow quickly and will soon have beautiful blooms with minimal care. Your amaryllis might grow a flower spike first, or it might start to grow leaves before the flower.
Don't worry if the leaves start to grow before the flower, this is common and doesn't mean your amaryllis won't bloom.
Amaryllis Flower Care Tips
Once your amaryllis starts to bloom, you can pretty much just sit back and enjoy the show. There isn't really any special amaryllis flower care required during this time.
But the flower stalks do grow quickly, and sometimes they can grow towards the light, so turn the pot regularly in order for the flower spike to grow straight up if it starts to lean.
Keep the soil evenly watered while your amaryllis is in bloom, but take care not to overwater it. Check the soil before watering your amaryllis, and only water it if the soil is getting dry.
If the flower stalk isn't growing straight up, or it starts to flop over with the weight of the flowers, you can stake them using amaryllis stakes.
How Long Do Amaryllis Flowers Last?
Individual amaryllis flowers will generally last for 2-3 weeks. Amaryllis flower spikes will grow three flowers, and most of the time those flowers will open at different times, extending your amaryllis bloom time for several weeks.
Depending on the type and age of the plant, amaryllis bulbs may grow more than one flower spike, making the blooms last even longer. To make the flowers last as long as possible, keep the plant out of direct sunlight while it's blooming.
Amaryllis Care After Flowering
Many people toss out Christmas amaryllis bulbs after they're done blooming. It's such a shame because amaryllis plants are quite easy to grow and make wonderful flowering houseplants. With a little bit of extra care, amaryllis plants will bloom for the holidays every year.
If you'd like to try your hand at growing amaryllis after all of the flowers have faded, then the first thing you need to do is cut off the flower stalk to the top of the bulb. This will help the bulb keep the energy it needs to form flowers for next year.
Leave the leaves on the plant to continue growing, the foliage will keep giving the bulb more energy so it can bloom again. Continue to water your amaryllis on a regular basis, but don't overwater it or the bulb could eventually rot.
How To Care For Amaryllis Bulbs Long Term
Amaryllis plants can easily be kept as foliage houseplants with minimal care, or you can take a few extra steps to encourage them to bloom every winter. Once the weather warms up in the spring, you can move your amaryllis flower bulbs outside to a sunny spot for the summer.
Then in late summer, bring them inside to a cool dark location and allow the soil to dry out completely. This will trigger the plant to go into dormancy.
Once the plant has gone dormant, remove all the dried leaves and don't water it at all. Wait 6-8 weeks, and then bring the plant out of dormancy into a sunny location and give it some water – starting the blooming cycle all over again. If given the right treatment, your amaryllis will bloom again just in time for the holidays.
Where To Buy Amaryllis Bulbs Online
If you're looking for the perfect gift for the plant lover on your list (or maybe a little holiday gift for yourself – I won't tell), Jackson & Perkins has a great selection of amaryllis bulbs for sale online. The one they sent me is called Warmest Wishes, and they have several other options including amaryllis bulb kits and colorful waxed amaryllis bulbs, all of which you can find here… Amaryllis Gift Bulbs.
Amaryllis plants make great gifts for anyone on your list. Those gorgeous blooms are sure to impress, and with these simple amaryllis flower care tips, it'll be the gift that keeps on giving.
More Posts About Flowering Houseplants
Do you grow amaryllis? Share your amaryllis flower care tips in the comments section below.
Pin It!