Amaryllis are beautiful flowering bulbs that are easy to care for, and they can bloom every year. In this detailed amaryllis care guide, I'll give you tons of information and growing tips, answer your FAQs, help you troubleshoot common problems, and show you exactly how to grow amaryllis.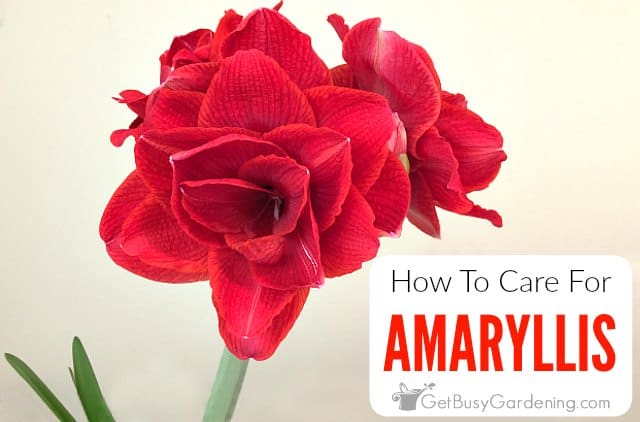 I don't know about you, but I am a bit obsessed with amaryllis (I currently have 10 different varieties growing in my spare bedroom!). I mean who doesn't love those huge, gorgeous flowers?!?
The best part is that they bloom during the long winter months, which is something I look forward to every year! That's why they are one of my top picks for the best flowering houseplants.
They are a very popular holiday gift plant that's fun to grow. But most people toss out the bulbs because they don't know how to take care of amaryllis after blooming.
The good news is that you can keep the bulbs to grow again next year, and amaryllis care is extremely easy. In this comprehensive guide, I will show you everything you need to know about how to take care of an amaryllis plant.
Here's what you'll find in this detailed amaryllis care guide…
Different Types Of Amaryllis
There are tons of different types of amaryllis flowers, and they are all beautiful! Though red and white are the most common colors, the flowers can be any shade of red, pink or white. Some amaryllis varieties even have striped or multi-colored flowers.
The size and shape of the flowers can be different depending on the variety too. Some are more rounded and others are star shaped, or they can have single petals while others are double. A few of my favorite varieties are 'Apple Blossom', 'Clown', 'Splash', and 'Christmas gift'.
Is Amaryllis Annual Or Perennial?
Even though it's most common to find amaryllis for sale during the winter as holiday gift plants, they are actually tender perennials. Most will survive in zones 9 and above, but there are a few hardy garden amaryllis varieties that can be grown down to zone 7.
Amaryllis Plant Life Cycle
Once you learn more about them, you'll find that the amaryllis life cycle is different than it is for your other houseplants. Like most plants, their active growing season is during the spring and summer months.
But the key differences are that they are winter blooming plants that grow from a bulb. And the bulb needs a period of dormancy in the fall in order to flower.
So, you can care for amaryllis plants just as you would any of your other indoor plants, and they will be beautiful green houseplants. But, if you want your amaryllis bulb to rebloom every year, then there are a few extra steps you need to take (I'll show you exactly what to do with an amaryllis after it blooms below).
Are Amaryllis Plants Poisonous?
Yes, unfortunately all parts of the amaryllis plant are toxic to pets. The ASPCA.org website has them listed as being toxic to both cats and dogs.
To avoid amaryllis poisoning, please keep it out of reach of your pets (and the kiddos too) at all times. Otherwise, try growing some of these pet friendly houseplant instead.
When Do Amaryllis Flowers Bloom?
Amaryllis flowering time depends on two main factors: the period of dormancy, and the type of amaryllis you have. Generally speaking, it is a winter blooming plant. But, they can bloom anywhere from winter through early summer.
Most varieties take 6-8 weeks to bloom after their dormancy period, but some varieties can take up to 10 weeks. If you want to time the blooms, count backward 12-16 weeks, and that's when you need to start their dormancy. Then bring them out of storage 6-8 weeks before you would like them to bloom.
Keep in mind that the bulbs need to be mature in order to bloom. So, small bulbs may not bloom even after you follow all of these amaryllis plant care steps. But on the flip side, they only get better with age! As amaryllis bulbs grow larger, they produce more flowering stems.
When To Start Amaryllis For Christmas
If you want to try forcing amaryllis bulbs for Christmas, then you should start their rest period sometime in early-mid September.
Then bring them out of dormancy in late October-early November (6-8 weeks after the start of their dormancy period).
Forcing Amaryllis Bulbs In Water
Yes, you can grow amaryllis bulbs in water, and it's a fun project to try. The only caution I have is that it's very easy for the bulb to rot if you do it wrong.
Also, when bulbs are forced in water, they usually need to be thrown out afterward. Sometimes they will grow in soil and recover fine, but it will take a few years for them to flower again.
So I would only recommend trying this if you have a spare bulb or two, rather than using the only one you have. If you want to give it a try, you can get the full tutorial for how to grow amaryllis in water here.
Growing Amaryllis Outdoors
As I mentioned above, amaryllis is a perennial plant in zone 9 and above. And there are some hardy amaryllis bulbs that can survive down to z7. So, if you live in a warm enough climate, you can grow them in your garden year round (lucky you!).
If you want to try planting amaryllis outdoors in the garden, then choose a spot that gets full sun and has well-draining soil. Also, keep in mind that they may not bloom until spring or early summer when planted in the garden.
But even if you live in a cold climate like I do, you can still grow them outside during the summer. I leave mine in their pots all year. But some people prefer planting amaryllis outside in their garden in the spring, then digging up the bulbs in the fall.
If you put your amaryllis outside during the summer, be sure to move it back indoors before any chance of frost. They can tolerate frost and short periods of freezing without dying. But it's best to bring them back indoors before frost to prevent any damage, and ensure they will bloom.
Growing Amaryllis Indoors
The good news is that amaryllis can be grown indoors as a houseplant. I find it much easier to put mine outside for the summer, but you can certainly keep them growing inside your home all year long. However, amaryllis care indoors is a bit different than growing them outside.
Giving them adequate light is the biggest challenge most people face with indoor amaryllis bulbs. But other than that, they are pretty easy to grow inside. The instructions below will give you all the details you need to learn how to grow amaryllis indoors or out…
Amaryllis Care Instructions
In this section, I will give you all of the details you need to know about how to care for amaryllis plants. I will start with the most common question that people have about growing an amaryllis… how to take care of amaryllis bulbs after flowering, and get them to bloom again.
How To Get Amaryllis To Rebloom
When it comes to amaryllis care, by far the most common question I get asked is "How do I get amaryllis to bloom again?". The good news is that forcing amaryllis bulbs is very easy, but it does require a little help from you. Here are my quick tips for how to force amaryllis to bloom…
The first thing to remember is that the bulbs need to regenerate their energy after blooming. Cut off the flower stalks after the flowers have died, but do not remove the leaves. The leaves are what gives the bulb energy to rebloom.
Then grow your amaryllis as a houseplant, giving it plenty of light, and fertilize it regularly. Once the temperature gets above 60F, put it outside for the summer. Be sure to slowly acclimate it to growing in a full sun location so the leaves don't get sunburned. Keep it growing in the full sun, and fertilize it every few weeks through the summer.
Stop fertilizing and watering it a few weeks before you want to trigger dormancy. Then bring it back indoors and put it in a cool, dark location (I keep mine in the garage, but a basement or closet would be great amaryllis bulb storage spots too). Allow it to rest for 6-8 weeks, removing the dead leaves as they dry up.
When the dormancy period is over, move your amaryllis to a warm, sunny window and water it thoroughly. You should start to see new growth in another 6-8 weeks. If they are slow to grow, then place the pot on a heat mat to help break dormancy. Get my full step-by-step instructions for how to rebloom your amaryllis plants here.
Amaryllis Watering Instructions
One of the most common problems people have with growing amaryllis bulbs is overwatering. Consistent overwatering will cause amaryllis bulb rot, which will ultimately kill the plant. We don't want that to happen, so here are my tips for watering amaryllis in pots…
How often to water amaryllis bulbs – It's good to have an amaryllis care routine, but never water your plants on a set schedule. Instead, you should always check the soil before watering. To check the soil, stick your finger about 1″ deep. If the it feels wet, then wait to water it.
How much water does an amaryllis need? – Amaryllis plants need more water in the summer than they do in the winter. So check the soil weekly during the summer, and give it a good drink of water when it doesn't feel wet anymore. In the winter, allow the soil to dry out more between waterings. Don't water them at all during dormancy.
How to water amaryllis – To water potted amaryllis bulbs, pour water over the top of the soil until it starts coming out the bottom of the pot. Then allow the excess water to drain completely before putting it back in the plant tray or cache pot. Never allow the plant to sit in water.
If you struggle with watering your plants, I recommend getting an inexpensive soil moisture meter. It's a great tool that will help you get it perfect every time, and it works for any type of plant.
Amaryllis Light Requirements
One of the biggest problems people have with amaryllis care is giving their plant the right amount of light. An amaryllis houseplant needs lots of light in order to grow its best and bloom. The ideal spot to grow it indoors is in a sunny, south-facing window.
Once they begin, the flower stems grow very fast and it can be difficult to keep them growing straight. If they start to get tall and leggy, or grow towards the window, that means they aren't getting enough light.
If you can't give your amaryllis enough natural sunlight, then get a grow light and set it on an outlet timer for 6-10 hours a day. For leggy flowers, use an amaryllis stake to support the stems so they don't fall over. You can also rotate the pot every few days to help keep them growing straight.
Best Fertilizer For Amaryllis
The best type of fertilizer to use on your amaryllis is a water soluble one. It's also best to use an organic fertilizer rather than a synthetic one. Chemical fertilizers build up in the soil, and can easily cause fertilizer burn. Plus, they really aren't good for the long-term health of a plant.
When to fertilize amaryllis – Begin fertilizing your plant when it's done blooming, and continue feeding through the summer as a regular part of amaryllis plant care. Stop feeding it a couple of weeks before its ready for dormancy. Don't fertilize at all during dormancy or flowering.
Amaryllis Soil Requirements
They aren't super fussy about the type of soil they're growing in, as long as it has good drainage. A general purpose mix will work just fine for amaryllis potting soil.
However, if you tend to overwater your plants, then I recommend adding in perlite, pumice or coarse sand into your growing medium for amaryllis to help add extra drainage.
Repotting Amaryllis Bulbs
Contrary to what you may have heard, you don't need to repot amaryllis every year in order for them to bloom. They actually prefer to be pot-bound. The bulbs only need to repotted every few years at most, or after they have become pot-bound.
When to repot amaryllis bulbs – The best time for repotting is after the bulbs have gone dormant. You can either remove the bulb from the pot once it's dormant, store it bare root, then pot it up after its rest period. Or you can simply repot it right before you bring it out of dormancy.
How to repot an amaryllis bulb – Choose a container that's slightly larger than the bulb, and is only one size larger than the pot it was in (so go from a 6″ to an 8″ pot for example). Plant it in a general purpose potting soil leaving 1/3-1/2 of the bulb above the soil level. Take care not to plant the bulb too deep or it may not flower.
If you want to grow more than one amaryllis flower bulb in a container, than choose a larger pot (10-12″). You may also want to use a clay or ceramic pot to keep the heavy flowers from toppling the plant. Just be sure to always use a pot with holes in the bottom to prevent overwatering.
Amaryllis Pest Control
Healthy amaryllis plants rarely have problems with houseplant pests, but mealybugs and fungus gnats can sometimes become a problem. Mealybugs look like white cotton on the leaves and stems. Fungus gnats are tiny bugs that look like fruit flies in the soil or flying around the plant.
Fungus gnats are a sign that you are overwatering your plant. To get rid of them, allow the soil to dry out more between waterings. You can also use soapy water (I use 1 tsp mild liquid soap to 1 liter of water) or organic insecticidal soap as a soil drench to kill the bugs faster.
Organic neem oil works great to naturally get rid of houseplant bugs on the leaves and stems, and has a residual effect to keep them away. You can try using horticultural oil instead if you prefer that. Learn all about how to get rid of houseplant bugs naturally here.
Pruning Amaryllis
The good news is that you don't have to worry too much about pruning as part of your regular amaryllis care routine. But timely pruning is an important step in getting amaryllis to bloom again.
How to prune amaryllis flowers – You can deadhead the flowers as they start to fade if you want to. But once all of the flowers on a stalk have died, you should remove the entire stalk. This will allow the plant to start building energy right away for next years flowers. Cut the flower stem off all the way down to the top of the bulb.
When to cut back amaryllis leaves – It's important to keep the leaves on the plant as long as possible so the bulb can regenerate enough energy to bloom again. Never remove green or yellowing leaves, and wait to prune dying leaves off until after they dry up.
Amaryllis Propagation Methods
Dividing amaryllis bulbs is the easiest and most common method of propagation. Mature bulbs will grow offshoots from the base, which can be removed and planted into their own containers.
Wait until the offshoots have grown into bulbs and have their own root system before splitting amaryllis bulbs.
To propagate them, gently tease apart the roots until they easily pull apart from each other. After separating amaryllis bulbs, pot the babies up into their own containers. Small bulbs can be planted into 4″ pots or smaller.
Can You Grow Amaryllis From Seed?
Yes, amaryllis plants can be grown from seed! Though keep in mind that it takes a long time to get flowers from seed-grown plants.
In order to produce seeds, the flower must be pollinated. To do this yourself, simply brush some pollen onto the pistil (the long white part sticking out of the flower) with your finger or a small brush.
Don't cut the pollinated flowers off after they fade, leave them on until a seed pod develops. Once the seed pod turns brown and starts to break open, it's time to collect the seeds. Amaryllis seeds don't store very well, so be sure to plant them as soon as you can.
Troubleshooting Common Amaryllis Problems
Once you get the hang of it, you'll find that taking care of amaryllis plants is pretty easy. But it can be very frustrating when your plant starts having issues, and you don't know why.
So here are a few of the most common amaryllis plant care problems, and the causes…
Amaryllis not flowering – There are a few reasons why an amaryllis will not bloom. Most likely it's because the bulb hasn't built up sufficient energy to flower (the leaves were cut off too early, it didn't get enough light, or it wasn't fertilized), the bulb is immature, or it didn't have a period of dormancy.
Amaryllis leaves but no flower – If your amaryllis is only growing leaves after dormancy, give it more time because it may still flower. Sometimes the leaves grow before the flowers, which is not a big deal. Otherwise, see the first bullet point.
Bulb not growing – Most of the time when an amaryllis is not growing, it's due to the dormancy cycle. Remember, they like to go dormant for 6-8 weeks, then it can take another 6-10 weeks for them to break dormancy. If it's still not growing after that, check the soil to make sure it's not dried out, and try adding bottom heat to help break dormancy.
Leaves falling over – Droopy amaryllis leaves could be caused by over or under watering, or not enough light. Check the bulb to make sure it's not rotting, then check the moisture level of the soil. If watering isn't the issue, then give your plant more light.
Flower falling over – Since the flowers are so large, it's common for them to fall over once they open. The main cause is usually lack of light, which causes the stem to grow long and thin. Use an amaryllis stake to support the stems. Or you can cut the flowers, and put the stems into a vase of water instead.
Leaves turning yellow – It's normal for the leaves to turn yellow as the plant starts to go into dormancy (usually in the fall). However, if your amaryllis gets yellow leaves during its active growing season, then it could be caused by overwatering or bulb rot.
Amaryllis Plant Care FAQs
Below I will answer some of the most common questions I get about amaryllis plant care. If you can't find an answer to your question after reading through the post and these FAQs, then please ask it in the comments section below. I'll answer it as soon as I can.
Can amaryllis bulbs be reused?
Yes! Amaryllis can live for many, many years. They make excellent houseplants, and are easy to rebloom every year.
What do you do with an amaryllis after it has bloomed?
Cut off the dead flowers and keep it growing as a houseplant. Or, if you want to try your hand at getting amaryllis to rebloom, see the section called "How To Get Amaryllis To Rebloom" above for details.
How long do amaryllis blooms last?
Individual amaryllis flowers will generally last for 2-3 weeks. The flower spikes will grow three flowers, and most of the time those flowers will open at different times, extending the bloom time for several weeks.
Depending on the type and age of the bulb, your amaryllis may grow more than one flower spike, making the blooms last even longer. To make the flowers last as long as possible, keep your plant out of direct sunlight once the flowers open.
How long does an amaryllis bulb need to be dormant?
On average, the bulbs need to be dormant for 6-8 weeks.
When should I feed my amaryllis bulbs?
You can start fertilizing it after it's done flowering. Continue feeding amaryllis through the summer, and stop about a month before dormancy.
How often should I water my amaryllis bulb?
Rather than watering them on a schedule, you should only water them when they need it. Check the soil moisture level once a week during the summer, and every couple of weeks during the winter. See the "Amaryllis Watering Instructions" section above for more details.
Why are my amaryllis leaves turning yellow?
The leaves naturally turn yellow as the bulb starts going dormant, which is completely normal. Bulb rot, or under or overwatering can also cause yellowing leaves. See the "Troubleshooting Common Amaryllis Problems" section above for more help.
Do amaryllis have a scent?
Yes, there are many types of fragrant amaryllis flowers, and some are stronger than other. It's not overpowering, and you usually need to get close to the flower to notice the sweet amaryllis scent.
Where To Buy Amaryllis Bulbs
You can buy amaryllis bulbs online or at your local garden center. Since they are such popular flowers that bloom at Christmas, the best time to purchase amaryllis bulbs and plants is around the holidays.
But if you're patient, you can usually find discount amaryllis bulbs on sale for pretty cheap after the holidays at your local garden center. Of course, you can always order amaryllis bulbs online any time of the year.
Amaryllis care may sound like it's overwhelming at first. But once you get the hang of it, you'll see just how easy it is. Just think, now that you know what to do with an amaryllis after flowering, and how to care for an amaryllis plant, you'll be able to enjoy these gorgeous flowers year after year!
If you struggle to grow healthy houseplants during the winter, or you want to learn more about winter flowering plants, then my Winter Houseplant Care eBook is for you! It has everything you need in order to keep your houseplants alive and thriving through the long winter months. Download your copy today!
Recommend Amaryllis Care Products
More Plant Care Guides
Share your amaryllis care tips in the comments section below.