Poinsettias are the official houseplant of Christmas, but did you know you can keep them growing long after the holidays? In this comprehensive poinsettia care guide, you'll learn all about them. Including detailed maintenance tips, how to fix common problems, answers to your FAQs, and much more!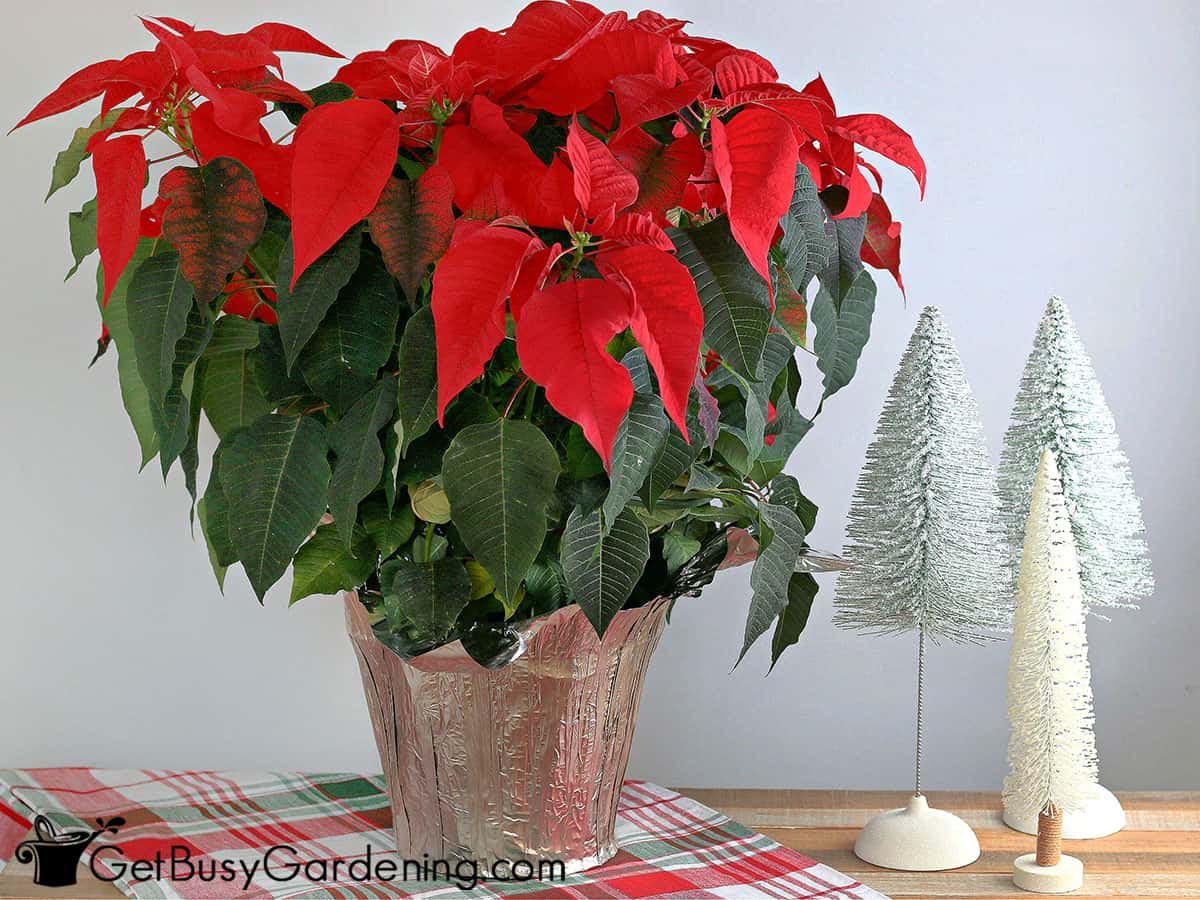 Poinsettias are bright and beautiful symbols of the holiday season. Their mere presence in a room transforms the space into a more festive and merry place.
From the floral department of grocery stores, to home improvement stores and garden centers, they are readily available for sale throughout November and December.
Though they are commonly sold as holiday gift plants, you can keep them growing year-round. They are fairly easy to care for, and can live for many years.
Below I will show you everything you need to about how to grow poinsettia plants through the holidays, and beyond. You'll get tons of info about them, and learn everything from watering to light, humidity, soil, repotting, fertilizer, getting them to turn red each year, and more!
Here is what you will find in this detailed poinsettia care guide…
Information About Poinsettias
The poinsettia (Euphorbia pulcherrima) is a member of the latex family, and is native to Mexico and Guatemala.
In their native habitat, they can become as tall as 10ft. In the ideal climate they grow wildly, and many consider them weeds.
Their ease of care and maintenance contribute to their popularity. Poinsettias are a symbol of the season and an iconic part of our holiday culture.
Types Of Poinsettias
There are hundreds of different cultivars and varieties of poinsettias. Traditionally they are red, and that remains the most popular color on the market today.
But these days you can find them in red, pink, salmon, white, mottled, and even purple. These brilliant colors don't come naturally. Greenhouse growers must manipulate the light in order to change their natural green foliage to the desired color.
The sizes of each variety vary considerably as well. During the holiday season, you can find poinsettias that grow no more than 3-4 inches tall. While larger, and more established plants are usually several feet tall.
Poinsettia Flowers
The normal bloom time for poinsettias is December through January, just in time for the holidays.
As consumers, we only see them when they're blooming. The red, white, pink, and mottled colors of the leaves are commonly confused for the blooms.
However, the flowers are actually the small yellow unassuming structures in the center of the colorful foliage. The showy part of the plant surrounding these inconspicuous blooms are technically called bracts.
Poinsettia Toxicity
It is a common misconception that poinsettias are toxic. Studies through the Ohio State University found that a 50-pound child would have to eat 500+ leaves to experience the mild side effect of a stomach ache.
They taste terrible, with a strong bitter flavor. Given the amount that would have to be ingested to cause adverse symptoms, they do not pose a health risk for children or pets.
However, the sap can be a skin irritant, especially for people with latex allergies. So you may want to be careful with the sap while pruning poinsettias.
How To Grow Poinsettias
Before we dive into the detailed poinsettia care instructions, it's important to understand a few key things about where to grow them in order to be as successful as possible.
Hardiness Of Poinsettias
Even though they are sold mainly as holiday gift plants, poinsettias are actually tender perennials that are hardy in zones 11 or higher.
The fact that they are the official flower of Christmas is very ironic because they have no tolerance to the cold. So, unless you live in an area where it never gets cold, then you will need to grow poinsettias indoors.
Poinsettia Care Indoors
When growing poinsettias indoors, choose a location where they will get bright, indirect sunlight. Temperature is very important, and they are extremely sensitive to sudden changes. So always protect them from hot or cold drafty areas.
Also, they love humidity, which can be difficult to maintain indoors. If it's extremely dry in your home, be sure to run a humidifier near them. Getting yourself an indoor humidity monitor & temperature gauge will help a ton too.
Though they can grow indoors all year round, they will benefit from being outside during the summer. If you want to move yours outdoors, then wait until it is consistently above 60F in the spring.
Growing Poinsettias Outside
Outdoors, they prefer to grow in a partial shade location. A spot where they get morning and/or evening light, but are protected from the hot afternoon sun is ideal.
Choose a fairly dry spot in your garden that has fast draining soil. If your garden soil isn't ideal, you can amend it with coarse sand, pumice or perlite to help improve the drainage.
If you live in a warm enough climate to grow poinsettias outdoors, be sure to give them plenty of space. Remember, they can get to be upwards of 10′ tall! Proper spacing is also important to allow for good air circulation.
Poinsettia Care & Growing Requirements
Despite the differences in appearance, all varieties of poinsettias have the same basic needs. That is great news, since it makes caring for them much easier!
Keep in mind that the larger the plant, the more water it will require. Otherwise, poinsettia plant care is consistent between sizes, varieties, and cultivars.
Watering
Probably the biggest mistake people make with poinsettia care (and the most common cause of poinsettia plant death) is overwatering. They do not like a lot of water.
Poinsettias need consistent water, but their roots cannot tolerate saturated soil. So, it is very important that you always check the soil before adding more water.
Ideally, you should let the soil dry out between waterings, but do not allow the plant to start to wilt. Water the soil modestly, about ½ cup every few days, depending on their size.
Be sure to let any excess drain completely from the pot, and never leave it sitting in water. If you struggle with getting it right, then I recommend buying an inexpensive soil moisture gauge to help you out.
Humidity
Though they don't like a lot of water, they do love high humidity, and hate when the air gets too dry. Since it's pretty dry inside of a standard home in the wintertime, make sure you provide extra humidity.
Place your poinsettia on a pebble tray filled with water (never let the pot sit in the water though), or run a humidifier next to it. I don't recommend misting the leaves, because it can cause disease or mildew problems, and ugly leaf spots.
Lighting
In general, poinsettias grow best in bright, filtered, or indirect sunlight. Place them near a south facing window where they will receive filtered light, or directly in an east or west facing window.
They will be healthiest and maintain their colorful bracts longest when given 5-6 hours of indirect sunlight each day. Just be sure to keep them out of direct sun while they're blooming, to help the color last longer.
If you notice your poinsettia is starting to grow leggy or reaching towards the light, then move it to a brighter location or add a grow light.
On the other hand, if the leaves are turning white or crispy brown, or the plant is drooping, then it may be getting too much sun, or it's too hot. In this case, move it to a shadier spot.
Soil Requirements
They aren't picky about the quality of soil, so you don't need to buy anything fancy. However, since overwatering is a big problem for poinsettias, you should always grow them in a fast-draining soil mix.
You certainly could use a standard potting mix if you prefer. Just add some perlite, coarse sand, or pumice into the mix to help improve drainage.
Repotting
The best time to repot poinsettias is in the spring or early summer, and doing so will help to trigger fresh new growth.
Some people repot them yearly as part of the process of making them rebloom. While this certainly is not required, it's something that you can try if you haven't been successful with getting them to turn red.
Just be sure to always use a container that has holes in the bottom to allow for adequate drainage. You can always drop it into a decorative cache pot to dress it up.
Fertilizing
It's important to fertilize as a part of your regular poinsettia care routine in order to keep them healthy for the long term. Start feeding in the spring, and continue until fall.
Feed them every-other-week with liquid fertilizer or compost tea (which you can get as either a concentrate or tea bags). Or add slow release fertilizer to the soil in the spring, and a couple of times throughout the summer.
Feed your poinsettia from spring through the summer only, stopping in November. Do not fertilize them while they're blooming.
Temperature
As I mentioned above, poinsettias cannot tolerate cold weather. So when you purchase them for the holidays, make sure that you wrap each one well before transporting them out to your car in the cold.
Once you bring them home, ensure they are getting the proper temperatures. Poinsettia plants thrive when it's between 60 and 80F. They also do best when it's slightly cooler (10-15F) at night than it is during the day.
For best results, do not place them where they will encounter gusts of cold air, such as a door that opens to the outside. Also be sure to keep them away from heat sources, like fireplaces, radiators, or vents.
Disease Issues
There are a few diseases that commonly infect poinsettia plants, and can cause major problems. Diseases include spot anthracnose, which is a fungus that causes white lesions to form on the stems.
Another fungal disease that infect them is powdery mildew. Although not likely to kill your plant, it can negatively affect the appearance.
The best way to prevent both spot anthracnose and powder mildew is to water at the root zone, instead of over the top of the foliage. Also, be sure your poinsettia is not overcrowded, and gets plenty of airflow.
Pest Control
For the most part, poinsettias don't have many problems with insect pests, but they are sometimes susceptible to a few.
Spider mites and whiteflies are insects pests that can cause damage, and are usually more of a concern for indoor plants than outdoor ones.
Both of these pests feed on the leaves. Spider mites cause stippling to appear, along with webbing. Symptoms of whiteflies are bleaching or chlorosis of the leaves.
It's best not to spray anything on the foliage. So, if you do find bugs on your poinsettia, you can wipe both the tops and bottoms of the leaves with a damp cloth soaked in neem oil.
You could also try washing them with diluted mild liquid soap and water. But be sure to test this on a few leaves before washing the whole plant to prevent damage.
Poinsettia Propagation Tips
The easiest way to propagate poinsettias is to take cuttings from a mature plant. Make sure the stem cuttings are 4-5 inches long, with a few leaf nodes on them.
Remove the lower leaves, and allow them to cure until the wounds callus over. Then dip the cut end into rooting hormone, and place the stems into a sandy soil mix.
The key to getting the cuttings to root is to keep the soil on the dry side, and the humidity level high. This is the easiest to do during the summer.
You could also grow poinsettias from seed, which is actually fairly easy. However, it will take a very long time to get a substantial plant from seeds. But it would be fun to experiment!
How To Turn Poinsettias Red Again
I typically keep my poinsettias after the holidays. The new bracts that emerge are green, and make an attractive houseplant.
It is important to understand that if you want them to turn red again, it won't happen without your help. Though it's not too difficult, it will definitely take some work.
So, after you have enjoyed your poinsettia for the holidays, follow these tips to try your hand at turning them red next year…
Once the flowers drop, and the color starts to fade, slow down on watering, and move them out of the sun.
In the spring, cut back the stems by half.
After cutting it back, place it in a sunny window, providing it with water and fertilizer regularly, as described above.
Once the temperature is consistently above 60F, you can move it outdoors if you want (this is optional).
Continue pruning your poinsettia through the summer to encourage branching, and to keep it from growing leggy.
If you put your plant outside, bring it back indoors before it gets below 60F in the fall.
In late September, you will need to start manipulating the light, this is the key step for turning them red again. They will need 12-16 hours of complete darkness each night, then bright sunlight during the day.
If it worked, then after 8-10 weeks, the bracts should begin to turn red. Once that happens, move it to a spot where it gets 6-8 hours of filtered light, and water regularly.
This treatment will induce the color change in the bracts to give the poinsettia the beautiful color that we all enjoy.
Troubleshooting Poinsettia Care Problems
The most difficult part of poinsettia care is when your plant starts to have problems, and you have no idea how to fix it. So below I have listed some of the most common issues you may have with yours, the likely causes, and the solutions.
Leaves are falling off – Commonly caused by sudden temperature shifts, or improper watering (either too much or too little). But leaf drop is also a part of their natural lifecycle. It's normal for the leaves to start dropping after they're done blooming, and they begin their rest period.
Drooping leaves – Usually caused by over or under watering, or being exposed to extreme hot or cold temperatures or drafts. Check the temperature of the location, and water when the top inch of soil is dry.
White spots – Most of the time, white spots on the leaves are water spots. But it could also be caused by disease. To avoid this, water at the base of the plant, improve the air circulation, don't mist it, and keep the foliage dry at all times.
Yellow leaves – This is almost always caused by overwatering. Allow the soil to dry more between waterings, ensure the pot has adequate drainage holes, and that it never sits in water.
Leaves shrivel and die – Probably the most difficult one to diagnose because it could be caused by many things. Sudden shifts in temperature, consistently wet foliage, improper watering, fungus or disease are all likely culprits.
Green leaves – It's normal for the foliage to turn green after the plant is done blooming. And they will stay that way unless you take the steps above to make them turn red again.
Poinsettia Plant Care FAQs
In this section, I will answer some of the most frequently asked questions about poinsettia care. If you don't find an answer to your question here, then please ask it in the comments below. I'll be happy to answer it as soon as I can.
How do you get a poinsettia to rebloom?
In order to get them to rebloom, they need 12-16 hours of complete darkness every night for 8-10 weeks during the late fall and early winter (starting sometime in September).
And when I say complete darkness, I mean totally black. Even minimal light from the street or a nightlight could prevent them from blooming. See the XX section above for the exact steps to follow.
Do poinsettias come back year after year?
Yes, they are tropical perennial plants that can grow for many years. But you'll need to keep them indoors during the winter unless you live in a very warm climate (zone 11 or higher).
Why is my poinsettia not turning red?
Unfortunately, poinsettias don't turn red on their own, you'll need to work at it. They need an 8-10 week period of total darkness for 12-16 hours every night. This is the only way that they will turn red again.
It takes some work for sure, but it's not terribly difficult once you get the hang of it. See the XX section above for the steps to follow.
Do poinsettias like sun or shade?
They prefer growing in partial shade, where they are protected from the hot afternoon sun. A spot where they get morning sun or dappled light all day would be ideal.
Poinsettia care isn't difficult once you know how. They just need a little extra TLC in order to rebloom and turn red again. So, after incorporating them into your holiday home decor, be sure to keep your poinsettias growing so you can enjoy them year after year.
If you struggle to keep you indoor plants thriving year round, then my Winter Houseplant Care eBook is just what you need. It'll teach you everything you need to know in order to grow healthy and beautiful houseplants all year long! Download your copy today.
Recommended Products
More About Different Types Of Houseplants
Share your best poinsettia care tips in the comments section below.