With the right care, and a few simple steps, amaryllis bulbs rebloom year after year! Getting amaryllis to rebloom sounds difficult, but it's actually really easy. Follow these step-by-step instructions to rebloom your amaryllis plants.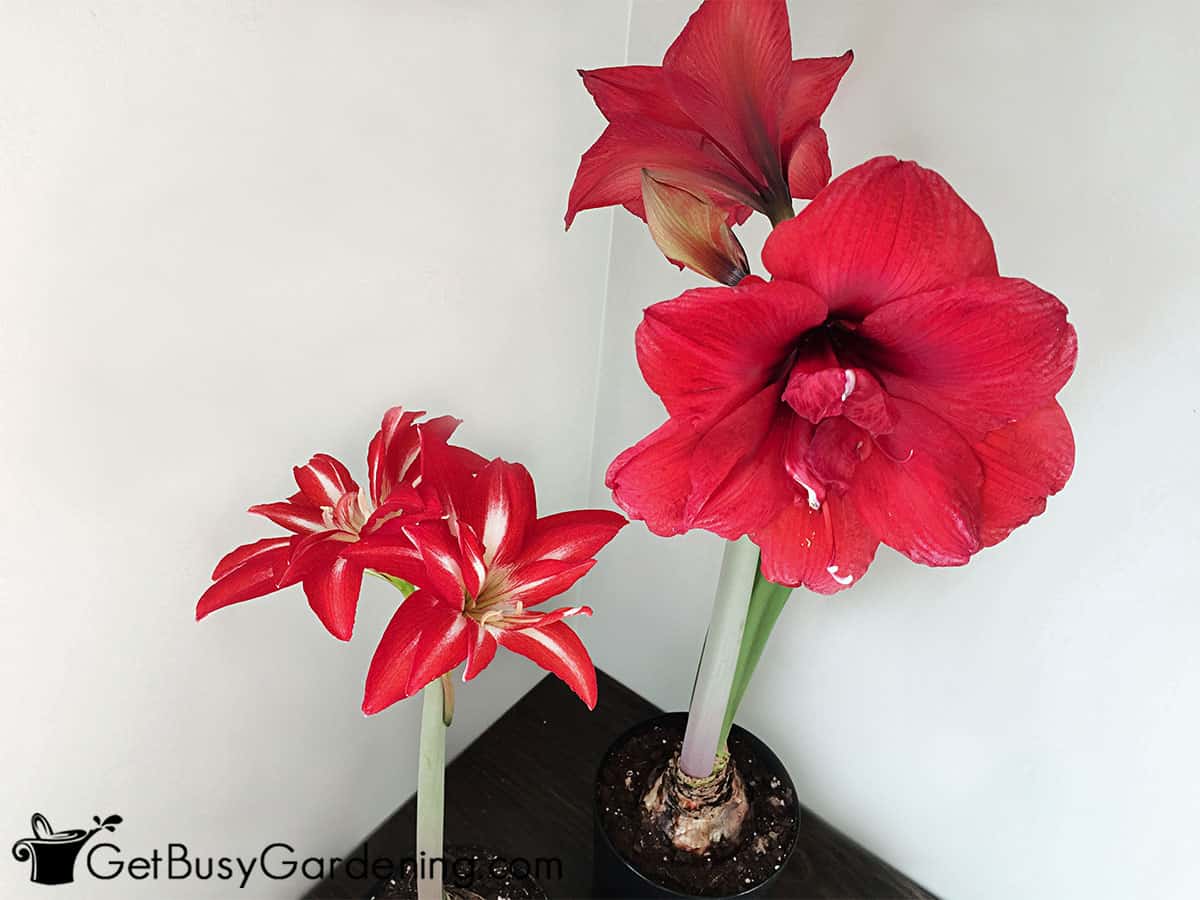 Amaryllis have become super popular winter blooming plants, and are especially popular during the holidays.
But since they have the reputation of being disposable gift plants, many people toss their amaryllis out once it's done blooming.
This is really sad because not only do they make great houseplants, it's also really easy to rebloom your amaryllis year after year. You just have to know the secret for how to make an amaryllis rebloom.
Note: This method will not work with a waxed amaryllis bulb. Unfortunately, waxed amaryllis bulbs won't bloom again, and will need to be discarded.
Why Won't My Amaryllis Bloom Again?
The first time I bought myself an amaryllis plant, I thought that it would rebloom on it's own every winter. So, after it was done blooming, I kept it growing as a houseplant, and it was one of my favorites.
But, after a few years of growing it, my amaryllis never rebloomed, and I had no idea why. There were always tons of beautiful dark green amaryllis leaves, but no flower.
Well, it turns out it had never rebloomed because I was missing a crucial step in the process…
The Critical Step For Reblooming Amaryllis Bulbs
The crucial step for getting amaryllis to rebloom? Giving the bulb a rest period (i.e.: allowing it to go dormant).
If you want to try to rebloom your amaryllis, you simply need to allow the bulb to go into a natural dormancy phase. Let it rest for a few weeks, and that will trigger it to bloom again.
So simple!
Once I figured that out, I have been able to rebloom my amaryllis plants every year, it's super easy!
And the funny thing is that amaryllis will flower so prolifically when they're given the proper treatment that they can bloom even if the bulbs aren't growing in dirt. Crazy, right!?!
Easy Steps To Rebloom Your Amaryllis Plants
The steps to rebloom your amaryllis start as soon as the flowers fade. Here are step-by-step instructions…
Step 1: Remove the flower spike – As soon as your amaryllis flowers fade and die, cut off the flower spike. It's easy to figure out where to cut an amaryllis flower after it fades. Simply cut it all the way down to the top of the bulb.
This step is important, because you want to make sure your amaryllis plant produces enough energy to store in the bulb so that it will be able to bloom again next year.
Removing the faded flower and the flower stalk will allow the bulb to start building energy right away for next years bloom.
Step 2: Keep the leaves growing – Grow your amaryllis as a houseplant through the winter, keeping it in a sunny location and leave the foliage growing.
If you don't have much natural light in your home, I suggest getting a grow light. Amaryllis make great houseplants, and have lovely thick green foliage.
Step 3: Move it outside in the spring – Move your amaryllis plant outside to a sunny location once all chance of frost is gone in the spring.
Just like any houseplant you move outside in the spring, you'll want to slowly acclimate your amaryllis plant to full sunlight or the leaves could burn.
Also, be sure it's growing in a pot that has drainage holes so your plant won't drown when it rains.
Growing amaryllis outdoors during the summer is very easy, and you can practically ignore your plants all summer.
Step 4: Fertilize your amaryllis – For best results, feed your amaryllis regularly during the spring and summer months. There isn't a special kind of amaryllis plant food (at least not that I know of), so you can just use a general purpose one.
I recommend using an organic product rather than a chemical one though, or you could risk damaging the plant (plus organic ones work so much better!).
My favorite types are fish emulsion (for outdoor use only), compost tea, or indoor plant food. It's not essential to keep on a rigid feeding schedule. I've had success reblooming amaryllis bulbs even when I didn't give the plant any.
Just make sure you stop fertilizing a few weeks before you decide you want to move it back indoors. Learn all about fertilizing houseplants here.
Step 5: Move the plant back indoors – I move my amaryllis plants indoors right before frost in the fall. If you want to rebloom your amaryllis for Christmas, then you'll need to move it inside to start the dormancy period in about mid-August.
Storing Amaryllis Bulbs
Step 6: Allow your amaryllis plant to go dormant – Here's the crucial step to rebloom your amaryllis that I mentioned above (the one that I was missing for the first few years).
Amaryllis bulbs need a rest period in order to bloom, so move your plant to a cool, dark location. Store your amaryllis dormant in an unheated basement or a garage where the temperature stays above freezing (never allow them to freeze).
You can leave your amaryllis bulb right in the pot if you prefer, or you can store your bulbs bare root. I usually store mine in their pots because it's one less step, but some people swear their amaryllis blooms better when they store the bulbs bare root.
Step 7: Wait for 6-8 weeks – Store your amaryllis bulbs for 6-8 weeks. During this time, you'll want to completely ignore them. Allow the soil and the bulb to dry out completely, and don't water your potted amaryllis at all while it's in storage.
The leaves will usually die back completely, so you can remove them as they dry up if you want, or just leave them be.
Repotting Amaryllis Bulbs
Step 8: Bring your amaryllis bulbs out of storage – If you stored your bulbs bare root, or your bulbs have outgrown their pots, then it's time to repot them.
You don't need to worry about buying any special type of amaryllis potting soil, you can simply use a general purpose potting soil.
When planting amaryllis bulbs in pots, take care not to bury them too deep, 1/2 to 1/3 of the bulb should be above the soil line. You also don't want to use too large of a pot, it should be less than twice the diameter of the bulb.
If you plan to leave your amaryllis flower bulbs growing in their current pot, then you can skip this step.
Step 9: Break their dormancy – After their dormancy period is over, move your amaryllis bulbs into a warm, sunny spot, and give them a good drink of water.
Adding bottom heat will help break their dormancy faster (you can use the same heat mat as you use for germinating seeds).
Some amaryllis bulbs will start to grow within days of moving them to a sunny spot, others could take 4-6 weeks before showing signs of life. So be patient.
How To Care For Amaryllis Plants Once They Start Growing
It's super exciting to see the first signs of life on your amaryllis bulbs after you break their dormancy!
I've been reblooming amaryllis for years, and I still get giddy when I see them start to grow, especially when the flower spike starts to peek its head out.
Related Post: How To Grow Indoor Plants: The Ultimate Guide
Keep in mind that sometimes the leaves will start to grow before the flower spike, and sometimes the flower spike will come first.
You can tell the difference right away because the leaves will be flat and thin, and the flower spike will be thick and fat. Don't worry if your amaryllis starts growing leaves first, that doesn't mean it won't bloom.
Also, depending on the age and size of your amaryllis bulbs, they might grow more than one flower spike. That's always such a treat!
As soon as your amaryllis starts to grow a flower spike, you'll want to make sure it's getting plenty of light. Amaryllis flowers grow really fast, and will reach for the light if they aren't getting enough.
They can also grow really tall and skinny if they don't get enough light, which makes the stems weak, and they might not be able to support the weight of the flower.
So, add a grow light if you need to, and make sure to rotate the pot daily so the flower spike will grow straight up. If the flower spike won't stand up by itself, you can use an amaryllis stake to hold it up.
Quick Amaryllis Care Tips
Water your amaryllis freely during the active growing season, but allow the soil to dry out a bit between watering
Never overwater amaryllis plants or the bulb will eventually rot
Though they will grow in low light conditions, amaryllis plants need full sun in order to rebloom
Once the flower spike starts to grow, rotate the pot daily to make sure it grows straight up
Give your amaryllis plenty of light as the flower spike grows, or it will be tall and weak
Get my complete amaryllis plant care instructions here.
Amaryllis plants are very easy to care for, and make wonderful houseplants. If you follow these steps for how to rebloom amaryllis bulbs, you'll be able to enjoy those gorgeous flowers for years to come!
It will even produce babies as it get older, which can be removed and potted on their own, though it will take a few years before these babies will have blooms of their own.
If you don't have any of these gorgeous plants in your collection yet, you can buy amaryllis bulbs, or find amaryllis plants for sale around the holidays. If you're a bargain hunter (and have patience), you can find tons of discount amaryllis bulbs on sale after the holidays (and this is why I have so many in my collection!).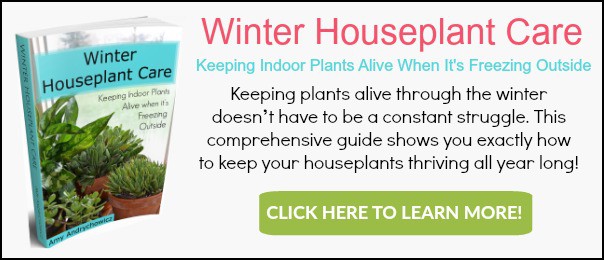 Want more information about caring for different types of houseplants (including other fun winter blooming plants)? Pick up a copy of my Winter Houseplant Care eBook! It's filled with tons of information about keeping houseplants alive (and thriving!) during the long winter months. It will make growing houseplants a joy again!
Recommended Products
More Houseplant Care Posts
Share your tips for how to make amaryllis bloom again in the comments section below.