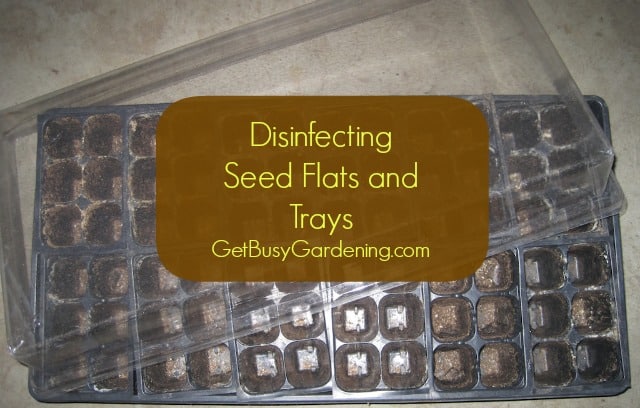 When starting seeds indoors, it's essential that the seed flats and trays are disinfected. Brand new seed starting flats and trays are fine to use out of the box, but dirty flats and trays should be disinfected every time you reuse them. If they are not disinfected properly, the seedlings will likely suffer from damping off (also known as seedling blight), which is a fungus that will kill the seedlings at the soil level.
It'll take you a little extra time to disinfect the seed flats and trays, but the effort is well worth it to ensure you seedlings have a healthy start. If you've ever lost an entire flat of seedlings to seedling blight, then you understand what I mean.
Related Post: How To Clean Winter Sowing Containers.
How To Disinfect Seed Flats and Trays
Wipe the loose dirt out of the flats and trays using a paper towel or small cleaning brush.
If there's any dirt that is hardened on, wash the flats and trays in warm soapy water.
Disinfect seed flats and trays in a bucket of a water and bleach mix for 15-20 min. I recommend using a solution of 1 part bleach to 9 parts water.
Rinse and let them air dry, now they are ready to use for starting seeds.
If you start disinfecting seed flats and trays a few days before you plan to start sowing, they'll be ready to go whenever you are. For more information about starting seeds, read more Tips For Starting Seeds Indoors.