Harvesting cucumbers isn't difficult, but timing is everything. In this post, I'll show you how to tell when they're ready, so you can pick them at the perfect time. You'll also get tips for how to do it right, and what to do with your bounty.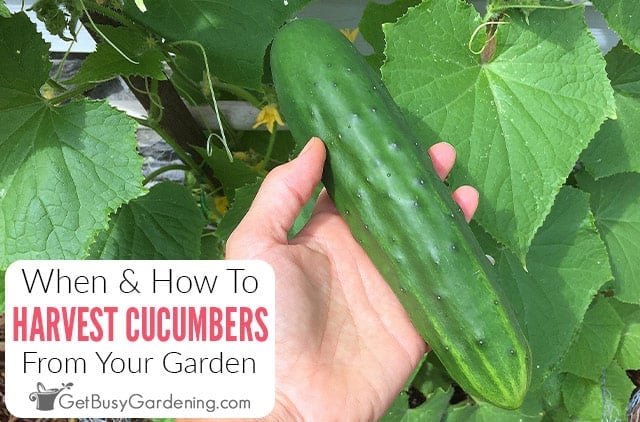 Knowing exactly when to harvest cucumbers and how to pick them correctly is key for healthy vines and more fruit.
Below I've shared everything you need to bring in a healthy and bountiful crop. Learn how to know when they're ready, and how often you should be checking in.
Then get tips on how to pick cucumbers at their peak of flavor and texture, and what to do with them after bringing them inside.
When To Pick Cucumbers
The best time to pick cucumbers can range between the different varieties. In general, most are ready for harvest between 50-70 days after germination, and they'll continue to produce all season.
As for time of day, it's always better to collect any type in the early morning when it's cool.
You can pick them at any size. But very small ones can be too tough, while overly large ones are usually watery, seedy, and bitter.
How To Tell When Cucumbers Are Ready To Be Picked
The right size can vary widely depending on the kind you have. But there are a few general ranges that will be helpful to you.
Pickling cukes are the smallest, and ready for harvest when they're between 2-6" long. While slicing types are best at longer lengths, between 6-9".
Burpless varieties are usually measured by diameter. Pick yours when they're 1-1.5" thick for best flavor. For round shaped cultivars, look for fist-sized fruits.
No matter the type, a cucumber that's ready to harvest will be firm and have a deep, rich color.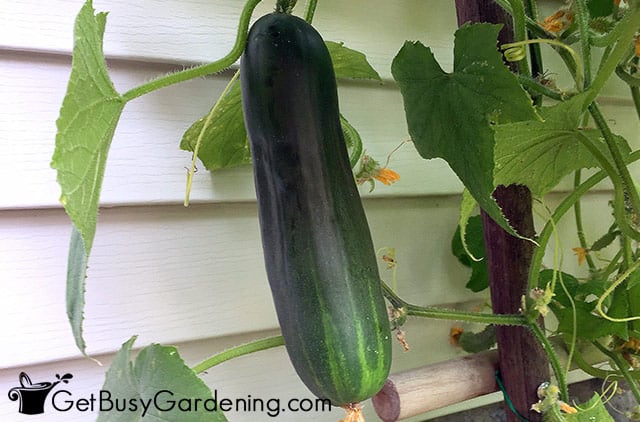 How To Harvest Cucumbers
Now that you know how to tell when your cucumbers are ready to harvest, let's look closer at the best way to get them off the vine.
How To Pick Cucumbers Off The Vine
There are two tools you should bring when you're ready to pick cucumbers – a basket and a sharp, sterilized pair of micro pruners or precision snips.
It might be tempting to just reach in and tug them off the vine. But pulling or twisting them off can damage the vine, or even uproot the plant.
Instead cut the fruits off, leaving about ¼" of the stem intact. Keeping a tiny bit of stem attached will help prevent rot in storage.
Then place them gently into a basket or box to prevent bruising. The burpless varieties are especially sensitive to this.
Related Post: How To Trellis Cucumbers The Right Way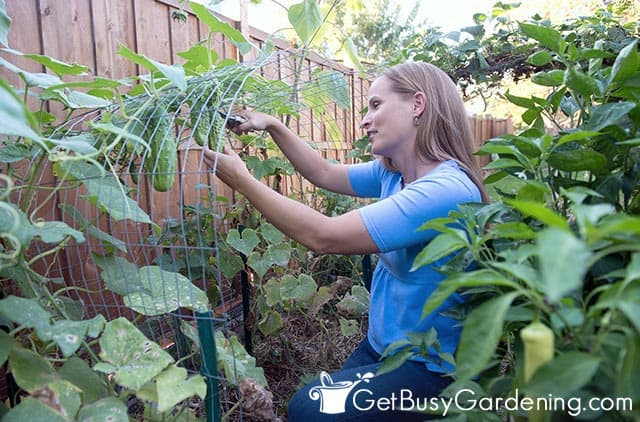 How Often To Harvest Cucumbers
Cucumbers are prolific and, once they start fruiting, you'll be able to harvest every day or two until it gets cold in the fall.
The great news is that picking them frequently is also the best way to encourage them to produce even more!
Check for damaged, stunted, or malformed fruits when harvesting too. Removing them can redirect energy to ripening the good ones.
Related Post: Why Do Cucumbers Turn Yellow & How To Prevent It
How Many Cucumbers Do You Get Per Plant?
It's really hard to put a firm number on how many cucumbers you'll be able to harvest per plant. It depends a lot on the variety, the weather, their care, and how healthy they are.
Bush varieties tend to produce less than vining types. Shaded plants will also have a smaller yield than those in full sun.
How Long Do Cucumber Plants Produce Fruit?
Cucumbers will produce a continual harvest until they die, usually from frost in the early fall.
People with a long gardening season or a greenhouse might be able to prolong it. But they'll naturally produce less and less fruit over time, especially as the weather cools down in the fall.
Related Post: How To Freeze Cucumbers The Right Way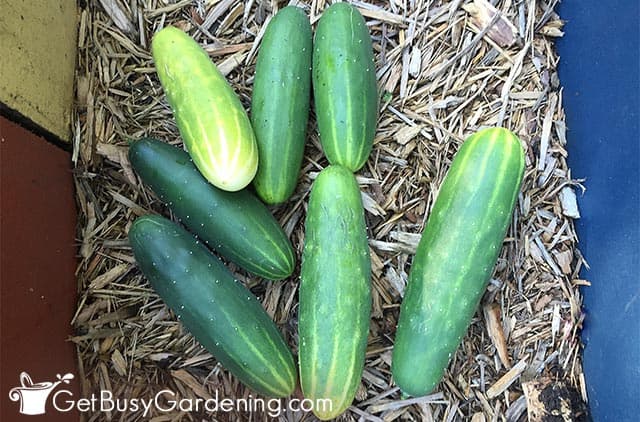 What To Do With Cucumbers After You Pick Them
Cucumbers can either be eaten right away, stored, or pickled. They're delicious in salads, to flavor water, or made into light zoodles for a summery meal.
Slicing types are at their absolute best in the first day or two. There's no need to wash or skin them, you can enjoy them right off the vine unless they're really dirty.
In that case, just give them a quick rinse, lightly rubbing off the dirt if necessary. You can keep them in the fridge for up to a week.
If you're pickling, get started as soon as you can after bringing them indoors. Letting them sit for too long, even in the fridge, can lead to mushy rather than crisp pickles.
Related Post: Quick & Simple Old Fashioned Sweet Pickle Recipe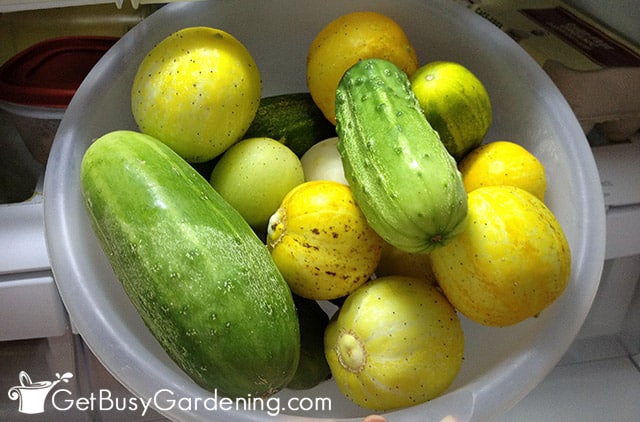 FAQs About Harvesting Cucumbers
Below I've answered some of the most frequently asked questions about harvesting cucumbers. If yours isn't on the list, please ask it in the comments.
How do you tell if a cucumber is ripe?
You can tell that a cucumber is ripe when it's firm, deeply green, and the right size for that specific variety.
Can you pick a cucumber too early?
Cucumbers can't really be picked too early, though allowing them to ripen to their ideal size will give you the best texture and flavor. Young cucumbers will be sweet, but very crunchy.
What is the best size to pick cucumbers?
The best size to pick cucumbers varies between the different types. In general, pickling types are best when they're only a few inches long, while slicing varieties should be between 6-9".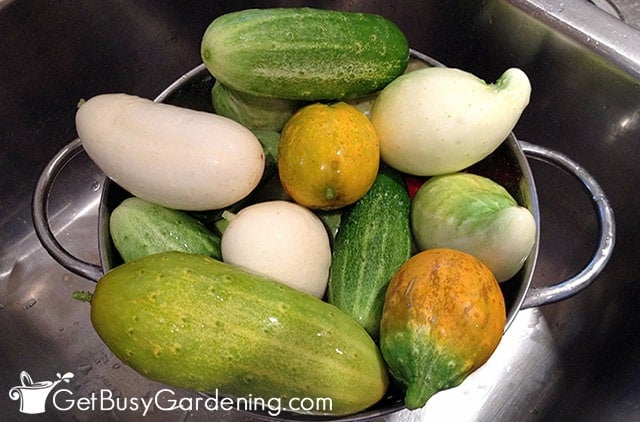 Can you pick cucumbers when they are prickly?
Yes, you can pick cucumbers when they're prickly. Some varieties have naturally prickly skin. It can help to wear gloves when handling them. Any spikes can be gently rubbed off with a towel or soft brush.
Can you eat cucumber leaves or flowers?
Yes you can eat cucumber leaves and flowers, in fact all parts of the plant are edible. However the leaves are best enjoyed young, and the flowers are key for fruiting. So eating them can inhibit the plants ability to set and ripen fruit.
Harvesting cucumbers is quick and easy once you get the hang of it. Now that you know when and how to pick them, you'll be able to enjoy the freshest cucumbers possible all season long.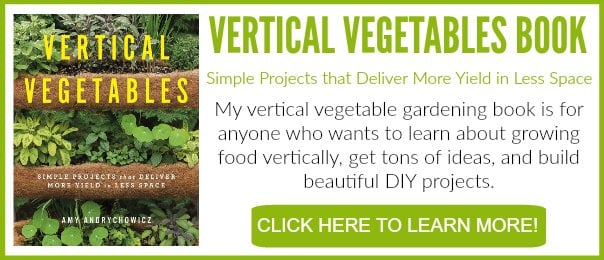 If you want to learn all there is to know about growing veggies vertically, then you need a copy of my book Vertical Vegetables. It also has step by step instruction for how to build two dozen beautiful and functional support for your garden! Order your copy today.
Or you can learn more about my Vertical Vegetables book here.
More About Harvesting
More About Cucumbers
Share your tips for harvesting cucumbers in the comments section below.