Using the right type of soil for plumerias is key to their overall good health, whether they are in containers or the ground.
Using the wrong soil can cause problems, and even harm or kill your frangipani, so it's crucial to get it right.
In this post I'm going to tell you everything you need to know about choosing the perfect plumeria soil, and I'll share my recipe and guidelines for making your own mix.
Read on to discover the perfect type to use, the properties it should have, and how to easily mix your own with my simple recipe.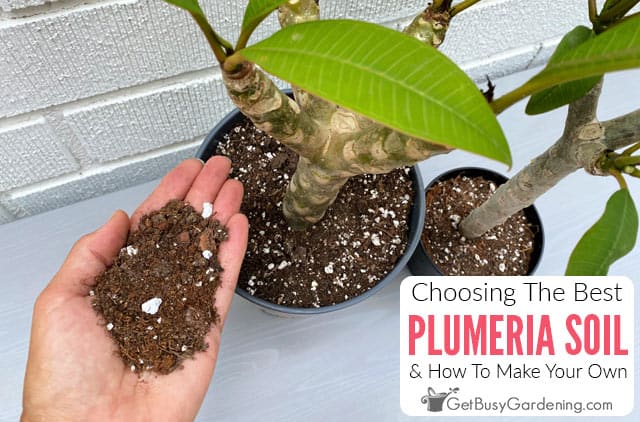 What Kind Of Soil Do Plumerias Need?
When choosing the correct type of soil for your frangipani plant, it's important to remember that they store excess water in their stems and branches.
This means they don't like to be planted in a medium that retains moisture, and instead prefer a quick-draining soil.
Using the right kind will avoid common problems, such as lack of flowers, poor growth, overwatering, and root rot.
Plumerias also like their soil to be slightly acidic, as this makes it easier for them to absorb the nutrients they need.
Related Post: How To Care For Plumeria Plants (Hawaiian Frangipani)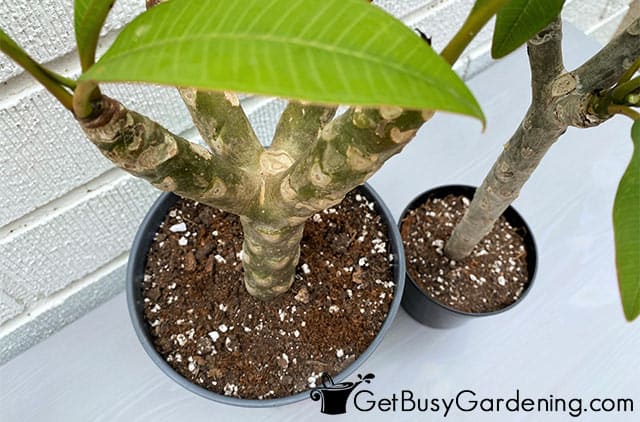 The Best Soil For Plumeria Plants
The best soil for plumeria plants and trees is a sandy, slightly acidic medium that drains quickly.
A sandy commercial mix would be ideal, or you could make your own using my recipe below.
Another option is to combine equal parts of peat moss or coco coir, coarse sand, and perlite or pumice.
To help you find the perfect mixture for your Hawaiian lei plant, check the packaging for the following properties.
Related Post: How To Grow Plumeria In A Pot
Fast Draining
Read the label and select a medium that lists fast drainage as its main quality.
Avoid heavy garden mixes, topsoil, or any medium that's described as 'moisture retentive'.
Porous Mix
A porous medium will be loose and aerated, allowing water to drain through it quickly without retaining too much.
This is another good indication that the mixture will be ideal for your plumeria plant.
Nutrient Rich
Check the nutrient content of the mix to find one that contains rich organic materials, rather than chemical fertilizers.
These will provide your frangipanis with the natural nutrients they need to thrive, without the risk of burning the roots.
Plumeria Soil pH
Plumerias prefer a slightly acidic soil ranging between 6-7 on a pH meter probe.
If yours is too acidic, you can add garden lime to neutralize it. If it's too alkaline, add a soil acidifier or acidic fertilizer granules.
Related Post: How To Overwinter Plumeria (Frangipani) Plants Indoors
Homemade Frangipani Soil Mix
Using a commercial potting mix is convenient, but it's actually very quick and easy to make your own.
Not only is this often cheaper, but it also gives you complete control over the ingredients and consistency.
Either use my recipe below or – as an even simpler option – combine equal parts of pumice or perlite with coarse sand and regular potting soil.
Plumeria Soil Recipe
Below is my recipe for DIY plumeria soil. You can either make a small batch to use right away, or mix more and store the leftovers for another time.
I use a 1-gallon bucket to measure my parts, but you could use a scoop, measuring cup, or even a large spoon if you prefer.
Just be sure to use the same measuring container throughout for consistency.
Ingredients
Coarse sand – Sand helps create tiny air pockets in the soil, allowing water to drain freely and making it easier for roots to grow. Suitable substitutes include turface and poultry grit.
Pine bark – Although it's not essential, this enriches the soil with organic matter as it breaks down, improving its structure and helping it retain nutrients. You could use orchid bark or coco coir chips instead.
Related Post: Propagating Plumeria Cuttings In 5 Easy Steps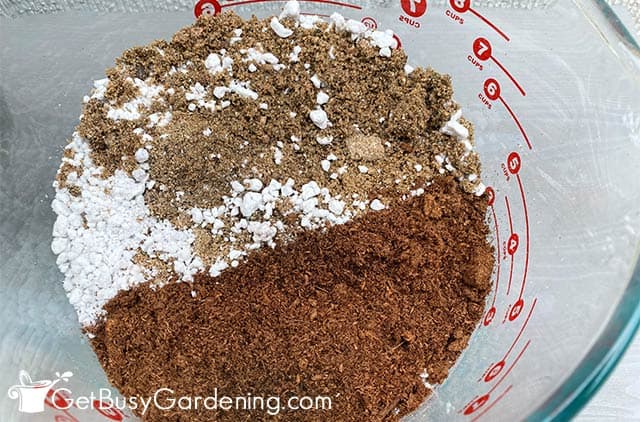 Storing Leftovers
Your homemade plumeria potting soil is ready to use right away, but if you've made a big batch you'll probably want to store some for later.
I like to use a 5-gallon bucket with a tight-fitting lid for this, as it creates an airtight environment that keeps bugs and pathogens out.
Store the bucket in a cool, dry location, and be sure to label it clearly – homemade soils can look very similar once mixed.
Related Post: 7 Easy DIY Potting Soil Recipes To Mix Your Own
FAQs
Here are my answers to the most commonly asked questions about plumeria soil. If you don't see yours listed, please add it to the comments section below.
What is the best potting soil for plumeria?
The best potting soil for plumeria is a slightly acidic, nutrient rich, porous, sandy medium that drains quickly. You can either use a commercial mix, or make your own using my recipe.
Is it OK to plant plumerias in regular potting soil?
You can plant your plumeria in regular potting soil, but I recommend combining it with pumice or perlite and coarse sand to help it drain more freely.
Can I use succulent soil for plumeria?
Yes, you can use succulent soil for plumeria plants, since it drains well and has the pH level that they prefer.
Can you use cactus soil for plumeria?
I do not recommend using cactus soil for your plumeria, because it's usually too gritty. If you want to use it, I recommend amending it with organic materials like coir, peat moss, or general purpose potting soil.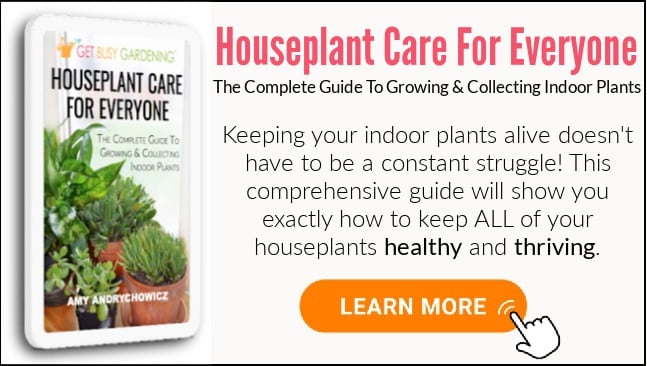 If you want to learn all there is to know about maintaining healthy indoor plants, then you need my Houseplant Care eBook. It will show you everything you need to know about how to keep every plant in your home thriving. Download your copy now!
More About Potting Soils
Share your tips for the best soil for plumeria, or your favorite homemade recipe in the comments section below.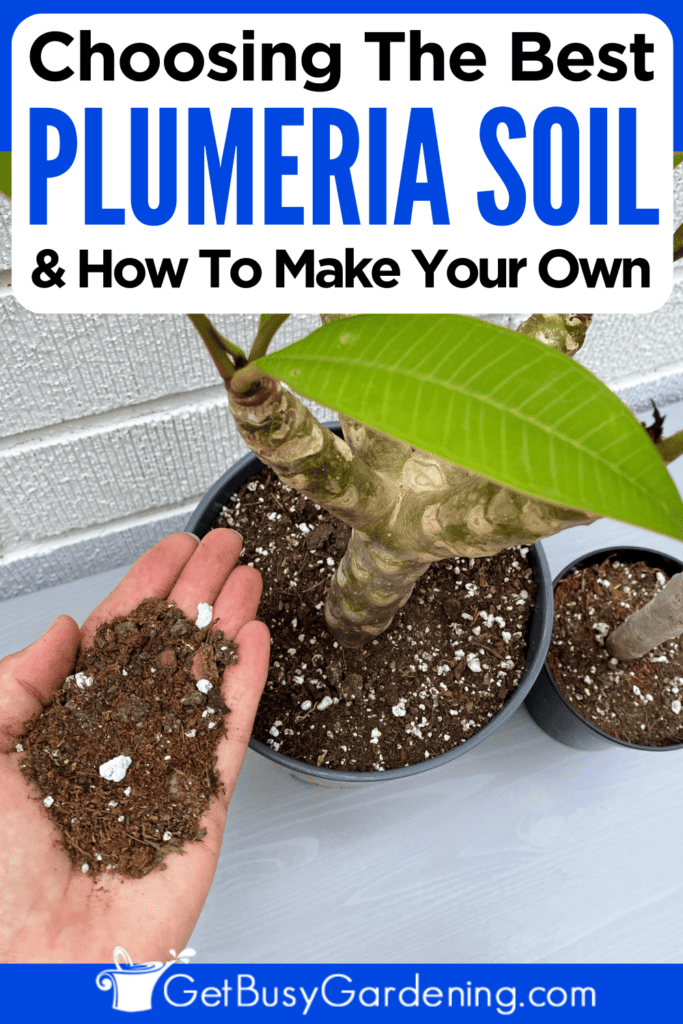 Recipe & Instructions