Begonias are very popular and commonly used in annual pots outside during the summer. They're also great to add summer-long color to your shade gardens. But did you know that some begonias have tubers which can be easily overwintered? Overwintering begonias is super easy when they're tuberous begonias.
Not only will you get to enjoy the same beautiful begonia plants year after year, but it will save you the cost of buying new plants each year.

I discovered this fact quite by accident several years ago.
Just for fun, I brought several of my annual pots into the house in the fall so I could enjoy the blooms for a few more weeks after frost.
I had planted a spider plant as a filler in one of the pots that also contained a tuberous begonia.
After the begonia dropped all of it's foliage, I didn't have the heart to throw away the spider plant so I decided to keep it as a houseplant over the winter.
During the long winter, I had forgotten all about the tuberous begonia in the pot. To my surprise the next spring it started to sprout new growth.
I was thrilled!
It grew just as beautifully that summer as it had the summer before.
Since then, I have added a few more tuberous begonias to my collection. The rose like blooms on these first few beauties (pictures above) are wonderful to bring color to the shade garden under my tree.
Begonias bloom all summer long and are very easy to care for too.
The orange weeping one in this picture is three years old and I have never taken it out of the pot it currently lives in. I get so many compliments on this one, it's definitely worth keeping.
Overwintering tuberous begonias is easy, basically all I do is keep the pots in an area where they won't freeze during the winter and forget about them until spring.
Not all begonias have tubers though, so make sure you read the tag before you give this a try.
Related Post: How To Overwinter Non-Tuberous Begonias As Houseplants
Tips For Overwintering Begonias
If your tuberous begonias are planted in your garden, you can dig up the tubers after frost has killed the foliage and store them like you would any other tender bulb or tuber.
If your tuberous begonia is in a pot, you can bring it inside before frost. Once you bring the plant inside, keep the soil on the dry side and it will slowly start to go dormant by dropping all of it's flowers, leaves and stems. Once all of the stems and foliage have dropped off, stop watering it.
If you prefer, you can leave potted begonias outside and let frost kill the foliage. This will force the plant to go dormant quicker. Once the foliage is dead, cut off all the stems and bring pot indoors for the winter.
Store potted begonias in a cool dark room, or a room that gets low light. Water sparingly (or not at all) until spring. Do not over water though, or the tubers could rot!
The tuber may continue to send out new growth during the winter, but this growth will end up being spindly and weak. Cut off any winter growth before placing the plant back outside.
In the spring, move the pot into a bright location outside and begin watering it. You can add fertilizer if desired (it's hit of miss for me). This is the time to repot the plant if it's root bound.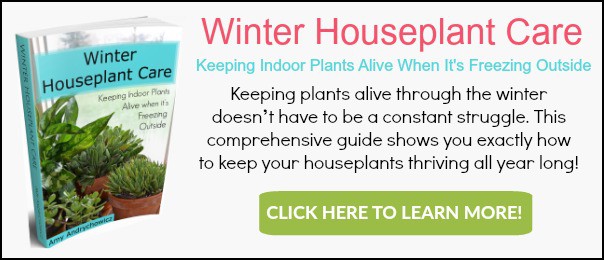 More Posts About Overwintering Plants
For more even more tips about overwintering plants, click here… Overwintering Plants
Share your tips for overwintering begonias in the comments below.