Storing dahlia bulbs for winter really isn't very hard, and it's well worth the effort. That way, you can grow your favorite dahlia flower bulbs year after year! In this post, I'll show you how to dig up the tubers, and give you step-by-step instructions for overwintering dahlias.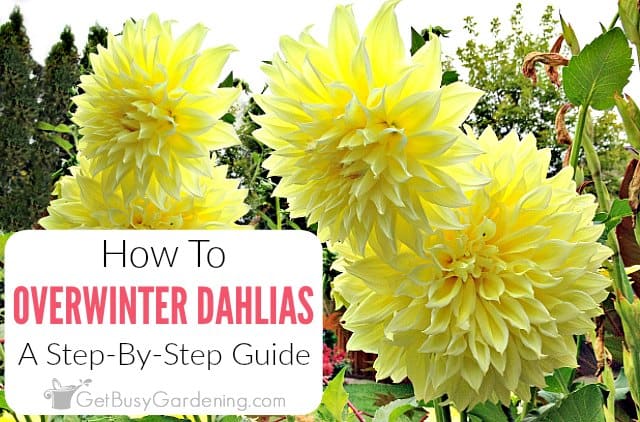 I love dahlias. I mean who doesn't, right?
Dahlias are a gorgeous addition to any summer garden, and they add such a cool tropical feel.
The best part is that you can easily overwinter dahlia bulbs in your house, and plant them in your garden again next year!
Oh Those Big, Beautiful Dahlia Blooms
I remember the first time I discovered dahlias. I saw a giant dinnerplate dahlia in a public garden… and it took my breath away.
I had no idea what it was, but I knew I had to have it!
So, when I got home I rushed to my computer immediately and started obsessing about it. After a few clever searches, I quickly found the ID of my newest favorite plant.
Of course I HAD to have one in my garden, and instantly became a girl on a mission. It wasn't long until I had my prize.
One sweet, beautiful, plump (plump?) dahlia bulb.
After giving it several kisses and doting on it (TMI? Maybe.), I grabbed my shovel and headed out to the garden. I wasted no time getting my new baby into the ground.
Several weeks later, I was rewarded with those gorgeous giant blooms I was dreaming about (I'm sure the kisses made all the difference).
But, with our short growing season, it wasn't long before frost was in the forecast and panic set in.
Frost is always a major buzz kill!
Do Dahlias Come Back Every Year?
Dahlias are tropical flowers, and they are not frost hardy. Dahlias can live for several years in warmer climates. But if you live in a cold climate like I do (Minnesota), dahlias won't survive through the winter outside (boooo!).
So, I knew my new favorite flower wasn't long for this world, but I didn't want to lose it forever. So what did I do… (are you in suspense yet? Maybe a few more dots…)
… I dug up my dahlia flower bulb and stored it for winter. Of course!
Dahlias make a gorgeous addition to the garden or in summer pots, and they are a definite must in my garden every year (these days I grow several varieties).
But don't worry, you can keep your favorite dahlias and regrow them every year in your garden, even if you live in a frozen tundra like I do!
The good news is that you can dig up dahlia flower bulbs (BTW, technically they are tubers not bulbs, but I don't see the Dahlia Police around, so we're good) and store them in your house over the winter.
Then you can regrow them year after year. It's a huge money saver. And guess what? It's super easy to do too. Woohoo!
Preparing Your Dahlia Bulbs For Winter Storage
Before storing dahlia bulbs for winter, you must first dig them out of your garden (dah!).
But, if you grew your dahlia in a pot, you can skip this step and simply leave it in the pot all winter. Just cut back the foliage, bring the pot inside, and store it in a cool, dry place until spring.
If your dahlias are in your garden, follow these quick steps to get them ready for storage…
Dig up your dahlia flower bulbs after frost has killed the foliage
Gently shake off any excess dirt
Cut off the stems and leaves
Allow large bulbs to cure (dry out a bit) for a few days before storing. Smaller dahlia bulbs don't need to cure.
That's it.
No need to rinse all the dirt off your dahlia bulbs or split them apart. Just leave them in one large clump with a little bit of dirt and they're ready for winter storage.
Storing Dahlia Bulbs For Winter
There are lots of ways of storing dahlia bulbs for winter.
Some people have great success just tossing their dahlia bulbs into a paper bag and storing them on a shelf in their basement.
But small bulbs can dry out using this method. So I prefer to take a safer dahlia storage approach.
Supplies Needed:
Cardboard box
Dry to slightly moist packing material (I use peat moss, coco coir, wood chips (pet bedding is great) or sawdust. Whatever's cheapest or I already have.) You could also use a mix of vermiculite and perlite if you have that on hand.
Steps For Packing Your Dahlia Flower Bulbs
Line the bottom of the box with newspaper (optional, but it helps to keep the packing material from falling through the cracks) and a layer of packing material.
Lay the dahlia bulb in the box so it will be surrounded by the packing material.
You can store several dahlia flower bulb clumps in one box, but try to pack them so they're not touching each other.
Fill the box with packing material so that your dahlia bulbs are completely covered.
Close the box and put it on a shelf (or whatever space you have). It's important that your dahlia storage space is a cool, dry location that stays above freezing. If it's too warm, your dahlia bulbs could rot.
Simple, right? Yes! I told you it was easy.
You can try using different types of packing materials for storing dahlia bulbs for winter, or simply try wrapping larger bulbs in newspaper and packing them in boxes.
Experiment to find the dahlia storage method that works best for you.
Whatever you do though, don't store dahlia flower bulbs in plastic bags or containers. If they are kept too wet they will likely rot or get moldy.
Related Products
Most Posts About Overwintering Plants
Share your tips for overwintering dahlias and storing dahlia tubers in the comments below.