Overwintering brugmansia indoors might sound like it would be difficult, but it's really not that hard. Brugmansias are tougher than they look and can survive through a lot of abuse. In this post you will learn how to overwinter brugmansia, and get tons of care tips for growing brugmansia indoors in winter.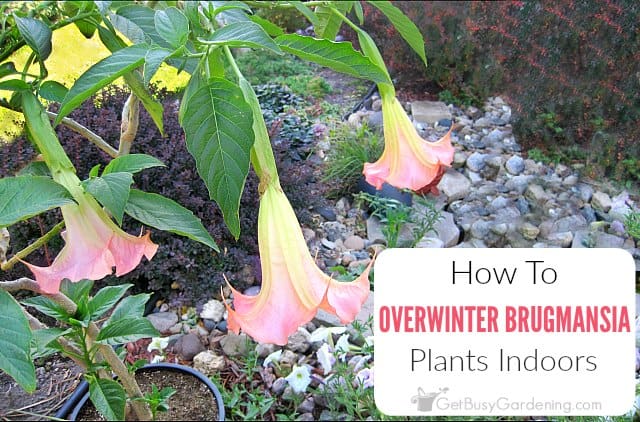 Brugmansias (aka angel's trumpet plant or angel tree plant) make a wonderful, tropical addition to the garden during the summer.
I love the delicate trumpet flowers, and they smell heavenly! But they are not hardy here in zone 4, so I have to overwinter them indoors.
Are Brugmansias Annuals Or Perennials?
Though you'll likely find brugmansia for sale as annuals in the spring, they are perennials in the right climate.
They're actually pretty hardy tropical plants (brugmansia hardiness is zone 7 or higher), and can survive mild winters. But, if you live somewhere with harsh winters like I do, then they won't survive outside.
So you'll need to bring them indoors for the winter. Don't worry, it's not hard to do, and you have three options to try!
Related Post: How To Overwinter Plants: The Complete Guide
3 Methods For Overwintering Brugmansia
There are three ways you can overwinter your favorite brugmansia varieties indoors. If you have more than one plant, then try a few of these methods to see which one works best for you…
Potted brugmansias can be overwintered as houseplants.
Plants can be allowed to go into dormancy and then stored during the winter.
You can overwinter brugmansia cuttings in a vase of water (Yes, really!).
How To Overwinter Brugmansia Indoors
In this section I will describe each of these three methods in detail. If you've never tried overwintering brugmansia before, then you should definitely experiment.
Some people find it easier to allow the plant to go dormant over winter. But others prefer growing brugmansias as houseplants, or taking cuttings. Try all three methods and see which one works best for you.
Growing Brugmansia In Pots As Houseplants
With a little extra care, brugmansias can be overwintered as a houseplant. If your plant is too large for your indoor space, you can prune it down to a manageable size before bringing it indoors. (be sure to keep the cuttings so you can try method #3!)
They can be pruned heavily – so don't worry, they will grow back in the spring. The plants will go though a bit of shock when you move them indoors, and they may even drop a few leaves.
This is normal and it will pop back after a few weeks of getting used to living indoors.
You might get lucky and enjoy brugmansia flowers during the winter, but it's difficult to mimic the conditions necessary for them to bloom when they're grown indoors.
Storing A Dormant Brugmansia Plant
It's very easy to overwinter brugmansia plants fully dormant. To encourage your plant to go dormant, put it in a cool, dark location and stop watering it.
Or simply leave it outside during the first few frosts in the fall to trigger dormancy. After a few days of being inside, the plant will start to drop its leaves, eventually dropping all of them.
Store the plant in a cool (above freezing), dark location until spring. Don't allow the soil to dry out completely through the winter but keep it on the dry side.
Check your dormant brugmansia about once a month during the winter. Stick your finger a few inches into the soil, and if it's bone dry, give it a drink.
If the soil is still wet, allow it to dry out before watering it again. Large plants won't dry out as quickly as smaller ones will. Do not overwater a dormant brugmansia plant.
Learn how to bring a plant out of dormancy in the spring without killing it.
Growing Brugmansia Cuttings In Water
Another method to try is taking cuttings, and growing them in water through the winter. Rooting brugmansia cuttings in water is super easy. This way you can take cuttings of your favorite varieties, and discard the main plant.
Once roots have developed, the cuttings could either be potted up, or you could leave them in water all winter. Brugmansias don't require any special soil, you can just use a general purpose potting soil for them.
If you decide to try overwintering brugmansia cuttings in water all winter, check the water on a regular basis to make sure it isn't getting scummy or evaporating.
If it starts to get cloudy or scummy, dump it out and wash the vase with soapy water. Rinse the cutting stems, then put them back into the vase filled with fresh water.
Keep the water level above the roots at all times, you don't want the roots to dry out.
Bringing Brugmansia In For The Winter
If you plan to try overwintering brugmansia plants or cuttings, then you'll definitely want to debug them first. Follow these instructions for debugging potted plants before bringing them indoors in the fall.
You can use the same method for cuttings, or you can do it inside instead. After taking the cuttings soak them in water to drown any unwanted pests. Soaking the cuttings for about 10 minutes will drown any bugs that are on the leaves.
You may add a squirt of mild liquid soap to the water to help kill pest insects faster. Then rinse the cuttings to remove any dirt or bugs before putting them into the vase.
Brugmansia Winter Care Tips
Brugmansia care in winter is a bit more challenging than growing them outdoors. The three main things you'll need to worry about during the winter are light, proper watering, and bugs.
Here are some tips for how to grow brugmansia indoors.
Brugmansia Plant Light Requirements
If you choose to try overwintering brugmansia as a houseplant, put it in a sunny window. Adequate lighting is an important part of brugmansia plant care in winter.
The plants and cuttings need a lot of light or they will start to grow weak and leggy. But during the winter, even a south facing sunny window may not provide enough light for them.
If you notice that the new growth is leggy, then add a grow light. Plug it into an outlet timer and set it up so that your plant will get 10-14 hours of light every day.
How Often To Water Brugmansia Indoors
Brugmansia houseplants don't like their soil to dry out completely, so be sure to keep the soil evenly moist through the winter.
If they aren't watered enough, they could start to go dormant. But be careful not to overwater your brugmansia, the soil should never be soggy.
I recommend getting yourself an inexpensive soil moisture gauge to help you give them perfect amount of water.
They also like a humid environment indoors. If it's too dry, the plant will start to droop and drop its leaves.
You can try misting the leaves with lukewarm water, or running a humidifier near your brugmansia to keep the humidity level high.
If you're not sure how dry the air is, you can use a humidity monitor. I like to grow mine in my mini indoor greenhouse through the winter, which helps keep them happy.
Controlling Brugmansia Pests
One of the biggest challenges of overwintering brugmansia indoors is controlling pests. As long as there are leaves on the plant or cuttings, they can be attacked by bugs.
In my experience, brugmansias are very prone to houseplant pests like aphids and spider mites, so check on the leaves regularly for signs of infestation. Fungus gnats love the moist soil, but they're just annoying and won't harm the plant.
To help control any pests that show up, you could spray the leaves with a neem oil solution. Neem oil is an organic product that makes it easier to get rid of bugs on houseplants, and it can even prevent infestations.
Read all about how to use neem oil insecticide here.
You could also use soapy water to spray and wash the leaves (I use 1 tsp of mild liquid soap per 1 liter of water). If you don't want to mix your own, you could buy organic insecticidal soap instead.
Bringing the plant to the sink or shower will make it easier to wash the leaves, and make less of a mess.
Overwintering brugmansia as cuttings, dormant plants or as houseplants is pretty easy. And it's a great way to keep and grow your favorite brugmansia varieties year after year! Try each of these methods to see which one works best for you, it's nice to have so many options.
Products I Recommend
Most Posts About Overwintering Plants
Share your method of overwintering brugmansia, or your tips for brugmansia winter care in the comments below.