Sweet potato vine is gorgeous, and I love growing it in my garden every year. I like to grow it on a topiary form in my garden the best.
Sweet potato vine also looks amazing cascading over a retaining wall or large planter. But it's expensive to buy new sweet potato vine plants every spring, so I always overwinter it.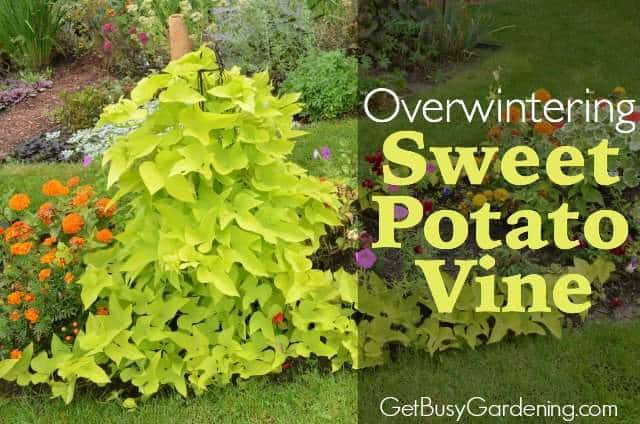 You could overwinter sweet potato vines that are growing in pots by bringing the whole container inside for the winter.
But rather than overwintering containers, I find that it's much easier to take cuttings of my sweet potato vines to overwinter indoors.
Sweet potato vines root easily in water, and cuttings can be kept inside all winter, then replanted into the garden or containers in the spring.
How To Overwinter Sweet Potato Vine Cuttings
Step 1 – Take Cuttings: It's best to take cuttings of your sweet potato vines before it starts to get cold out, and you'll definitely need to do it before frost destroys the plant.
You can take cuttings from anywhere on the stem. I like to make my cuttings about a foot long, so there is plenty of length on the stem for rooting in water.
Be sure to use a sharp, sterile pair of pruning shears to get a ice clean cut. You can sterilize your pruners by dipping them into rubbing alcohol, or washing them with soap and water.
Step 2 – Remove lower leaves: Pinch or trim the lower leaves off the sweet potato vine cuttings to make stems long enough for rooting in water.
When you put the sweet potato vine cuttings into water, you want to make sure there aren't any leaves touching the water, so keep this in mind as you take your cuttings.
Step 3 – Soak sweet potato vine cuttings in water (optional): This is an optional step, but I like to soak the sweet potato vine cuttings in water to kill any bugs that may have come inside on the cuttings.
Soaking the cuttings for about 10 minutes will drown any pests insect that are on the plant. You may add a squirt of mild liquid soap to the water to help kill pest insects (I use Dr. Bronner's Baby Mild Liquid Soap).
Step 4 – Rinse the cuttings: Whether you decide to soak the sweet potato vine cuttings or not, I recommend rinsing them off. This will help to remove bugs, dirt and debris from the cuttings, and any soap that is left over after soaking.
Step 5 – Put cuttings in water: Put the stems of the sweet potato vine cuttings into a vase of water. I like to use a clear vase so I can see the roots as they start to form, but any vase will work.
Remove any of the lower leaves that are touching the water. The sweet potato vine cuttings may droop or even drop a few leaves after you put them into the vase, this is normal and they should pop back after a few days.
Put the vase of cuttings in a sunny spot, but keep it out of direct sunlight. Sweet potato vine cuttings root quickly in water, and the warmer the room is the faster the cuttings will root.
You should start to see signs of root growth after just a few days.
Successful Overwintering of Sweet Potato Vine Cuttings
You can leave sweet potato vine cuttings growing in water all winter long, or you can pot them up into a container once the roots have formed and grow them as a houseplant.
Sweet potato vines don't require any special soil, you can just use a general purpose potting soil. Then place the pot in a sunny window, and keep the soil evenly moist.
If you choose to overwinter them in the vase of water, check the water periodically to make sure it's not slimy or evaporating too quickly. Keep the water level above the roots all winter, and never allow the roots to dry out.
If the water becomes slimy, dump it out and wash the vase with soap and water. Rinse the roots in lukewarm water before placing them back in the vase of water.
Controlling Houseplant Pests
One of the biggest challenges of overwintering your sweet potato vine plant indoors is controlling houseplant pests.
In my experience, sweet potato vines are very prone to houseplant pests like whiteflies and spider mites, so check on them regularly for signs of infestation.
To help control these pests, you could spray the sweet potato vines with a neem oil solution. Neem oil is an organic product that prevents houseplant pest infestations, and helps make it easier to control houseplant pests. Horticultural oil also works very well to get rid of bugs on plants.
You can also use a solution of soapy water and spray it on the leaves of the infested houseplant (I use 1 tsp of Dr. Bronner's Baby-mild Liquid Soap per 1 liter of water). If you don't want to mix your own, you can buy organic insecticidal soap
If the plant is small enough, bring it to the sink or shower and wash the leaves with this soap and water solution to control any pests that may show up.
Keep in mind that so types of soap can damage the plant, so it's best to test it on a few leaves before spraying the entire plant. You can also try these other tips for controlling houseplant pests.
Sweet potato vines are pretty easy to overwinter indoors as cuttings or houseplants, and it's worth the effort to save yourself money every spring.

Products I Recommend
More Posts About Overwintering Plants
Books I Recommend

For more indoor gardening tips about overwintering tropical plants, click here… Overwintering Plants
Have you ever tried overwintering sweet potato vine cuttings before? Tell me about your experience in the comments below.