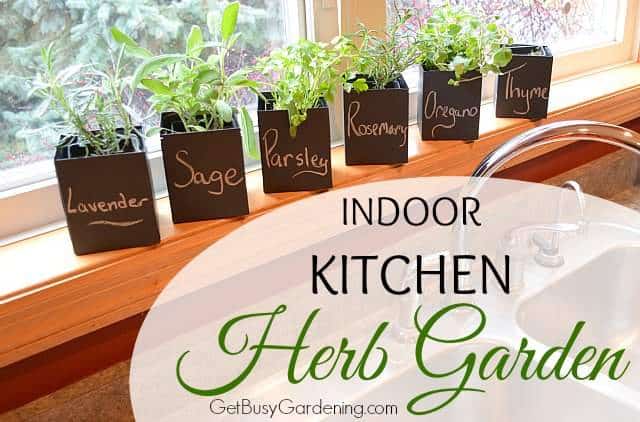 I've always wanted to try growing my own indoor kitchen herb garden, and I finally get to give it a shot thanks to Jackson & Perkins. I'm super excited to have fresh herbs at my fingertips all winter long! Growing herbs indoors is all the rage right now, so it's about time I jump on the band wagon, and you should too! My very first indoor herb garden contains 6 plants… rosemary, parsley, sage, thyme, oregano and lavender.
I grow all of these plants out in my garden during the summer, and I miss them like crazy during the winter!! I'm always drooling over the amazing indoor herb gardens I see online (damn you Pinterest!). I'm not sure why I've waited so long to grow fresh herbs in my kitchen, cause these gorgeous plants sure are a sight for sore eyes!!

Indoor Kitchen Herb Garden Ideas
I love the indoor kitchen herb garden options they have at Jackson & Perkins, like the herb collection in a metal caddy which I used here, and this herb window box garden.
These contemporary containers look really amazing on my kitchen windowsill. They go perfectly with the style of my kitchen. To soften the look, you can write on them with chalk (like I did in the first photo). I think that's super cute too (and easy to wipe off with a wet cloth).
I also really like the caddy that came with my indoor kitchen herb garden because it's functional. The caddy makes it super easy to move the herbs around the kitchen as I need them while I'm cooking. If you have a nice wide window ledge in your kitchen, you can put the caddy right in the window. I like the look of the herbs in the caddy as a centerpiece on my kitchen island or the kitchen table.
I like to mix things up, and rarely leave my plants in the same container for very long (especially in the winter!). It's fun to swap out the containers to change up my decor. Since these herbs come in individual pots, I can easily pop them into a different container when the mood strikes.
Plus, then I can use the caddy for other things… like to hold silverware for parties. Ummm, yah, that looks awesome (my old, ugly silverware caddy is on it's way to the Goodwill)!
Of course you could also use the caddy in other creative ways, like to hold…
your makeup and hair brushes in the bathroom
kitchen gadgets on your counter
paint brushes, markers and other art supplies
garden tools
pens, pencils, scissors, and other office supplies
toiletries for your guests in a spare bathroom
You could even use it to display flowers for a lovely table centerpiece at your next party. The possibilities are endless! Oh, and I also discovered that it makes a really nice, portable carrier for my indoor gardening tools. I can see that I'll get a lot of use out of this caddy.
Caring For Your Indoor Kitchen Herb Garden
Herbs are one of the easiest types of plants to grow out in the garden. They're not very fussy, so they're fairly easy to grow indoors too. Most herbs will grow best in a cool room, with indirect, bright light – though they would prefer getting some direct sunlight during the winter months.
Herbs don't need a ton of light to thrive indoors, but if your kitchen window is north-facing like mine is, then your herbs would grow best if you added a grow light. This small grow light is perfect, and doesn't take up too much space or look like an eye sore in my kitchen. I simply put it in a drawer when company comes over.
Also, try to keep the soil consistently moist, but not wet – especially during the winter months. Wet soil is a breading ground for pests like soil gnats, plus consistently soggy soil will just end up rotting your herb garden (it's especially easy to overwater plants that are close to the kitchen sink!). It's ok to let herbs dry out a bit between watering, but don't let them dry out completely. Make sure to keep your indoor kitchen herb garden away from drafty windows and doors, or heat sources like the stove, oven or fridge.
Related Post: Indoor Herb Garden Ideas: A Little Guide
You don't need to worry about fertilizing your herbs during the winter. In the summer, your herbs will benefit from being fed with a rich organic fertilizer like fish emulsion or compost tea. Learn all about fertilizing herbs here.
I tell you what, an indoor kitchen herb garden would make a fantastic gift! Friends love it when I give them plants as gifts (I'm kinda known for that), and it really makes a lasting impression. If you're looking for the perfect gift for the gardener, cook or… really anyone, consider giving them the gift of fresh herbs.
More Posts About Growing Your Own Herbs
Do you have an indoor kitchen herb garden? How long have you been growing herbs indoors? Tell me about it in the comments below.
Pin It!