Growing herbs indoors on a sunny windowsill has become quite popular these days, especially for those of us who live in a climate where the winters are long and cold. The thought of being able to snip off sprigs of fresh herbs as you need them for cooking sounds dreamy, right? Yes! So I asked a fellow blogger to share his experiences with growing herbs indoors in winter, and to give us his best indoor herb garden tips! Here's what he had to say…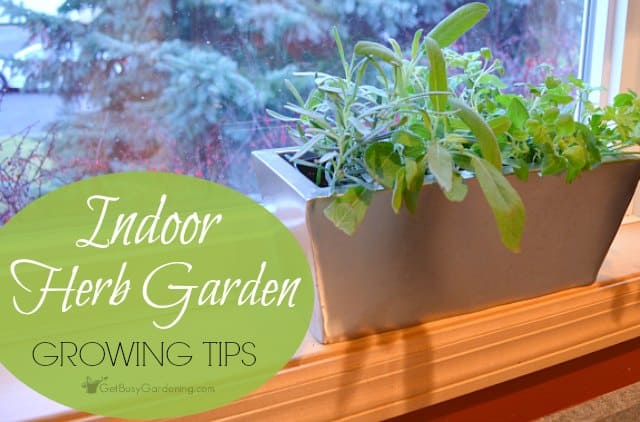 I remember the first time I experienced an inner-city "herb garden." It was a fourth-floor corner flat in London Euston, the inhabitant of which was a grizzled new-age pensioner who was also my soon-to-be landlady. The old terracotta pots, stacked just outside the doorway, along with the green array of kitchen-window plants, certainly added a unique charm to the space.

Because of their notable characteristics – striking scents, healing powers and long culinary history – many herbs have attained mythical status.
Rosemary's blue flowers, for example, are remnants of the shroud that the Virgin Mary draped over its branches whilst resting ("rose" of Mary). Likewise, if you decide to grow a bay tree, keep a close eye on it. The withering away of leaves may portend coming disaster.
So your indoor herb garden needn't just be a source of free garnishes (though they are rather good for that). They'll add a touch of enchantment to your kitchen too. If you want to become a successful indoor herb garden grower, follow these DIY indoor herb garden tips.
Indoor Herb Garden Tips
Despite the fact that growing herbs indoors is popular, they can be challenging to maintain. Many herbs come from hot, dry environments that are also prone to cooler temperatures.
Rosemary and thyme, for instance, are often found on hillsides and coastal cliffs. I've had trouble growing both plants indoors during the hottest summer months.
Choosing The Best Soil For Herb Garden Indoors
Generally speaking, you want maximise drainage as much as possible when growing herbs indoors. A lot of herbs hate having wet roots, and even those that can manage in damper conditions will appreciate their soil being well-aerated. Adding perlite to your potting mix (in the form of an additional third) will solve this problem.
Potting mixes themselves usually consist of a base substrate, like peat moss, that provides water and anchorage for growing herbs. To this compost (decayed plant remains) you can also add a slow-release plant fertilizer, both of which provide nutrients.
If you want to go down the DIY potting soil route, I've had success with a mix of one part perlite, one part peat moss and one part compost, with a little lime added.
You can also change peat moss for coco coir, and then there isn't any need for adding lime. Add a slow-release organic plant fertilizer to the soil if you don't want to feed your herbs regularly using liquid fertilizer.
Related Post: How To Make Your Own DIY Seed Starting Mix (With Recipe!)
Fertilizers For An Organic Indoor Herb Garden
If you're using your own potting mix without the addition of slow-release fertilizer, or a pre-made one that hasn't had any added, then you will need to start feeding your herbs after a period of about six weeks, on a monthly basis.
You'll need a balanced liquid fertilizer (one that contains nitrogen, potassium and phosphorous, the three main nutrients that plants require) alongside a second for trace elements.
A liquid seaweed fertilizer or fish emulsion are good examples. You could also use a pre-made compost tea, or buying compost tea bags so you can brew your own. Learn all about fertilizing herbs here.
Choosing The Best Herbs For Growing Indoors
Wherever you can, buy transplants – growing herbs indoors from seeds is not impossible, but certain herbs like lemongrass and rosemary can be fussy to grow from seed. (You could also buy a cute indoor herb garden kit to get you started.)
In terms of harvesting your herbs, unless otherwise indicated, snip off new stems a few inches down from the tip – this will encourage new side-shoots and bushier growth. Here are some easy herbs to grow inside.
Bay, Oregano, Rosemary, Sage and Thyme
These perennial herbs all like well-draining soil and warm conditions. They're evergreen perennials so will provide greenery indefinitely. Allow the soil to dry out somewhat before watering herbs indoors, but don't force a drought on them! Because it's naturally bushy you can cut thyme off further down the stem.
Related Post: Growing Parsley From Seed: A Step-By-Step Guide For Beginners
Basil
Sow this annual herb in the Spring and give it as bright a spot indoors as possible. Learn how to grow basil from seed
Chives
Chives are evergreen perennials that are well-suited to a slightly shadier spot when grown indoors (or a window that isn't south-facing). You can cut back new growth as much as you want throughout the year, snipping off half an inch or so above the soil level. Don't let this one dry out. Read How To Harvest Chives
Coriander
Coriander (cilantro) is an annual that is best harvested in one go. Sow the seeds in a bright spot directly in the pot in spring and thin them so they have at least six inches of space. You can also grow coriander for the seeds.
Lavender
Lavender is another evergreen perennial herb. The leaves themselves are relatively useless but the flower heads can be snipped off for use in tea or as a sleep aid. They also look and smell lovely. Learn more about how to grow lavender.
Lemongrass
Lemongrass is easy to grow indoors in a bright spot in well-draining soil, harvest the swollen stem bases for use in Thai dishes, chopping off just above the soil level.
Mint
Mint, another perennial herb, grows well indoors in containers, and copes with light shade. It's often better to grow in pots as it can spread rapidly when planted in the garden.
More Posts About Growing Herbs
Do you grow herbs indoors? Share your indoor herb garden tips in the comments below.
This was written by Daniel Mowinski. Dan is a gardening blogger. He's particularly interested in urban food growing, a subject he writes about on his blog Urban Turnip. Thanks for sharing your indoor herb garden tips with us Dan!
Pin It!