If you don't know how to tell the difference between a Christmas, Easter, and Thanksgiving cactus, you're not alone. In this post, I'll explain it all in detail so that you'll finally know what type of holiday cactus you have.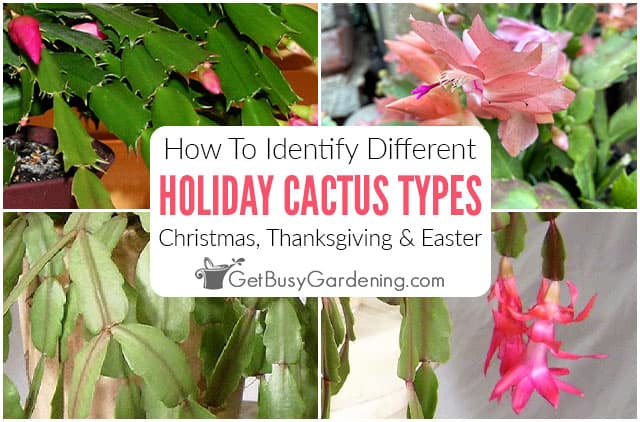 Two of the most popular holiday cactus varieties are Thanksgiving and Christmas cactus. They are also the ones that most people get mixed up. Add the Easter cactus to the list and things get even more confusing!
Don't worry, I'm going to show you easy ways to tell the difference between Christmas, Thanksgiving, and Easter cacti so you can identify which type of holiday cactus you really have.
Once you know what to look for, it's simple to tell them apart, even if they don't bloom at the time of the year that you expect.
Here's what you'll find in this detailed guide…
What Are The Different Types Of Holiday Cactus?
There are three different types of holiday cactus varieties: Thanksgiving, Christmas, and Easter. Most people have a difficult time telling them apart.
Each one is named after the holiday that's around the time when the flowers normally bloom, but that's not the only way to identify the kind that you have. Below I'll talk about each one in detail.
Related Post: How To Care For A Holiday Cactus Plus Growing Tips
1. Christmas Cactus (Schlumbergera buckleyi)
Also called December cactus, this is by far the most common holiday cactus variety that people are familiar with. However, true Christmas cacti are also the hardest to find.
Many people think they have one, only to discover that it's a different type once they learn how to identify it. Find out exactly how to care for them here.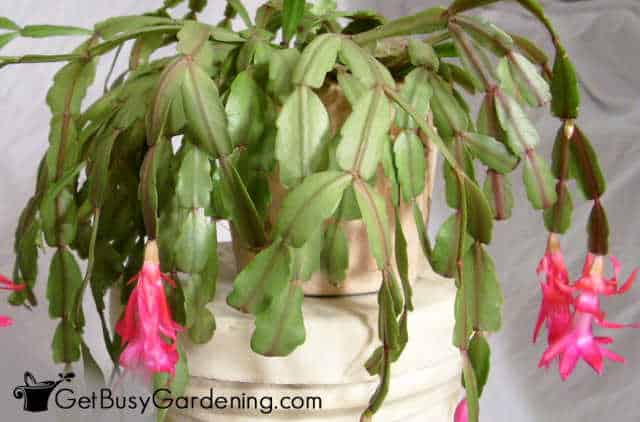 2. Thanksgiving Cactus (Schlumbergera truncata)
This one goes by a few common names, including claw, crab, or November cactus. It's by far the type that gets misidentified most often.
In fact, many retailers label Thanksgiving cacti wrong on purpose because the name "Christmas cactus" is more commonly known (which is a huge pet peeve of mine). Learn all about how to grow them here.
3. Easter Cactus (Schlumbergera gaertneri)
Sometimes called spring cactus or Rhipsalidopsis gaertner, this is the least popular type of holiday cactus. Heck, maybe you never even knew it existed!
Easter cacti used to be very difficult to find, but seem to be gaining popularity these days. At least they are around here, since I see many more of them for sale at garden centers in the springtime now more than ever before.
How Do I Identify My Holiday Cactus?
Though they all require similar care, it's always good to know how to identify the type of holiday cactus you have so that you can time their flowering season right. Here are the easiest ways to tell them apart.
Bloom Time
I put this one first because it's the attribute that most people expect to be the telltale sign.
You might think bloom time would be a no-brainer way to identify them, given they flower around their respective holidays…right?
Unfortunately it's not always that easy. Each type requires special care in order to flower during the right season. If the timing is off, they can flower months earlier or later than expected.
So just using bloom time alone is not always a reliable way to identify them.
Leaves & Stems
The good news is that you can quickly tell the three apart by looking at the stems, leaves, and more subtly, their growth habits. Here are the differences to look for.
Christmas cactus leaves & stems – Leaf segments are smooth and scallop shaped with rounded edges. The stems tend to grow outward rather than up, and hang down much earlier in their development than other varieties.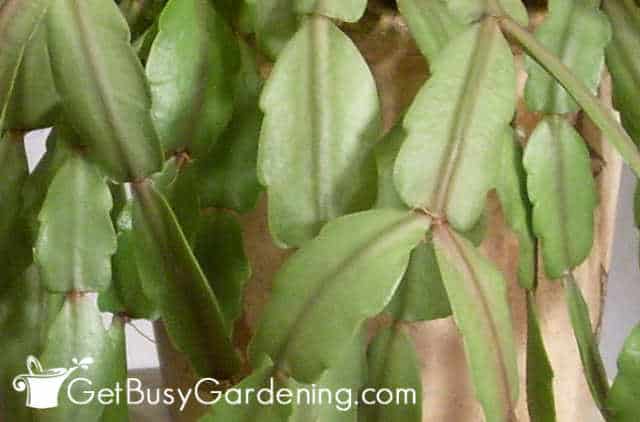 Thanksgiving cactus leaves & stems – The leaves have spiky, pointed edges that resemble a claw, and they're a little thicker. The stems grow up until they get fairly long, then they start to arch down with age.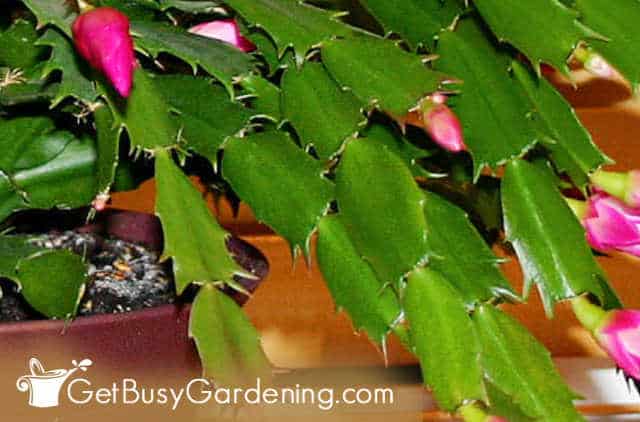 Easter cactus leaves & stems – These have larger rounded and slightly scalloped leaf segments, each with a much wider base. The stems tend to stay more upright, and the overall size of the plant is smaller.
Flower Shape & Color
The flowers of all three types of holiday cacti are different in both the shape and color, though some are a bit more difficult to tell apart than others.
Christmas cactus flowers – Take a close look and you'll see that the flowers hang down, and the petals are evenly spaced around the center. Also, they usually only come in shades of pink.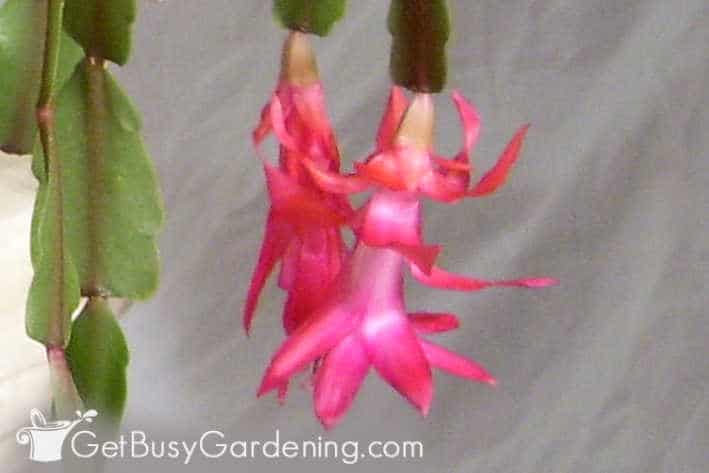 Thanksgiving cactus flowers – These come in a wide range of colors. The flowers are more horizontal to the plant. Most of the petals are on the top, and the blooms open up on the bottom.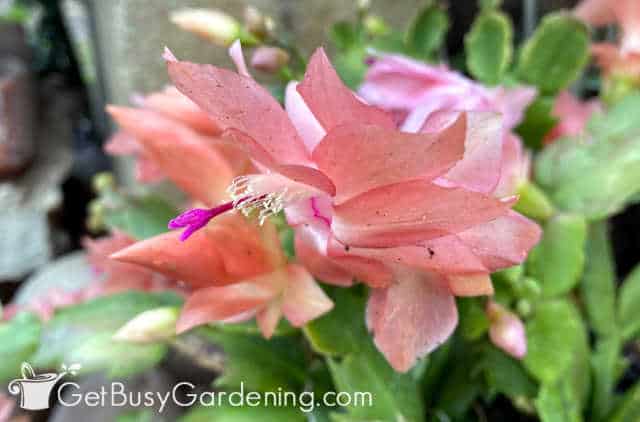 Easter cactus flowers – The flowers on this one are completely different from the other two, and they come in several colors. They are star-shaped, tend to stand more upright, and are wide and flat when they open up all the way..
How Do You Tell A Holiday Cactus Apart?
In case you're still confused about how to identify your holiday cactus, below I'll give a more detailed comparison to help clear things up.
What's The Difference Between Christmas Cactus And Thanksgiving Cactus?
People get these two types of holiday cacti confused all the time because they look very similar, and are often mislabeled. They are the two that get mixed up the most by far.
I can't tell you how many times someone asks me about their Christmas cactus, only to learn that it is actually a Thanksgiving cactus.
The fastest way to tell the difference is to look at the leaves and flowers.
A Xmas cactus has smooth/wavy leaves, and flowers that point/hang downward. Thanksgiving cacti leaves have serrated edges, and the blossoms are horizontal to the plant.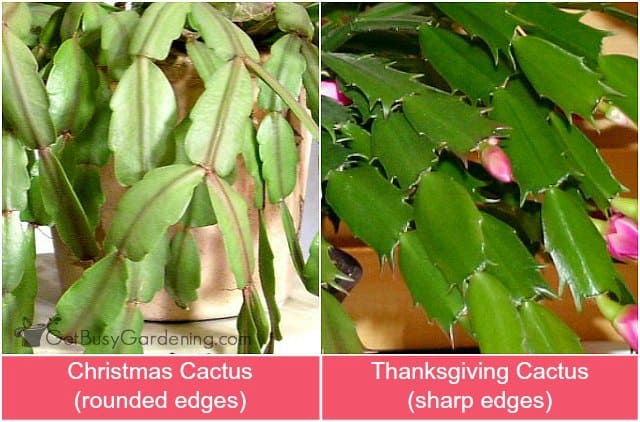 How Can You Tell The Difference Between Christmas Cactus And Easter Cactus?
The leaves on these two look far more similar to each other, so it can be difficult for most people to tell the difference at first glance.
Easter cactus leaves are larger, wider, and much more rounded. Christmas cactus leaves are smaller and have a distinct scalloped shape to them.
The flowers are completely different though. So it's easy to tell them apart when they are in bloom, regardless of the time of year it happens.
How To Tell The Difference Between Easter Cactus And Thanksgiving Cactus
Last but not least, these two are the easiest to tell apart, since there's not very much similarity between them.
Thanksgiving cactus leaves are smaller and have pointy edges, while the flowers are longer and tubular in shape.
Easter cactus, on the other hand, have wide, rounded leaves. The blossoms are star shaped and stand upright.
Now that you know the difference between Easter, Thanksgiving, and Christmas cactus plants, you should have no problem identifying which one you have.
If you want to learn all about how to care for your indoor plants during the darkest and coldest months of the year, then my Winter Houseplant Care eBook is just what you need. It will show you all you need to know to keep them thriving all year round. Download your copy today!
More About Different Houseplant Types
Tell us what type of holiday cactus do you have in the comments section below?