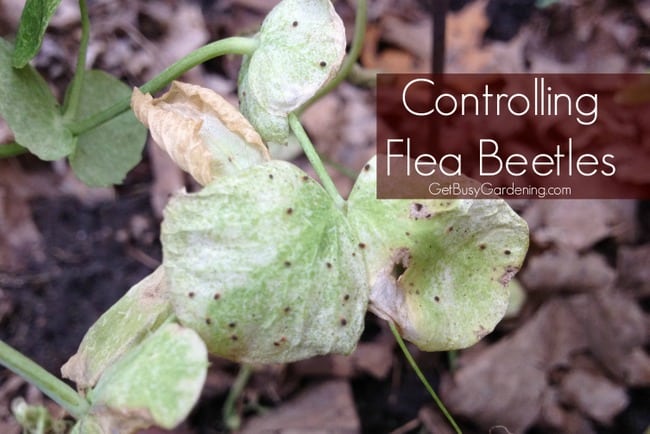 What Are Flea Beetles?
Last spring I discovered that many of my vegetable seedlings were under attack. The enemy – flea beetles. Once the enemy was identified, I had to plan a swift counter attack.
Flea beetles look like tiny black or brown specks on the leaves of a plant. It's hard to spot flea beetles from a distance, so flea beetle infestations can easily go unnoticed. Often the first indication of a flea beetle infestation is brown, yellowing or splotchy looking leaves. When you take a closer look, you can see the flea beetles crawling around on the plant. An easy way to make a positive identification is to disturb the plant or surrounding soil. Flea beetles jump around when they are disturbed.

My flea beetle infestation was so bad that the ground seemed to be moving. Is your skin crawling yet? Mine was.
Flea beetles can kill seedlings in a short time – at a minimum they will stunt the growth of immature plants. But once the plants are large enough, the flea beetle isn't as much of a concern anymore. There's not much you can do to eliminate flea beetles, you just have to control them long enough for the seedlings to outgrow the damage.
I tried several methods for controlling my flea beetle infestation. I chose methods I thought would be cheap, easy to try, and of course organic. No way am I spraying pesticides.
Organic Methods For Controlling Flea Beetles
Soapy water – Soapy water kills flea beetles on contact, but has no residual effect. I tried to spray my plants twice a day until the infestation was under control.
Mulch – I've read mixed reviews about using mulch to control flea beetles, but it seems to work well in my beds, at least to slow them down. I used straw and leaves around some of the seedlings, and hardwood mulch around others.
Coffee grounds – I sprinkled coffee grounds on and around the seedlings in one area first to test it out. After a few days, there were definitely fewer flea beetles around those seedlings than the others I didn't treat. So I went to a local coffee shop and got a bucket full of coffee grounds to spread in the other beds too.
Compost – I noticed that the seedlings in the raised beds I had filled with fresh compost before planting were unaffected. But I wasn't sure if that was because the flea beetles hadn't found those seedlings yet, or if it was because of the compost. I added a fresh layer of compost to the infested beds (before adding the coffee grounds), and that seems to slow down the flea beetles.
Ladybugs – I buy ladybugs every year and release them in my gardens. Ladybugs are wonderful predators in the garden.
Neem Oil – Neem oil is a great organic way to fight pests in the garden, and it works on flea beetles. Neem oil also has a residual effect, so you don't have to spray it every day. You can buy neem oil here.
After about a week of fighting the flea beetle infestation, my seedlings were noticeably healthier and the flea beetles weren't as prolific. After a few weeks, the seedlings grew larger, and the flea beetle infestation was no longer a problem.
Have you ever had a flea beetle infestation? Share your methods for controlling flea beetles in the comments below.
More About Garden Pest Control