Dealing with houseplant pests is one of the biggest frustrations indoor gardeners face. Sometimes it seems that no matter how careful we are, our precious houseplants become infested with some bug or another… and it gets very stressful! It doesn't have to be so difficult, you just need the right tools to help in your fight. Using neem oil as organic pest control on my houseplants was a game changer for me!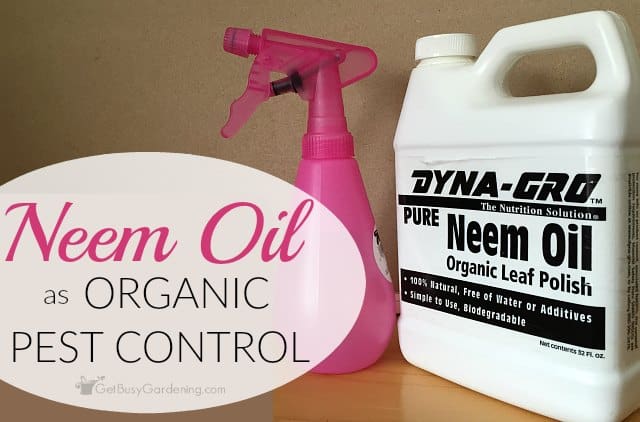 I love my houseplants, and indoor gardening is one of my favorite winter hobbies. But I've spent enough of my time dealing with houseplant pests, and I'm tired of all the fuss. So, I finally broke down and purchased some organic neem oil to use against pesty houseplant pests. I have known about neem oil as organic pest control for some time, but didn't purchase it before because it can be a bit spendy.

What Is Neem Oil?
According to the label "Neem oil is pressed from the seeds of the Indian Neem tree". The label doesn't say how it works to kill pests. But from what I've read elsewhere, it messes with the brains of the houseplant pests, so they stop eating and mating and eventually die off. Neem oil won't kill all of the the houseplant pests on contact, so it might take a few days for all of the bugs to disappear.
Related Post: Debugging and Cleaning Potted Plants
Neem Oil as Organic Pest Control
There's no way I'm using chemical pesticides, so the fact that neem oil is a natural, organic product is awesome. In years past, I've had chronic issues with houseplant pests like spider mites, whiteflies, scale, aphids, soil gnats and mealybugs.
Last year, we decided to try growing a pepper plant hydroponically. I've tried overwintering pepper plants in the house before, and I found that no amount of cleaning them would keep the aphids away. Pepper plants are serious aphid magnets. Since aphids multiply very quickly and I didn't want to spend my winter fighting them again (and risk a repeat of the aphid outbreak I had in 2009, ugh!), I decided to bite the bullet and give neem oil a try.
How To Use Neem Oil As Organic Pesticide
The directions say to mix the neem oil with a little mild liquid soap (I recommend using Dr. Bronner's Baby-mild Liquid Soap), which helps the oil mix with water. The soap has the added effect of killing the houseplant pests on contact, so you should see an improvement right away.
Neem oil also has a residual effect, so you don't have to spray the plant every day like you would with other all natural pest control methods. This residual effect also helps with pest prevention too! I spray it on my pepper plant every month or so in the winter just to keep the aphids in check. You could also wait until you see evidence of plant pests before spraying the plant again, because the infestation might go away completely after applying neem oil.
I am happy to report that our pepper plant has been aphid free since we started using neem oil as organic pest control. I also tried it on the whiteflies that have been plaguing my hibiscus and plumeria plants for five years, and it worked like a charm. No whiteflies in my house this winter, woohoo.
I would recommend using neem oil as organic pest control if you are tired of fighting indoor plant pest infestations, it's by far one of the best pest control methods I've ever used. It's expensive, but it comes in a concentrate, so a large bottle will last you a long time. Trust me, it's Worth. Every. Penny! You can buy neem oil here. It sure has made my life a lot easier.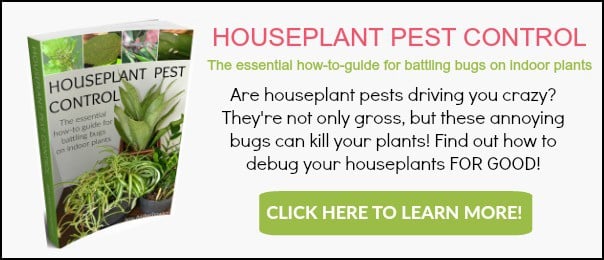 Recommended Books:
More Tips for Growing Houseplants
Safe Pest Control Products I Use
For more information and tips for how to combat those super annoying indoor garden pests, click here… Houseplant Pests
Have you ever tried neem oil as organic pest control? Share your experiences in the comments below.
Pin It!