Using natural pest control for houseplants is much healthier for us and our plants. There are lots of home remedies that work great to kill bugs on houseplants! So skip the toxic chemical pesticides, and try these methods instead.
It can be frustrating to find bugs on a beloved houseplant. But if you have indoor plants, at some point you will likely have to deal with houseplant pests. It's no fun – trust me, I know!

But there are lots of natural home remedies you can use to kill bugs on indoor plants, so you can skip the harmful chemical pesticides.
First, let's identify which pests are bugging your houseplants, then we'll look at some methods of natural pest control for houseplants.
What Are Those Bugs On My Houseplant?
Before you start treating an infested plant, it's important to know which type of bug you're dealing with.
That way, you can get rid of them as efficiently as possible. So, here's a quick list of a few of the most common to help you figure it out…
Natural Pest Control For Houseplants
Don't use synthetic chemical pesticides (also known as insecticides) to try to kill bugs on houseplant.
Not only are they dangerous to you, your family, and your pets; they're expensive, and don't always work to kill bugs on indoor plants anyway.
Some common houseplant pests are resistant, or can quickly build up resistance to chemical pesticides.
So, try these safer, more effective natural remedies for bugs on plants instead…
It will take several treatments to eliminate any houseplant pest infestation, so persistence is key. Once you start treating a houseplant for bugs, continue to treat it at least once a day until the infestation is under control. Don't despair, we can win this battle and keep our houseplants naturally pest free.
Up next, learn exactly how to get rid of houseplant bugs naturally.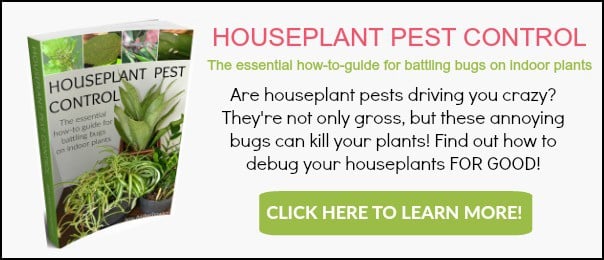 If you're tired of battling bugs on your indoor plants, then you need a copy of my Houseplant Pest Control eBook. It has everything you need in order to get rid of those nasty bugs FOR GOOD! Download your copy today!
Recommended Natural Pest Control Products
More Posts About Natural Plant Insect Control
Leave a comment below and share your favorite home remedies and methods of natural pest control for houseplants!