Using natural pest control for houseplants is much healthier for us and our plants.
There are lots of home remedies that work great to kill bugs on houseplants! So skip the toxic chemical pesticides, and try these methods instead.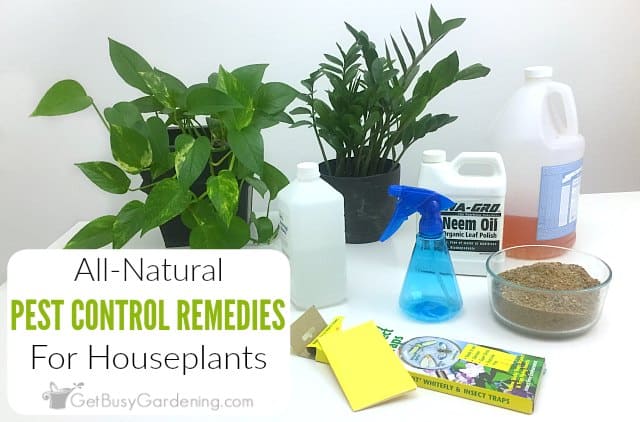 It can be frustrating to find bugs on a beloved houseplant. But if you have indoor plants, at some point you will likely have to deal with houseplant pests. It's no fun – trust me, I know!
But there are lots of natural home remedies you can use to kill bugs on indoor plants, so you can skip the harmful chemical pesticides.
First, let's talk about why it's best to use natural methods rather than synthetic chemical pesticides on indoor plants.
Why Use Natural Pesticides For Indoor Plants?
The obvious reason to use natural pesticides on indoor plants rather than synthetic ones is because they are much healthier for us.
I mean, who wants to spray all those toxic chemicals inside of their house anyway. Not me.
But, not only are they dangerous to you, your family, and your pets, they're expensive. Plus they don't always work to kill bugs on indoor plants anyway.
Most common houseplant pests are resistant, or can quickly build up resistance to chemical pesticides. And using them will only make your problem much worse in the long run.
So, skip the synthetic chemical pesticides (also known as insecticides), and use these safer, more effective natural remedies for bugs on plants instead…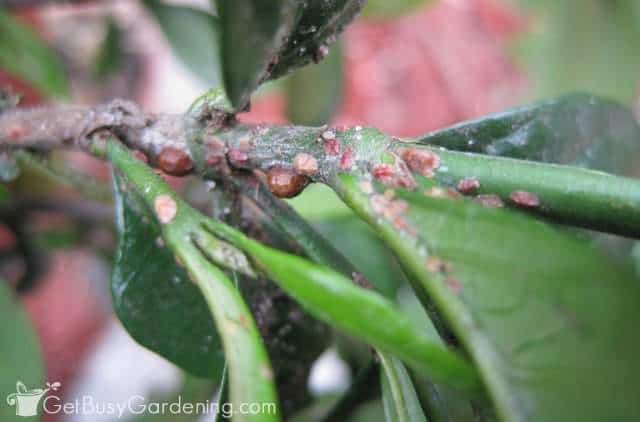 Natural Pest Control For Houseplants
Below you'll find several remedies to try. Depending on the pest, and the size of the infestation, some will work better than others.
So, it's best to know which type of houseplant bug you're dealing with to choose the best method to get rid of it.
Also, you may find that combining a few of these methods will work the best. So be sure to experiment with the different remedies.
Whichever one you choose, you must be persistent with it. You can't get rid of an infestation with only one or two treatments. It can take some time.
Soapy Water
Soap kills bugs on contact. It's easy to make your own natural bug killer for indoor plants. My homemade bug spray recipe is one teaspoon mild liquid soap to one liter of water.
Use it in a spray bottle, or to wash the leaves of heavily infested plants (test it on a leaf first to make sure the plant isn't sensitive to the mixture).
Organic insecticidal soap also works great as a natural insecticide for houseplants.
Rubbing Alcohol
Use a cotton swab dipped in rubbing alcohol to kill and remove insect pests from the plant.
This can be a bit tedious, but it works great to remove large clusters of pests like aphids, scale, or mealybugs from a plant.
Neem Oil
Organic neem oil is a natural pesticide for indoor plants, and it's very effective for controlling and eliminating common houseplant pests.
It also has a residual effect, so you don't have to treat the plant every day like you would with other methods.
If you have issues with recurring infestations, I highly recommend buying some. Learn how to use natural neem oil insecticide here.
Soil Covers
Cover the soil of an infested houseplant with a gnat barrier top dressing, or a try sand soil cover to control fungus gnats.
Topping the soil with diatomaceous earth could also help control fungus gnats and other pests that live and breed in houseplant soil.
Yellow Sticky Traps
Yellow sticky traps are inexpensive, non-toxic, and work great to capture adult flying houseplant bugs like fungus gnats, aphids and whiteflies.
It will take several treatments to eliminate any houseplant pest infestation, so persistence is key.
Once you start treating a houseplant for bugs, continue to do so at least once a day until the infestation is under control.
Don't despair, we can win this battle and keep our houseplants naturally pest free.
Up next, learn exactly how to get rid of houseplant bugs naturally.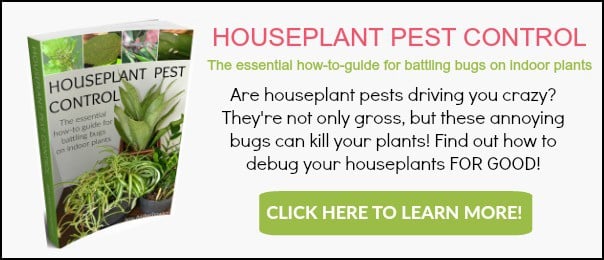 If you're tired of battling bugs on your indoor plants, then you need a copy of my Houseplant Pest Control eBook. It has everything you need to get rid of those nasty bugs FOR GOOD! Download your copy today!
More Posts About Houseplant Pest Control
Leave a comment below and share your favorite home remedies and methods of natural pest control for houseplants!