Sun dried cherry tomatoes are fun to make, delicious, and a great way to use up the excess from your garden! In this post, I'll give you my simple recipe, and show you how to make DIY sun dried cherry tomatoes in either your oven or a dehydrator.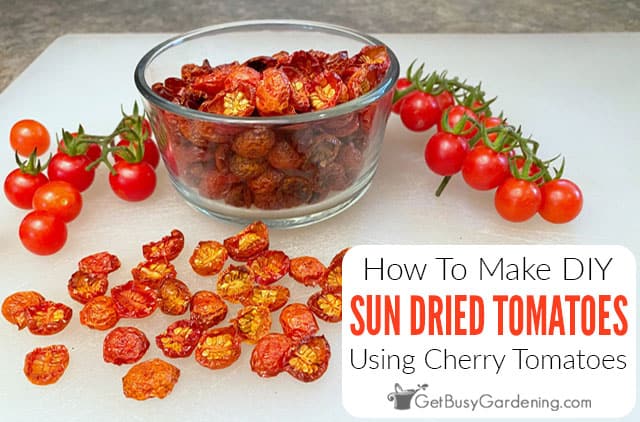 If you are like me, you probably end the summer with way too many cherry tomatoes from your garden. Or at least, more that you can eat.
Don't let that overabundance go to waste! You can use them to make homemade sun dried cherry tomatoes.
Read on to learn how incredibly easy it is to make DIY sun dried cherry tomatoes with just a couple of simple tools and ingredients.
Can You Sun Dry Cherry Tomatoes?
Yes! And honestly, I find it easier to sun dry cherry tomatoes than other, larger types. Since they aren't as meaty, it's much faster, and there's less prep work involved.
You can use any type you have on hand though. Just keep in mind that the larger the tomato, the longer it will take to dry.
Related Post: How To Can Cherry Tomatoes
DIY Sun Dried Cherry Tomatoes Recipe
Homemade sun dried cherry tomatoes are extremely simple to make, and really only require one ingredient.
However, you can salt and pepper them if you want. Or even sprinkle them with chopped herbs or spices to create fun flavors.
Ingredients:
1 lb whole, fresh cherry tomatoes (or as many as you have on hand)
Salt and pepper to taste (optional)
How To Make Sun Dried Cherry Tomatoes
Prep time: 20 minutes
Cook time: 2-4 hours
Yield: 2 ounces of sun dried cherry tomatoes
This recipe is super easy to make, and you don't need any special equipment. You can either use your oven, or put them into a food dehydrator. Here's what you'll need…
Supplies Needed
Related Post: Quick & Easy Pickled Green Tomatoes Recipe
Step-By-Step Instructions
Step 1: Preheat the oven, or set dehydrator temperature – If you're going to use your oven, then preheat it to 250F.
Otherwise, set your food dehydrator to 125F (you don't need to turn it on until you put the cherry tomatoes into it though).
Step 2: Prepare the cherry tomatoes – Wash the cherry tomatoes, remove the stems, and cut them in half.
There's no need to remove the area where the stem was attached, since it's so small. But you can if you want to.
Step 3: Prepare your cookie sheet or dehydrator tray – For easy cleanup, you can line your cookie sheet with parchment paper or aluminum foil.
Covering the sheet is optional, but I definitely recommend using tray liners in your dehydrator for this. Sometimes it can get a little messy.
If you use foil or an uncovered cookie sheet, brush it with a thin coat of olive oil, or lightly cover it with cooking spray to prevent sticking.
Step 4: Place cut tomatoes on the sheet or tray – Put the cherry tomato halves on the cookie sheet or dehydrator tray, with the cut sides facing up.
It's not a huge deal if they are touching each other, but try to leave a little bit of space between each one so they will dry faster.
If you want to play around with adding additional flavor, sprinkle them with salt and pepper, or your choice of chopped herbs.
Related Post: Tomatoes Not Turning Red? Try These 5 Tricks…
Step 5: Dry the cherry tomatoes – Place the cookie sheet on the middle rack of your oven, or put the trays into the dehydrator.
It takes 2-3 hours to dry them in the oven, and about 8-16 hours (or more) in a dehydrator.
Step 6: Check for doneness – After the first hour in the oven, check your sun dried cherry tomatoes every 30 minutes, and remove any that are done. Otherwise the smaller ones will burn before the larger ones finish.
You will know they are ready when they look leathery, but still feel soft. They should no longer hold any juice, and be slightly chewy when you try one. Do not cook them until they are crispy, or it will change the flavor.
Related Post: When To Pick Tomatoes & How To Harvest Them
Storing Homemade Sun Dried Cherry Tomatoes
You can eat your homemade sun dried cherry tomatoes right away, or use them in your favorite recipes. Otherwise, you should store them for later.
Once they're cool, I put mine into a container and keep it in the refrigerator, where they will last for several weeks. Otherwise, you could freeze or can them to preserve them longer.
Related Post: How To Grow Tomatoes At Home
Making homemade sun dried cherry tomatoes is the best way to preserve their flavor year-round. It is incredibly easy, and can be done with any quantity or size of tomatoes!
More Garden Fresh Recipes
More About Tomatoes
Share your favorite DIY sun dried cherry tomatoes recipe in the comments below!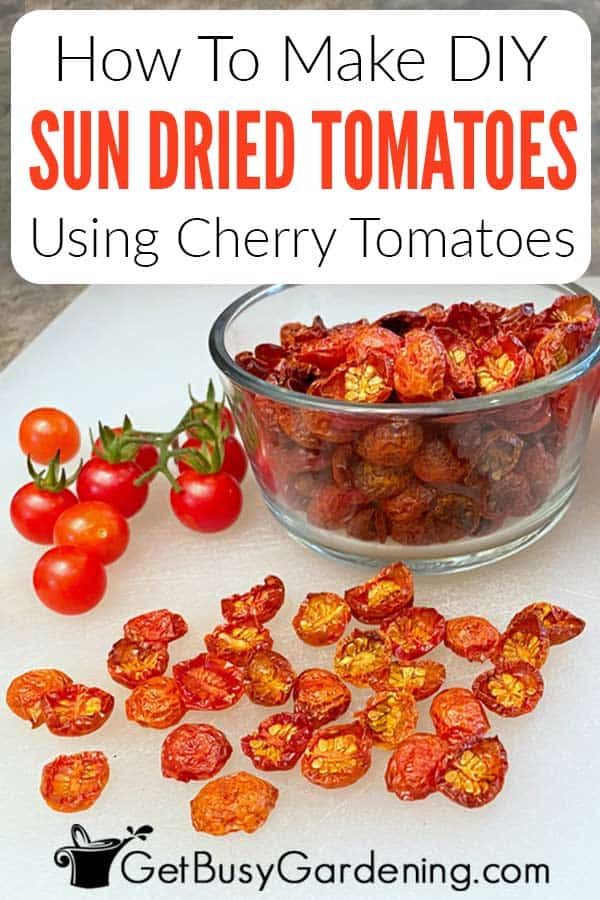 Print This Easy Recipe!