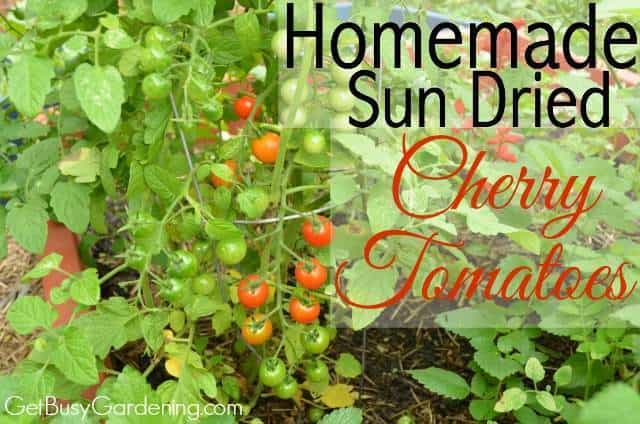 I love cherry tomatoes fresh from the garden, vegetable garden tomatoes taste a million times better than store bought tomatoes. Garden fresh cherry tomatoes are one of my favorite sweet treats in the summer.
I eat them in salads, use them in tons of recipes, and I of course I snack on them while working in the garden. But this time of year, I have more cherry tomatoes than I can eat.
What do I do with this overabundance of sweet cherry tomatoes from my vegetable garden? I make homemade sun dried tomatoes with them.
How to Make Homemade Sun Dried Cherry Tomatoes
It's super easy to make homemade sun dried tomatoes and they will last all winter in the fridge (if I don't eat them faster than that). You can make sun dried cherry tomatoes in a dehydrator, or if you don't have a dehydrator, you can use your oven.
Sun Dry Cherry Tomatoes in the Oven
After washing the vegetable garden tomatoes and removing the stems, I cut them in half and place them on a cookie sheet, cut side up. I usually cover the cookie sheet with aluminum foil for easy cleanup.
I also spray the foil with cooking spray before putting the tomatoes on the sheet just so they don't stick. You can fit a lot of cherry tomato halves on a cookie sheet.
I place the cookie sheet in a preheated oven (200 degrees F). It takes several hours to dry the tomatoes in the oven. This batch took about 4 hours. Note that the larger tomatoes will take longer.
After the first two hours, I check the cherry tomatoes every hour and remove the small ones that are done. (Otherwise the smaller ones will burn before the larger ones are done.)
Related Post: How To Make Crushed Red Pepper Flakes
You will know the sun dried tomatoes are done when they look and feel leathery. They should no longer hold any juice and should be slightly chewy when you try one. You don't want to cook them until they are crispy, this is overdone (but still edible).
Related Post: How To Make Healthy Baked Okra Fries
Once they are cool, I store my homemade sun dried cherry tomatoes in a container in the fridge. You could also freeze or can them to preserve them. You can use any type of vegetable garden tomato to make sun dried tomatoes.
The larger the tomato, the longer it will take to dry. There are tons of recipes on the internet for using sun dried tomatoes, they are such a yummy and healthy snack.
More Garden Fresh Recipes
Leave a comment below and share what you do with your overabundance of cherry tomatoes from the garden.