I posted something on social media the other day about harvesting bee balm from my garden to make tea, and since then I've gotten a ton of questions about how to make bee balm tea. Making bee balm (Monarda) tea is super easy. You can make the tea using freshly harvested bee balm, or you can dry it first. Bee balm is great for helping fight off colds and the flu, so it's nice to dry some and save it for winter use.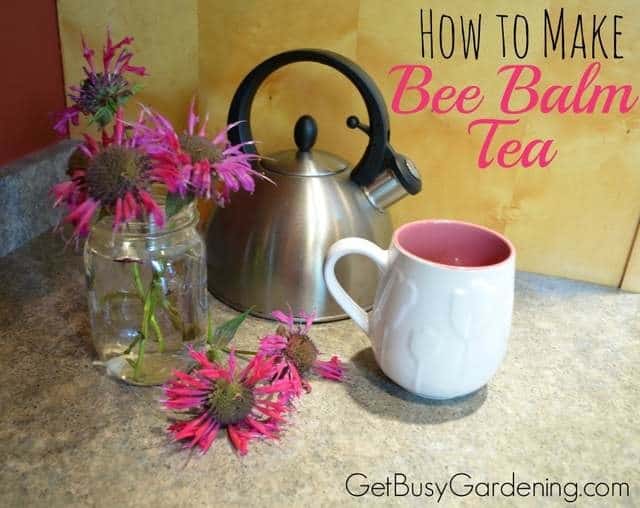 I really love the flavor of bee balm tea. If you've never tasted it, bee balm tea has a slightly minty flavor. Bee balm is in the mint family, but the flavor is milder than other mints.
How To Make Bee Balm Tea
Like I said, bee balm tea is super easy to make. The tea is made from the leaves of the bee balm plant. To harvest bee balm leaves for making tea, simply clip or pinch healthy leaves off the plant.
It's important to pay attention to the leaves as you harvest bee balm for tea.
Bee balm is very prone to powdery mildew, which creates white powdery spots or a white powdery coating on the leaves. Make sure you only harvest healthy leaves that show no sign of disease to make your bee balm tea. Discard any leaves that have blemishes or that show signs of powdery mildew.
As I already mentioned, bee balm tea can be made from freshly picked leaves, or you can dry the leaves for later use. Leaves can be dried in a dehydrator or laid out on a cooling rack to dry. Use a tea infuser if you make bee balm tea using the dried leaves. You don't need a tea infuser for freshly harvested leaves, you can toss those into the tea cup whole.
Start with three or four fresh bee balm leaves per cup or fill your infuser with about the same amount of dried bee balm leaves. Put the leaves or the tea infuser into a tea cup and pour boiling water over the top (my favorite tea pot). Allow the bee balm tea to steep for 5-10 minutes. If the tea is too strong, you can add more water and use fewer leaves next time. If the tea is too weak, add a few more leaves and allow the tea to steep longer. After you make bee balm tea a few times, you'll know how much you like to use for each cup.
When I make my bee balm tea using fresh leaves, I use a fork or slotted spoon to remove the leaves from my tea before drinking it, but you could use a strainer if you prefer. You don't have to remove the leaves from the tea if you don't want to. For a sweeter tea, try adding a little honey to your bee balm tea – it's a delicious treat. You could mix stevia leaves from the garden with your loose leaf bee balm tea, or trying making your own homemade liquid stevia extract.
You can harvest bee balm leaves any time throughout the growing season to make tea. Bee balm tea is delicious and has many health benefits. If you grow bee balm in your garden, you should definitely try making bee balm tea.
More Posts About Using Herbs From Your Garden
Do you make tea from your garden? Tell me about your favorites in the comments section below.
Pin It!