Bee balm tea is delicious and simple to make. In this post, I'll give you my easy recipe, and show you step by step how to make bee balm tea using either fresh or dried monarda from your garden.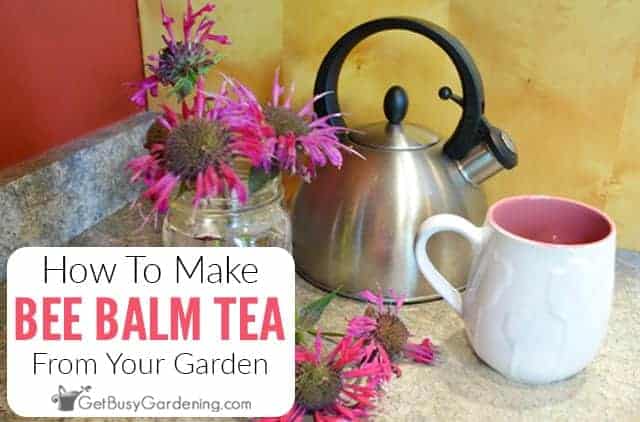 If you have monarda in your garden, you can make your own bee balm tea (also called wild bergamot, or oswego tea).
This beneficial tea not only tastes great, but is good for helping fight off colds and the flu. So it's especially nice to have on hand in the winter months!
You can make it using either fresh or dried leaves and flowers, resulting in a soothing, mild minty drink to sip and enjoy.
Below I will tell you all about bee balm tea, and show you exactly how to make it using monarda from your garden.
What Does Bee Balm Tea Taste Like?
I really love the taste of bee balm tea. If you've never tried it, it has a slightly minty flavor. That makes sense since monarda is in the mint family, but the flavor is milder than other varieties.
What Part Of Bee Balm Is Used For Tea?
You can make bee balm tea using both the leaves and the flowers. The leaves have the strongest flavor, so that is what I prefer to use.
If you add in some of the flowers, it will turn your tea a lovely light pink or magenta color.
You can make it using freshly picked bee balm, or you can dry it first. If you want to keep some for later use, put it in a dehydrator, or lay it out on an herb drying rack.
When & How To Harvest Bee Balm For Tea
The best time to harvest bee balm for making tea is in the late spring, or early summer before the flowers start to fade. Simply clip or pinch healthy leaves and flowers from the plant.
Make sure you only use the healthy green ones though. Monarda leaves are very prone to powdery mildew, which presents as white spots or a coating on the leaves.
So discard any that have white spots, blemishes, are yellowing, or ones that show signs of powdery mildew.
Bee Balm Tea Recipe
The best part about this oswego tea recipe is that you only need two ingredients, water and the leaves. Plus, it is super easy to make. You can also add the flowers, but that's optional.
Ingredients Needed:
1 cup water
3-4 fresh picked or dried bee balm leaves (or use as many as you like for desired flavor)
4-5 bee balm flower petals (optional)
How To Make Bee Balm Tea
Like I said, monarda tea is super easy to make, and you'll only need a few supplies. If you're an avid tea drinker, you probably already have these things on hand.
Supplies Needed:
Steps To Make Wild Bergamot Tea
Step 1: Boil the water – Bring water to a boil in your teapot or other container.
Step 2: Fill your infuser – Put the leaves and flower petals into your tea infuser. If you don't have an infuser, you can drop fresh leaves and flowers into the cup whole (you'll just need to strain them out later).
Step 3: Fill the cup – Pour boiling water over the top of the tea to fill the cup, and then stir it around to remove any air bubbles that may be inside of the infuser.
Step 4: Steep your tea – Allow it to steep for 5-10 minutes, or until it reaches the desired flavor. I recommend covering the cup to keep the water warm while it steeps.
Step 5: Remove the tea from the water – Pull out the infuser, or strain the loose leaves and petals out with a fork or mini kitchen strainer.
Step 6: Sweeten it (optional) – Add sweetener, if desired. Instead of using sugar or honey, why not try making your own homemade liquid stevia drops.
Step 7: Enjoy! – Now you can sit back, relax, and enjoy your homemade bee balm tea. Yum!
If your tea is too strong, you can add more water, and use fewer leaves next time. If it's too weak, add a few more leaves, or allow it to steep longer.
After you make oswego tea a few times, you'll know exactly how much you like to use for each cup.
NOTE: Though there are many known health benefits of drinking oswego tea, there are also some possible side effects. So make sure you to do your research before you decide if this is something you'd like to try.
Bee balm tea is delicious, and has many health benefits. Plus it is easy to make with only a few ingredients, and supplies you probably already have on hand. If you have monarda in your garden, you should definitely try making oswego tea.
Related Products
More Garden Fresh Recipes
Share your tips for making bee balm tea in the comments below.
Print This Recipe