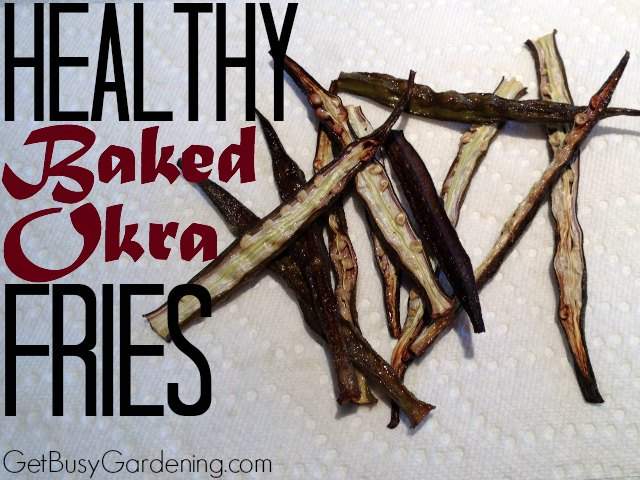 Okra can be one of those tricky vegetables to figure out how to cook. I like the taste of okra, but I don't like how slimy it can get when it's steamed or sautéed.
The first few times I cooked okra, I steamed it. But I found myself almost having to gag it down because it was the consistency of snot – EWE! Baking okra gets rid of the slime, and the easiest way to bake it is to make baked okra fries.
Harvesting Okra
Okra makes a wonderful addition to the vegetable garden, especially if you grow red burgundy okra. It's important to harvest okra at the right time, before it gets too big.
Okra is ready to harvest when it's about 4-5 inches long. After harvesting okra, it's best to use it within a couple days. Okra that is too large, or has been in the fridge too long will become woody and inedible.
How To Make Healthy Baked Okra Fries
It's super easy to make delicious baked okra fries. If I can do it, anyone can! Here's how I make them…
Step 1 – Slice okra: First, cut the top and ends off the okra. Then slice each one the long way. I slice thicker ones into thirds. You could remove the seeds if you want, but I leave the seeds in my okra fries for an added crunch.
Step 2 – Spread Okra on Cookie Sheet: If I have a small amount of okra from the garden, I use my toaster oven to bake okra fries. For larger batches I use my regular oven.
Spray a cookie sheet with non-stick cooking spray. Spread the okra slices on the cookie sheet and put them into the oven. I set my oven somewhere around 350-400 degrees.
Step 3 – Bake Okra Fries: Bake the okra slices until they're crispy. It doesn't take long, about 10-15 minutes in my toaster oven. I check them after 10 minutes to see how crispy they are. Bake them until they get to your preferred level of crispiness.
That's it, super easy right? I eat my okra fries plain. You could add salt or other spices to jazz them up if you want. There might also be a dip that you could eat them with. Let me know if you come up with anything good and I'll give it a try. Baked okra fries are easy to make, healthy and delicious!
If you want to start growing okra in your garden, here are some great, quality seeds you can buy to get started… Green Okra Clemson and Red Burgundy Okra
More Recipes To Use Up Garden Vegetables
What's your favorite way to cook okra?
Pin It!