Canning cherry tomatoes isn't difficult, and it's a great way to use them throughout the year. Once you learn how, you'll have plenty on hand whenever you need them.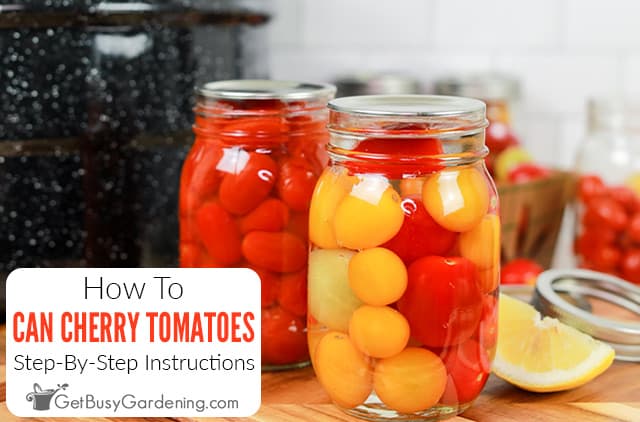 Learning how to can cherry tomatoes is an important skill, especially for gardeners, since they are so prolific.
That way you can use them up without any waste, and enjoy them year round. There are many recipes you could add them to, or you can simply eat them right out of the jar.
It's a great way to lock in that "fresh off the vine" flavor, and make use of your bounty. Or you can use ones that you buy at the grocery store or Farmer's market.
In this article I am going to show you two ways to can cherry tomatoes, with or without a pressure canner.
Preparing Cherry Tomatoes For Canning
To prepare your cherry tomatoes for canning, simply remove the stems, then rinse and dry them off.
You don't need to cut them up or peel off the skins. But you could if you prefer, or depending on how you plan to use them.
As an additional preparation step, be sure to clean and sterilize the jars, and also get the water boiling in your canner or pot before getting started.
Related Post: How To Grow Tomatoes At Home
Methods For Canning Cherry Tomatoes
There are two ways to can your cherry tomatoes, either hot or raw packing. Each will give you a different result.
The one you choose will depend on how you intend to use them, and the amount of time you have. Try both to see which one works best for you.
Hot Packing
Hot packing your cherry tomatoes before canning will help to soften them, and allow you to fit more into the jars.
This method is great when you want to use them to make recipes such as marinara, marinades, or purees.
To use the hot packing technique, add 5 cups of cherry tomatoes to 1 cup of water in a large pot. Then let them boil over high heat for 5 minutes before putting them into the jars.
Related Post: When To Pick Tomatoes & How To Harvest Them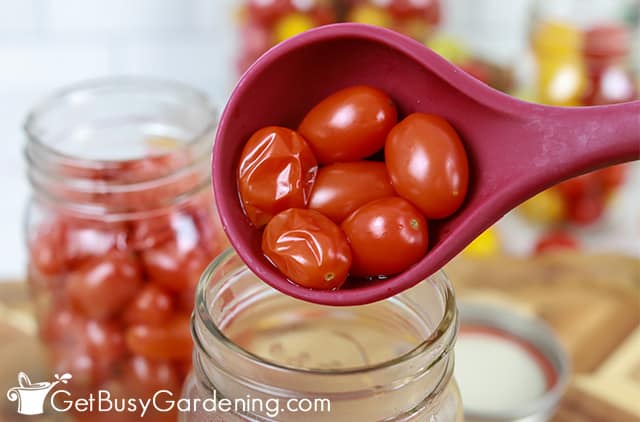 Raw Packing
Raw packing takes less time, since you don't need to boil the cherry tomatoes before canning them.
They will also hold their shape better, and are great for use in recipes such as chunky soups and sauces.
But it will take up more space in the jars, which means you won't be able to fit as many in.
Related Post: Sun Dried Cherry Tomatoes: An Easy Homemade Recipe
Processing Canned Cherry Tomatoes
Once you've raw or hot packed your jars it is time to process them. You can do it using either a pressure canner or water bath. Below are the pros and cons for each.
Canning Cherry Tomatoes With A Pressure Canner
Using a pressure canner can help to ensure a tight seal of the jar lids. It's also a bit faster than the water bath method, so it'll save you some time.
But of course it's a more expensive item to buy. So you may want to wait to make the purchase, or borrow one from a friend to see how you like it first.
Canning Cherry Tomatoes With The Water Bath Method
If you don't have a pressure canner, the water bath method will create a similar effect, but takes a bit more time.
For this you'll just need a large pot or water bath canner, which is less expensive to purchase.
Though you can't use this method for canning everything, it's safe for cherry tomatoes since they are acidic.
Related Post: Quick & Easy Pickled Green Tomatoes Recipe
Tools & Equipment Needed
Below is a list of the equipment and tools you're going to need. Collect everything before you begin to speed things up. You can see my full list of tools and supplies here.
How To Store Canned Cherry Tomatoes
Before storing your canned cherry tomatoes, ensure that each lid has sealed. You'll know a proper seal is in place when you push on the center of the lid and it does not move at all.
If any of the lids did not seal, then you must refrigerate them and use them up right away.
Otherwise, store them in a dark, cool place. A pantry, cupboard, or basement shelf are wonderful spots to keep them.
Be sure to write the date and name on each jar so you know when they'll expire. You can either use disposable labels, or simply write on the top with a permanent marker.
How Long Do Canned Cherry Tomatoes Last?
When properly sealed and stored, canned cherry tomatoes can last up to 18 months. Always check each one to ensure the lid is still sealed before using them.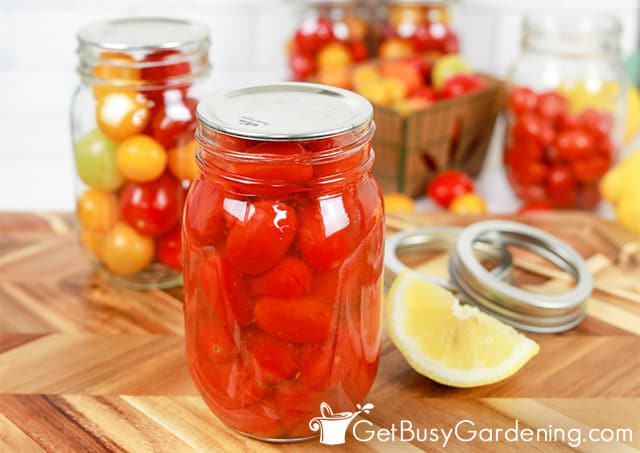 FAQs
In this section I'll answer some of the most commonly asked questions about canning cherry tomatoes.
Can cherry tomatoes be canned with skins on?
Yes, cherry tomatoes can be canned with the skins on. But of course, if you prefer, you can remove them first.
Is it safe to can cherry tomatoes without a canner?
Yes it is safe to can cherry tomatoes without a canner, because they are acidic. The benefit that a pressure canner brings is that it is faster, and helps to ensure the seal on the lids. But if you don't have one, you can use the water bath method instead.
By canning cherry tomatoes, you can keep them on hand and ready to enjoy whenever you like. With just a little bit of effort, you'll be able to enjoy them all year long.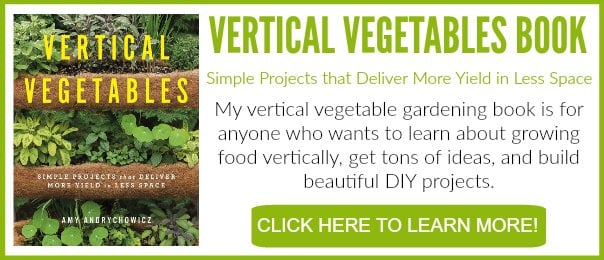 If you want to learn how to train vegetables vertically, then you need a copy of my book Vertical Vegetables. In it I teach you all you need to know, so you can have both a beautiful and bountiful veggie garden. Order your copy today!
Learn more about my Vertical Vegetables book here.
More Food Canning Posts
Information About Tomatoes
Share your tips for canning cherry tomatoes in the comments section below.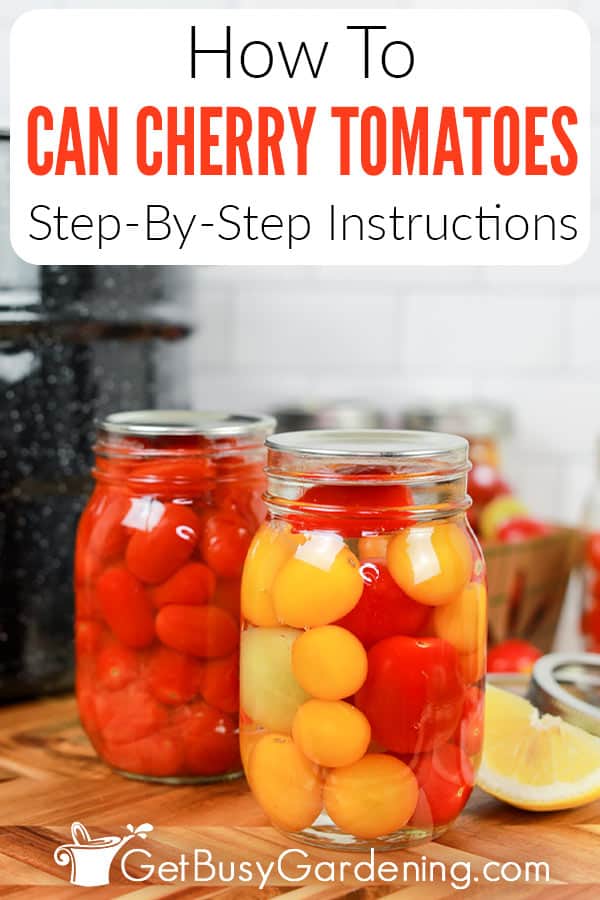 Recipe & Instructions