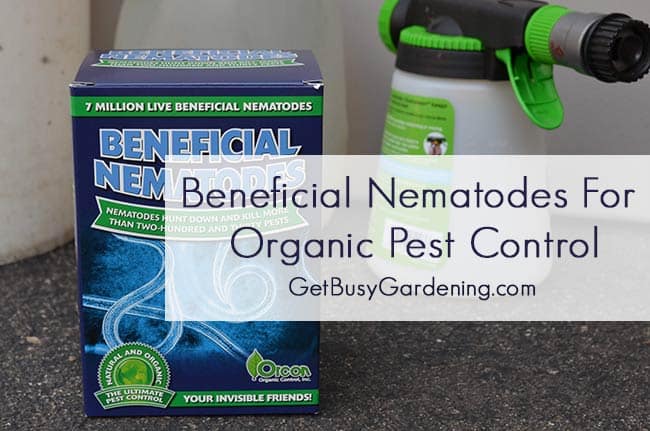 Over the last few years, Japanese beetles have become a MAJOR pest in my gardens. The Japanese beetle population has been growing exponentially and they have become very destructive. A few years ago, I was complaining about 10 or 12 of them gnawing on my roses. Last year, we hand picked hundreds of them every evening, They decimated my roses and beans, and damaged many other plants in the garden. It's been terrible!
I don't spray pesticides in my yard and I encourage my neighbors to stay away from using pesticides too. So I'm always trying to find ways to control garden pests naturally. I've been releasing ladybugs in my gardens for the past few years, and they work great against aphids and other tiny pests. I wanted to try another natural predator to control Japanese beetles, and that's how I discovered beneficial nematodes.
As you may know, Japanese beetles begin their lives as larvae. You've probably dug up these larvae (aka grub worms) in your lawn or garden. Many of these grub worms will eventually mature and emerge from the soil as nasty Japanese beetles.
Beneficial nematodes will attack and kill several types of soil dwelling pests, not just Japanese beetle larvae. As the box says, they will "…hunt down and kill more than two-hundred and thirty pests". Bonus! (FYI, they do not harm other predatory insects like ladybugs)
I bought my beneficial nematodes at Bachman's, a local garden center, but you can buy them here… Beneficial Nematodes. The horticulturist there told me that spring or early summer is the best time to apply the nematodes for Japanese beetles, because the larvae are very close to the soil surface.
In order to spread the beneficial nematodes around the yard, you need a sprayer to attach to the hose. It's a pretty easy process.
Related Post: Natural Garden Pest Control Remedies And Recipes
How to Use the Beneficial Nematodes
First the container of nematodes needs to be poured into water and allowed to soak. This will activate the beneficial nematodes.
I used one gallon of water from my rain barrel to soak the beneficial nematodes and allowed it to sit for 30 minutes (per the instructions).
Beneficial nematodes travel best in wet conditions, so while the nematodes were soaking in water, I watered the lawn to help them out.
After letting the beneficial nematodes sit for 30 minutes, I used a piece of screen to strain out the material that the nematodes came packed in. Beneficial nematodes are invisible to the naked eye, so you just have to trust that they are swimming around in there.
The last step was to fill the sprayer and spread the beneficial nematodes all around the yard. This job has to be done after the sun goes down, because direct sunlight will kill the nematodes.
I have no proof that I just got done spraying 7 million beneficial nematodes around my yard, but I really hope it will make a difference. Not only with the Japanese beetles, but with other pests like flea beetles and cucumber beetles too.
More Posts About Organic Garden Pest Control
Have you ever used beneficial nematodes in your yard before? Leave a comment below and tell me about your experience.