Vine crops don't need a support to grow and produce, but they tend to take over the garden if left to sprawl on the ground. Growing vertically allows you to plant more in the same amount of space.
Trellising peas and beans is a common practice, but did you know you could do the same with heavier vines such as cucumber and squash. Even the giant vines of gourds, melons and pumpkins can be grown vertically.

Growing vertically not only saves space in the garden, it's also healthier for the plant, giving you a larger harvest. Fruits and vegetables sitting on the ground are prone to disease, rot and pests.
Another benefit of growing vertically is it makes harvesting easier. The fruit will hang down from the vine making it easier to find. On the ground, it's hidden under the leaves.
You can buy trellises or build your own, vertical supports can be made out of just about anything. The type of support used could be as simple as a small fan trellis, or it could be more elaborate like an arbor or a pergola.
Choose The Proper Support For Growing Vertically
There are a few things to keep in mind when choosing a vertical support:
Height – The maximum height the vine will grow
Strength – The vines can get very heavy when full of produce
Ease of harvesting
Height:
The maximum height a vine will grow is different depending on the type of crop. Vines can stay short, only growing a few feet tall like peas, they can grow to the top of a tree like pumpkins, or anywhere in between. Choose a support that's tall enough so the vine will have plenty of room to grow.
A wire tomato cage or small fan trellis would be sufficient for growing peas. Beans, cucumbers, squash and melons will need something taller. Try making your own DIY arched trellis or build a DIY squash arch for taller vining crops.
Strength:
Keep in mind that once the vines are large and full of produce, they can be very heavy. Choose a support that is sturdy enough to hold the weight of the vine you plan to grow.
Peas and beans are lighter and won't need a support as strong as squash and pumpkins will.
Ease Of Harvest:
Harvesting is usually easier in a vertical vegetable garden, but using the wrong type of support can make it harder to harvest.
A support that will keep the vines in a tight cluster, or one where it's difficult to reach the center may not be the best choice.
Something that is really tall may also make harvesting difficult, unless you don't mind getting out the ladder once and a while.
Other Things To Keep In Mind When Growing Vertically
When the plants are young, you may need to train the vines to grow on the support. They are fragile when small, so take care not to break the stem of the plant as you train them.
If necessary, tie them loosely to the support with a flexible plant tie or wire twist ties. Tying them too tight may cause the tie to cut into the stem when the vine grows thicker.
As the plants mature, they will wind around the support themselves. Keep an eye on your vertical vegetable garden throughout the summer to make sure the vegetables stay on the trellis, and aren't growing on nearby vegetables.
Pumpkins, melons and other large vegetables will need extra support once they start to mature so that they don't rip off the vine.
Old t-shirts or other fabric can be made into a sling to swaddle them, then tied to the trellis the vine is growing on. Be sure to allow plenty of room for growth.
Many of the plants I mentioned also come in bush varieties, check the seed packet or plant tag to ensure you buy the vine/pole variety if you are interested in growing vertically.
Here are some of my favorite crops to grow in my vertical vegetable garden:
Growing vertically is the perfect way to get more from the vegetable garden. Choose vertical supports that will work for you, and fit with the style of your garden.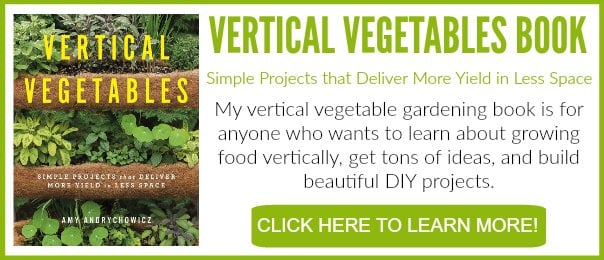 Want to learn even more about vertical vegetable gardening? Then you need to order a copy of my Vertical Vegetables: Simple Projects That Deliver More Yield In Less Space book! It has everything you need to know in order to grow all of your vegetables and other crops vertically! Plus more than two dozen detailed step-by-step DIY projects that you can build in your garden for growing vertically! Pre-order your copy now!
Learn more about my new Vertical Vegetables book here.
More Posts About Vertical Gardening
What are you favorite ways to grow vertically? Leave a comment below and tell me about your experiences.