Building a concrete block planter is fun, and a project that can be completed in an afternoon. In this post, I'll give you the detailed steps for how to make a DIY cinder block planter of your own, including cost, design, and planting tips.
This DIY concrete block planter not only looks fantastic, but you can get super creative with it, and come up with your own unique design.
It's also versatile, so you can put it anywhere – and make it as small or large as you need to fill your space.
It's also wonderful way to try your hand at growing vertically, and is excellent for adding height to a boring empty corner like mine.
Another thing I love about this project is that it's a wonderful option for anyone who's on a budget.
Concrete landscape blocks (also called cement blocks or cinder blocks) are inexpensive to buy, and easy to find at any home improvement store.
How Much Does It Cost To Build A Concrete Block Planter?
These cement blocks were only $1.00 each; which came to a total of $16 for my entire planter project.
I needed more soil to fill it than I expected though, and that ended up costing almost as much as the concrete cinder blocks.
But I still built the entire concrete planter for under $30, an amazing price for this large of a container!
I saved money by using plants that I already had in my garden. So, if you need to buy new ones, then you should also factor in the price of plants if you're working on your project budget.
Otherwise, just do what I did and take divisions from your garden to fill your cement block planter.
Building A DIY Cinder Block Planter Is Heavy Work
Before getting started making your own concrete block planter, keep in mind they are very heavy. I must have moved each cinder block at least ten times in the process of building my planter, and my back was sore the next day!
I wanted to be sure to mention this to you so you know what you're getting yourself into. I didn't think about this when I decided to make mine.
Also, if your design requires a lot of blocks, you'll probably need a truck or trailer to transport them since they are so heavy (and be sure to bring work gloves to the store with you to save your hands when loading them up).
I was able to get mine home in my car with a few trips to the store (which is less than a mile from my house, so it was easy for me).
How To Make A Concrete Block Planter
Ok, now that you know what you're getting yourself into here (and you're still reading, so that's a good sign that you're ready to build your own!), let's get started!
Here are the step-by-step instructions for building a cinder block planter…
Supplies Needed:
Concrete blocks
Paver base
Step 1: Figure out your cinder block planter design – If you have an eye for design or any artistic ability, then you can draw your concrete planter layout on paper before you even lift your first block.
Even if you're not artistically inclined, it's still a good idea to sketch something out on paper and take some measurements of the area so you have an idea of how many cinder blocks you'll need to buy.
Step 2: Lay out your planter design – Once I got the everything home, the first thing I did was set up the cinder blocks to create a design I liked.
I was hoping to come up with something really cool, and I wanted my corner planter curved, so that made it more difficult.
I recommend taking the time to lay out your pattern before you starting building it. It's heavy work, but it's worth it to make sure you like it before you build it.
At this point, you're just stacking the concrete blocks to get your basic design laid out. Don't fill any of them with soil yet, we'll do that in a later step once the design is final.
A quick note about different types of cinder blocks… Once I started putting initial layout together, I noticed the concrete blocks I bought weren't all the same.
Some have a flat end (bottom block in picture below) and some have ridges on both ends (top block in picture).
This didn't affect the way they fit together, but I had to pay attention as I built it so the flat ends faced the front.
If I make another cinder block planter, I will pay attention to the different shapes when I buy them to make sure they are all the same so I don't have to worry about which ones go where.
Step 3: Take a picture of your design layout – I played around with different placements until I figured out the basic idea of what I wanted my concrete block planter to look like.
Once you have your cinder blocks laid out, be sure to take a picture of your final design layout.
I took a picture purely for the purpose of writing this blog post; and boy was I glad I did because I referred to it often as I built my planter. Here's my initial layout…
Step 4: Lay the first row of blocks – Once the design was done, I disassembled everything, and started building my planter.
The first row of cinder blocks takes the longest to lay because the planter bottom must be completely level. So be certain to use a level tool as you lay the first row. This is extremely important, so don't rush or skip this step!
If your first row isn't completely level, then your planter will be lopsided. Not only will that look bad, it could end up being very dangerous! You don't want it falling on someone!
So take your time and make sure the bottom row is completely level. I recommend using a tamper tool to flatten the ground, which makes quick work of leveling the concrete block (actually, I don't know how you would even do it without a tamper)!
Once the ground is level, tamp down some paver base over the top of it to create a solid foundation for the bottom row.
Once you get the first row level, the other rows will go faster since they can simply be stacked on top of each other.
Step 5: Fill the planter blocks with soil – Once the bottom row is in place, fill the holes with soil. I recommend waiting until you're done with the whole bottom row.
Cement blocks filled with soil are a pain to move and re-level! Trust me, I learned this the hard way.
Another lesson I learned the hard way (and realized after I finished my planter) was that most of the cinder blocks on the bottom won't have plants in them. Of course, I bought high quality potting soil for mine.
So, if there are holes in yours that won't have anything growing in them, save yourself a few extra dollars by filling those with cheap dirt rather than high-quality potting soil.
Related Post: Choosing The Best Potting Soil Mix For Container Gardening
Step 6: Add extra support under the corners – After adding the second level of cinder blocks to my corner planter, I discovered that my curved design created gaps.
That made filling some of the holes impossible because the soil would just fall out the bottom. Oops!
If your concrete block planter is square, you won't have to worry about this step. But if you copy my design, and build a curved corner one, then you'll need to figure something out for this step too.
My solution was to take some wire garden fencing (chicken wire would work too) and lay it across the gap under each of the corner blocks for support.
Then I laid landscape fabric over the wire fencing, and placed the block on top. Whew, that did the trick!
Step 7: Fill the blocks with soil as you go – After each row is done, fill the holes with soil. Remember to use cheap dirt for the ones that will be covered by blocks, to save a few extra pennies.
Step 8: Add plants to your concrete block planter – When my project was done, I filled it with zone 4 hardy succulents. Once they become established and cascade over the sides, it'll look even more amazing.
Using Concrete Blocks As Planters
One thing to note about using concrete blocks for planters like this is that the cement can cause the soil to dry out very quickly.
The corner where I built my DIY cinder block planter is one of the driest and hottest corners of our yard. So that's why I filled it with hardy drought-resistant cacti and succulents.
You could paint the cinder blocks on your planter to help hold the moisture in, and add a nice decorative touch. Or you could install an inexpensive drip irrigation system to help keep it consistently watered.
Whatever you decide to do, just make sure that you use the plants that will thrive in the spot where you build your planter.
I am thrilled with the way my DIY cinder block planter turned out, it's perfect in the corner of my succulent zen garden, and does a great job of hiding the ugly corner!
I get tons of compliments on it, and it will last for many years to come. Plus, since the plants are hardy perennials, I won't have to replant it every year!
Just remember, building a cinder block planter isn't difficult… but it does require heavy work. So make sure you are up for the manual labor, or recruit some muscles to help you (ehem, hubby?).
More DIY Garden Projects
Share your tips for building a DIY cinder block planter in the comments section below.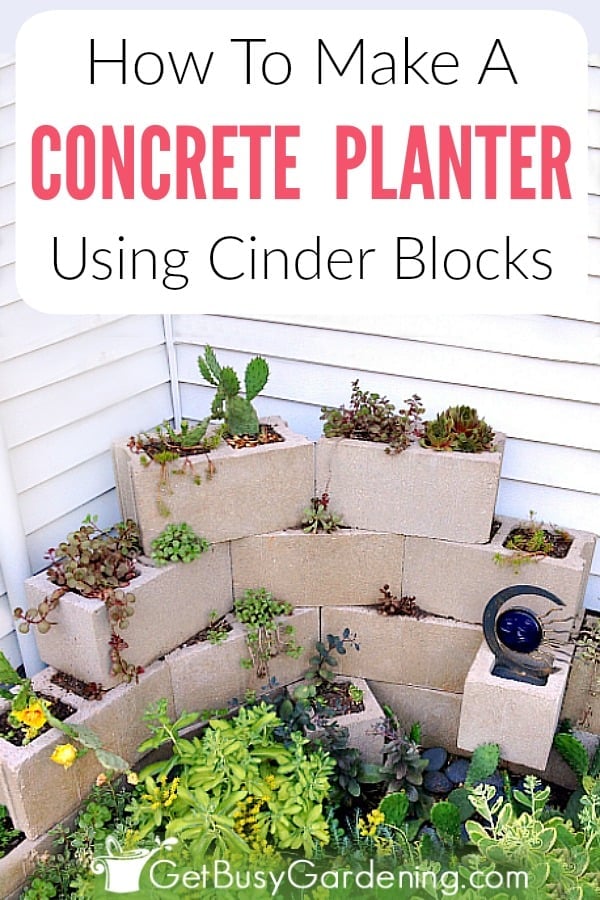 Print Out These Instructions