Training vines is important in order to ensure they grow and look their best. Some plants will naturally climb a trellis with minimal help from us. While others will need to be trained to grow vertically. In this post, you'll learn all about training climbing plants to grow on a trellis, with step-by-step instructions.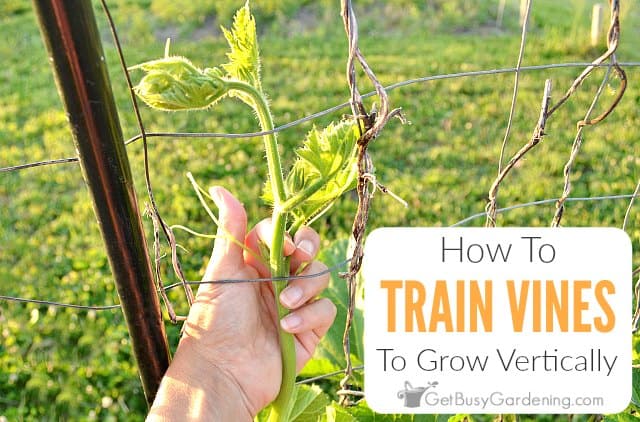 Climbing vines are by far the most popular type of plant used for vertical gardening. But if you're new to growing vertically, it's important to understand how to grow vines. Because you can't always just plant it and forget it.
Many types of vining plants aren't great climbers on their own. So, we have to train vines in order to show them where we want them to grow.
But before I jump into the steps for training climbing plants, it's important to first understand how vines grow…
How Do Vines Climb?
There are basically three different ways that vining plants climb; they can have tendrils, long branches, or twining stems. Here are the quick descriptions, along with a few examples of plants that fit into each category…
Tendrils – Vining plants like cucumbers, peas, passionflower, and squash send out shoots from the main stem, called tendrils, that will wrap around anything they touch. These vine plants aren't always great climbers on their own, and usually need to be trained.
Long branches – Plants with long, pliable branches, like tomatoes, raspberries, and climbing roses can be trained to grow vertically. These plants won't climb a trellis on their own, and must be trained and tied to attach them to a support.
Twining stems – Pole beans, morning glories, honeysuckle, and hops are examples of climbing vines with twining stems that will wind around vertical supports, rather than sending out tendrils. These types of vines are excellent climbers on their own, and don't usually require much training.
Why Do You Need To Train Climbing Plants?
Technically, it's not required to train climbing plants, they can grow just fine without our help. But there are many benefits to training vines, and it's an important part of proper vertical garden maintenance.
First, it's much healthier for the plant. Growing vine plants on a trellis keeps them off the ground, and helps to prevent disease and pest issues.
It also keeps them looking nicer, and prevents them from taking over your garden. Vining plants can be bullies if left to sprawl out on their own! Learn all of the benefits of vertical gardening here.
How To Train Vines To Grow Vertically
The steps you use to train climbing plants depends on how they grow. Some climbers will need to be tied to the support in order to stay in place. While others just need a little bit of training to guide them, and then they'll grab on by themselves.
Here are the detailed steps for how to train each of the three different types of vining plants….
Training Tendril Vines
Just because a vining plant has tendrils that will coil around anything they touch, doesn't mean they will climb a trellis on their own.
Gravity is fighting us, and many of these types of vine plants are heavy. They usually tend to prefer to sprawl along the ground rather than climbing up a vertical support (I guess they're lazy).
So, regular vine training is important for plants with tendrils in order to keep them growing vertically. Here are the steps for how to train a vine with tendrils…
Step 1: Carefully untangle the vine from any branches or plants it may have already grabbed onto
Step 2 (optional): If the trellis you're using has large enough openings, carefully weave or tuck the vine into the trellis
Step 4: Repeat the above steps as necessary for each individual vine on the plant
Step 5: Once the tendrils grab onto the trellis, you can remove the ties and reuse them higher up on the support as the vines grow longer
Once you have the vines tied on, the tendrils should start to grab onto the support by themselves in a matter of a few days. Continue to monitor the plant regularly, and tuck or tie any rogue vines to the trellis as they grow.
Long Branches
Climbing plants that have long, pliable branches will not grab onto a vertical support by themselves. They will need to remain tied to the support in order to stay in place. Here are the steps for training plants with long branches…
Step 1: Gently grasp the branch, and press it against the support
Step 3: Work your way up the branch, tying it every 1-2 feet until it's fully attached to the trellis
Step 4: Repeat all steps for each branch on the plant, leaving a few inches of space between branches
Pliable branches could also be weaved into the trellis, if possible. But be very careful not to break any of the tender stems in the process
Since the long, pliable branches won't grab onto the trellis themselves, you must continue to regularly train and tie them in order to keep them growing upright. Check the plant often, and tie up the new growth as necessary.
Training Twining Vines
Plants with twining stems are excellent climbers, and don't usually need much training. Most of the time, you'll simply need to tuck unruly vines into the trellis, and that's it.
But sometimes baby plants or new growth can't figure out where to grab on by themselves. So you have to give them some help, and show them where to grow. Here's the steps for training twining vines…
Step 1: Gently untangle the twining vine if it's already started to grow around something else
Step 2: Guide the vining stem to the trellis, and carefully wind it around a few times
Step 3 (optional): Temporarily tie the vining stems to the trellis using plant clips or twist ties (you can remove them once the stems begin to wind around the trellis), if necessary
Step 4: Repeat steps for each vine on the plant
In a day or two, the twining stems will wind around the support by themselves. As the plant matures, keep an eye on it to make sure it continues growing where you want it. Simply tuck unruly new growth back into the trellis as necessary.
Climbing Vine Maintenance Tips
Regularly training vines is easy once you get the hang of it. But there are a few important things to keep in mind so that you don't accidentally damage your plants…
Never force the vine while training it. Vines can break fairly easily if you force them too much, and some are more delicate than others.
It's easiest to train climbing plants when they are small, and just beginning to vine out.
It's difficult to untangle mature vines, and doing so can cause a lot of damage. So you'll likely need to tie them to the trellis in order to train them, rather than attempting to untangle them.
Always be sure to tie vines and branches very loosely to the trellis. You don't want the ties to strangle or cut into the vines as they grow thicker.
Training vines isn't just a one-and-done type of task. Climbing plants need regular training in order to ensure they continue to grow where they're supposed to, and to keep them looking their best. So keep an eye on them throughout the growing season, and continue to train and tie them as necessary.
If you want to learn even more about growing vertically, then you need my new book, Vertical Vegetables. It has everything you need to be a successful vertical gardener. Plus almost two dozen detailed step-by-step projects that you can build in your own garden!
Learn more about my new Vertical Vegetables book here.
Recommended Products
More About Vertical Gardening
Share your tips for training vines in the comments section below.