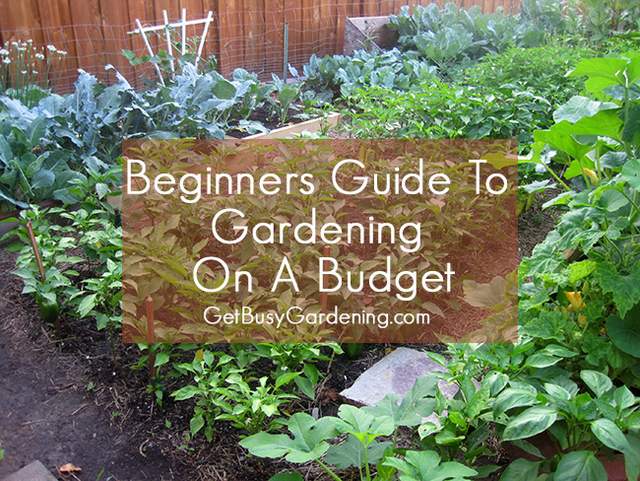 I've been getting lots of questions lately about how to get started gardening on a budget. I try to throw out money saving gardening tips as much as I can, but I haven't put together a list of ways to get started gardening on a budget.
Tips for Gardening on a Budget
Well the good news is that there are tons of ways to cut costs when you're just getting started gardening. Here's a list of a few of the ways I pinch pennies when gardening – these are easy for beginning gardeners.
1. Start Seeds
Everyone knows that it's cheaper to grow vegetables, annuals and perennials from seed. But buying all those seeds the first year can be expensive. So start small and build up a collection of seeds over time.
Talk to friends and neighbors and see if anyone has seeds to swap with you. Or you can go shopping together and split the cost of buying seeds by dividing up what you buy.
Don't buy expensive seed starting equipment either – most seeds can be started directly in the garden.
2. Shop Garage Sales
As a beginning gardener on a budget, garage sales are a your best friend. Don't buy gardening tools, supplies and equipment brand new. I visit garage sales a lot during the summer, and gardening stuff is one of the most common things I see.
Plus it's usually super cheap and sometimes even free. Pots, shovels, hand trowels, fencing, seed starting flats, garden art, fencing, stakes, trellises… you name it, I'm sure I've seen it at a garage sale at some point.
There are other ways to find gardening tools and supplies for cheap or even free. You just have to do some leg work to find them.
Talk to your friends and neighbors and see what tools they have that you can borrow. They might even have stuff that they'd be happy to give you for free.
Related Post: How To Safely Buy Used Canning Supplies & Equipment
3. Reduce, Reuse, Recycle
There are tons of ways to save money by using items you already have or can easily find for free, by reusing old junk in the garden – the possibilities are only limited by your imagination. Here are a few examples…
Use old fencing to create a compost bin
Repurpose lumber or bricks to use for edging your garden beds
Raid your recycling bin and use clear plastic food containers to start seeds
Make trellises out of scrap wood or metal
4. Save on Annual Flowers
Rather than buying expensive annual plants for your summer containers or borders, use houseplants as fillers. Spider plants, pothos plants and succulents are common houseplants that super easy to propagate and make lovely additions to the annual garden or fillers for containers.
In fact, I've stopped buying annual flowers for my summer containers. Instead, I move some of my houseplants outside during the summer to use as summer containers.
The houseplants love being outside and they make gorgeous summer container gardens. Just be sure to slowly acclimate houseplants to a full sun location or they could get sunburn.
Put them outside in the shade for a few days and then slowly move them into the sun over the course of a few weeks.
5. Start Small
Don't overwhelm yourself when you're first beginning to garden. Start small and grow what your family will eat.
Peas, pole beans, cucumbers and squash can all be grown vertically. Don't stress out if you have an over abundance of certain crops or if your family won't eat what you grew.
Just give the extras away to friends and family. Then take note for next year – grow what they like again and try a few new things too.
What are your favorite ways to garden on a budget?