Some plants are much easier to overwinter in their dormant state than keeping them growing through the winter. But, waking up dormant plants in the spring can be a challenge. Don't worry, in this post, I will show you exactly how to wake up dormant plants without killing them.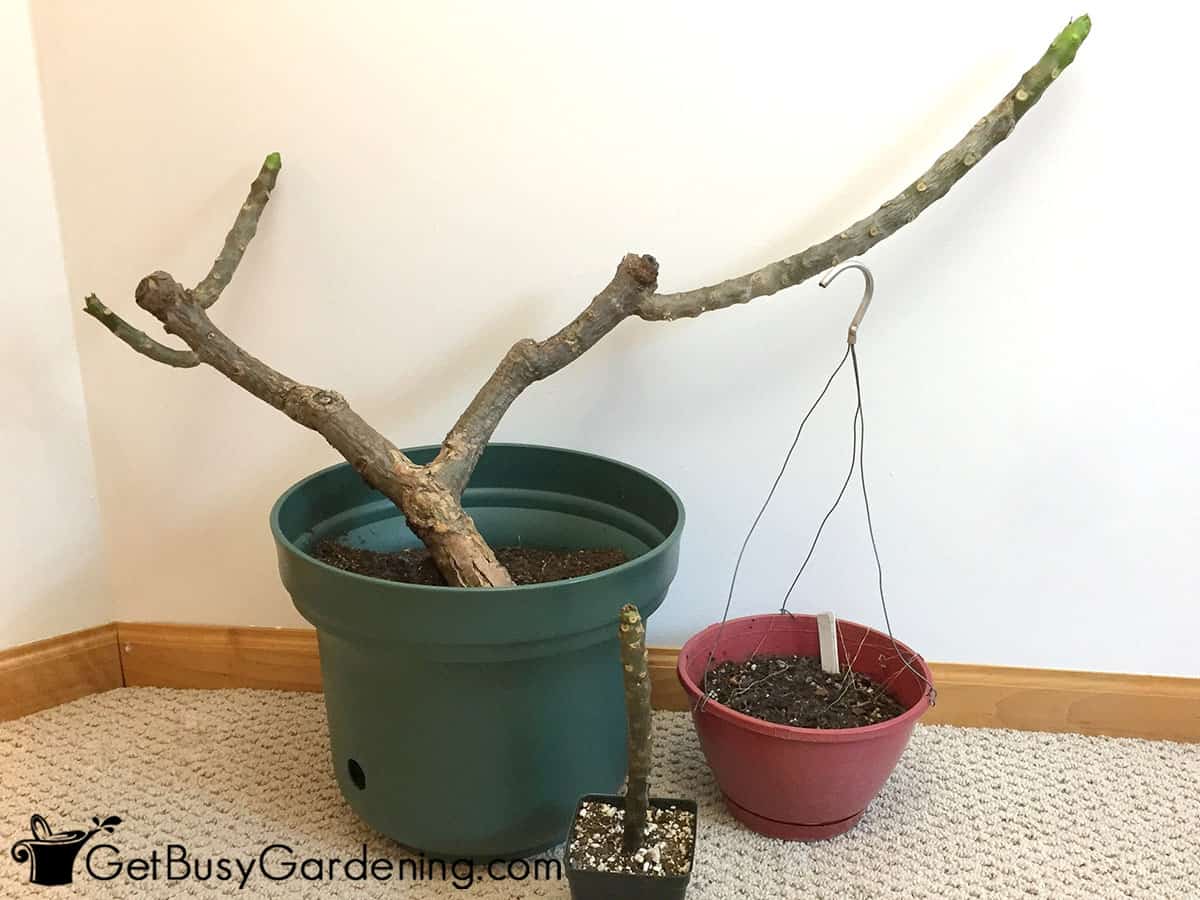 Our winters here in Minnesota are very long and very cold. I have a large collection of plants that I overwinter inside the house every year.
But keeping all of those plants thriving through the long winter months can be a lot of work.
Controlling houseplant pest infestations and watering, watering, watering during these long months can sometimes become quite the chore.
To make life a little easier for myself during the winter, there are a few types of tropical plants that I let go dormant right in their pots.
A few of my favorite plants that go dormant during the winter are my brugmansia, plumeria, peppers and tuberous begonias.
During their dormant phase, the plants require little care, which makes winter plant storage so much easier! And, since they drop all of their leaves, there's no need to worry about bugs or leggy leaf growth.
For most of the winter, I store my dormant plants in a dark room and water them sparingly (if at all). Then in the spring I drag them out of the basement and start waking them up (break their dormancy).
How To Bring A Plant Out Of Dormancy
At some point during February or March (whenever I think of it), I will bring the plants out of the dark room and into a room that gets filtered sunlight.
During those few months, it's not warm enough to move the plants outside, but allowing them to see some sunlight is their first cue to start waking up.
When you force plants to go dormant over the winter, it's best to wake them up slowly in the spring. If you try to force them to wake up too quickly, it could do them more harm than good… and could even be fatal to the plant.
Tips For Bringing Plants Out Of Winter Dormancy
It's best not to overwater a plant during it's dormancy period, this might cause it to rot. Give it a good drink of water when it's time to start waking it up, but make sure the excess water drains from the pot.
Once the plant starts to put on new growth, begin watering as you normally would. This is also a good time to give it a light dose of fertilizer, like compost tea or an organic general purpose fertilizer.
Don't put a dormant plant directly into full sun, this may burn the stem and leaf buds. When you first move the plant outside, place it in a spot where it will initially be protected from full sun, wind and rain. Then gradually move it to it's full sun location over a few weeks, giving it plenty of time to get used to the intense sun.
Once you move the plant outside, if the temperature will get below 45F, move the plant back into the house to protect it from getting too cold.
Winter growth will be weak and may burn off once you have moved the plant back to it's full sun location. This is normal. You may choose to prune of the weak growth from the plant, but it's probably not necessary.
If your plant needs to be repotted, this is the perfect time, and repotting will also help to break dormancy in plants. Most plants will grow just fine in a general purpose potting soil, but you can look up the best type of soil for the specific plant you're growing.
Don't feel bad if a dormant plant never wakes up! It's frustrating but it happens to the best of us.
It's a bit of work to overwinter dormant plants and wake them up in the spring, but it's worth it. I get to enjoy my favorite plants every summer, and it's much cheaper than buying the same plants every spring.
More Posts About Overwintering Plants
How do you wake up dormant plants in the spring? Share your tips in the comments below.