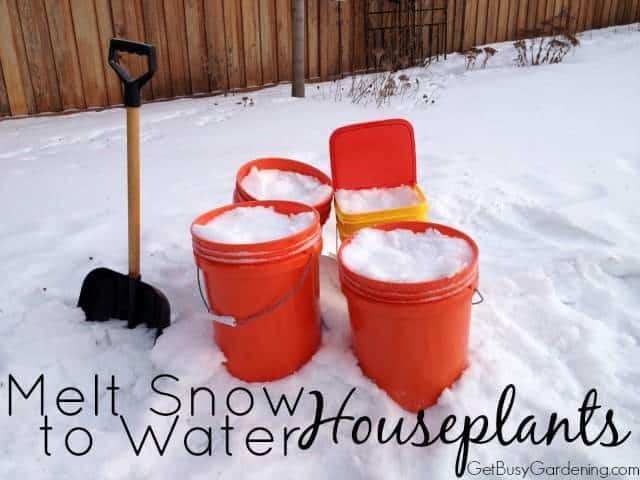 Rainwater is the best type of water to use on houseplants. In the summer, I use the water from my rain barrels and my houseplants love it. Unfortunately, during the winter the water in my rain barrels would be frozen solid if I left them outside.
Using Snow To Water Houseplants
So, as an alternative to using rainwater, I melt snow during the winter to use for watering my houseplants – which is just as good as using rainwater. Sounds like a brilliant idea, right? Well, it is but (there's always a "but", right)… not all snow is created equal. Keep reading to see what I mean.

How To Melt Snow To Water Houseplants
Supplies Needed:
Large buckets (I recommend using 5 gallon sized buckets)
Shovel
Watering cans (or other containers to store the water, I use milk jugs)
First, grab your buckets and a shovel and head outside. Make sure you collect the cleanest snow you can, I go out into my backyard where the snow is pretty much undisturbed (steer clear of rabbit and other animal turds). Also, don't collect snow that is located near the street, a driveway or sidewalk where salt or ice melt was used. These chemicals will harm your houseplants.
Related Post: 10 Garden-Safe Snow Removal Tips To Prevent Salt Damage To Plants
As you fill the buckets, pack the snow in as tightly as you can. Once the buckets are full, bring them into the house to let the snow melt. It takes longer than you would expect for the snow to melt, so plan ahead. For a 5 gallon bucket of snow, it takes about two days to melt completely.
Related Post: How To Keep Indoor Plants Alive In Winter
After the snow has melted, it's time to transfer the water into your watering can or milk jugs. This part is a little tricky to do by yourself, so you might need someone to help until you get the hang of it. Make sure to lay down some old towels, or do this in the bathtub juuuust in case you end up spilling water all over the floor (speaking from experience here… ehem). As you pour the melted snow into the watering cans, run the water through a strainer to remove any debris.
How Much Water Do You Get From Melting Snow?
Weeeeeellll, that depends. Remember earlier when I said that not all snow is created equal? Now I get to explain what I mean… When I fill my 5 gallon buckets with light, fluffy snow I get less water than I do when I fill them with heavy, wet snow. That makes sense right, since heavy snow holds more water. So, if you want to get the maximum amount of water for your efforts, then collect snow to water houseplants after a heavy snowfall.
To give you an idea of yield… with lighter snow, these three 5 gallon buckets of snow yielded almost six gallons of water, not too bad. After a heavy, slushy snowfall these same three buckets yielded eleven and a half gallons of water. That's much better!
Storing Melted Snow To Water Houseplants
Before you can use the melted snow to water your houseplants, it must be warmed to room temperature first. Icy water can be harmful to houseplants. As I mentioned before, I store the water I get from melting snow in milk jugs, but you can use any type of watering can you would use to store rainwater. I try to keep my watering jugs full at all times. So, after I water my houseplants, I collect more snow to fill the jugs again. That way, I always have room temperature water for my houseplants on hand when I need it.
Related Post: Houseplants Don't Like Drafts
Melting snow is more work than simply using tap water. But, it's really not that much more work –  and it's SO much better for the plants! It takes me less than ten minutes to collect the snow, and then another 5-10 minutes to pour it into my watering jugs. Although, this is another one of those things I do where I'm pretty sure my neighbors are rolling their eyes and laughing at me. But it's worth it; I have extremely healthy houseplants!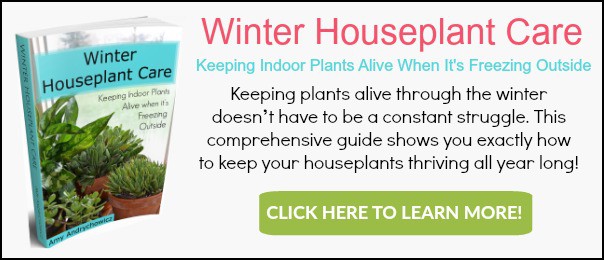 Have you ever tried to collect and melt snow to water your houseplants? Tell me about your experiences in the comments below.
Pin It!