Used canning supplies are a great option for budgetwise gardeners. But sometimes they can cost more than buying new, or be downright dangerous to use! So in this post, I'll give you tons of tips for how to safely buy used canning equipment and supplies.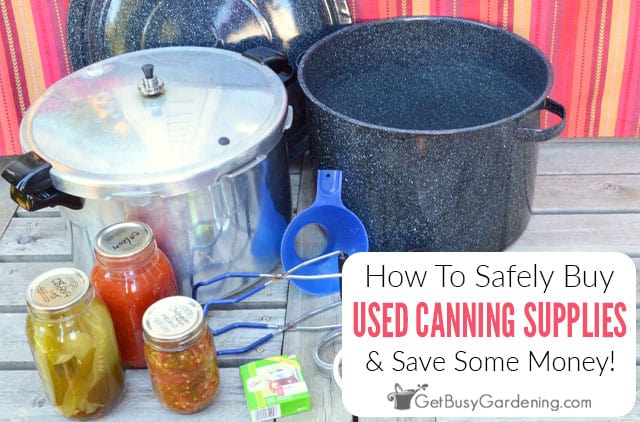 Canning is a wonderful way to preserve your homegrown food… but buying all the stuff you need to get started can be expensive!
Buying used canning supplies and equipment is a great option, and can save you tons of money.
But it can also be dangerous (and sometimes MORE expensive) than getting it brand new.
So below I will talk about what to look for when shopping for used canning supplies, what is safe and what is not, and how to determine what to buy brand new instead.
Here's what you'll find in this guide for used canning equipment…
Are Used Canning Supplies Really Cheaper?
There are several things to consider when looking at used canning equipment. First of all, make sure to do your research.
You should know how much it would cost to purchase each item brand new so that you can compare the prices.
I know it sounds crazy, but sometimes the used stuff is actually more expensive than buying it new (that's nuts!).
The second thing you should keep in mind is the safety of used canning supplies (especially the really old stuff).
Is Used Home Canning Equipment Safe?
The safety of used canning equipment depends on a few things. 1. how old is it, and 2. what condition is it in?
The equipment and supplies they make today are different than they were when our grandmas were canning the produce from their gardens.
Food canning safety standards have changed over the years. So the really old stuff is not safe to use anymore.
Also, make sure that the items that you get are in excellent condition. That way, you can feel good that you got a great (and safe!) deal.
How To Safely Buy Used Canning Equipment & Supplies
You can frequently find used canning supplies and equipment at yard sales, thrift stores, and online marketplaces. Below are some things to consider when you're shopping for bargains.
Used Canning Jars
Finding a killer deal on used canning jars is a huge win! But they aren't very expensive to buy brand new, so always price them out first.
Also, be sure to inspect each one of them carefully for nicks, deformities, chips, or cracks before purchasing them.
You should never use damaged jars for canning food because they may not seal. Or worse, they could break during processing, wasting all your time and food.
Also, several types of older style jars can be dangerous to use. The glass on super old ones can be brittle, and may not survive in modern pressure canners.
It's not worth the risk, so skip the vintage mason jars (unless you're going to use them for crafting or dry storage).
Reuse Of Canning Lids
First of all, canning jar lids are never reusable After they have been used once, you need to toss them into the recycling bin.
I would not recommend buying old ones that have never been used either. They have changed over the years, plus the sealant on old lids may have deteriorated over time.
Using old canning lids isn't something you want to mess with, because they might not form a good seal, which will end up ruining all of your hard work.
New lids are very cheap to buy, and totally worth the cost to ensure your food doesn't spoil (or worse, make you sick!).
Just be sure to get the right size for the jars you have. They come in either wide mouth lids or the standard regular mouth.
Old Jar Bands
On the other hand, some used canning supplies, like modern jar bands (aka rings), can be used over and over again, as long as they're in good condition.
Metal rings tend to rust over time, so make sure you inspect used ones before you buy them. Small rusty spots on the outside edge won't be an issue.
But those with rust on the threads could interfere with the seal, or may be difficult to remove later on. So, any rings with rust on the threads should be tossed into the recycling bin.
Brand new jar rings are inexpensive, and usually come with the lids too (bonus!). Just make sure you buy the correct ones. There are two sizes: wide mouth, or regular mouth.
Used Pressure Canner
A pressure canner will be your biggest single investment. So it's very smart to find a used one if you can. But an old one could also be very dangerous.
Since they build up a lot of pressure when in use, a defective or damaged canner could literally explode! Yikes!
So, before you decide to purchase a used one, inspect it very carefully. If you find any imperfections, dents, warping, or other damage, then do not buy it.
Also, make sure the lid fits perfectly, that it goes on without a struggle, and it easily locks into place. If you have to force the lid to get it on, or to lock it, then it's probably damaged or warped.
It's a huge bonus if it comes with the original manual, and the bottom rack. (If the rack isn't included, buying a new one wouldn't cost very much, so that's not a deal breaker.)
If you do find a used one, I recommend getting a new sealing ring for the lid (make sure to buy the recommended one for your exact brand).
At a minimum, you should inspect the sealing ring before using the canner to ensure that it's in perfect condition, and there aren't any cracks, rips, or other damage.
Old Canning Pots
When it comes to shopping for used canning equipment, you don't have to be as careful when choosing a water bath canner.
If there are minor dents or dings on the pot, it's still safe to use. Heck, the lid doesn't even need to fit perfectly, because there's no seal.
Look for one that comes with a rack, or has one on the bottom. You don't need the rack, but it's a huge bonus if you're choosing between a few used ones.
Of course, if it is missing the rack, you can always get a new one for it, just make sure you get the right size.
Used Canning Tools & Utensils
Canning utensils can be reused indefinitely without any danger, but it is a good idea to make sure they are in good condition.
While you're out thrifting, I recommend getting a canning funnel, a jar lifter, a kitchen food scale, a lid and band wand, and a large ladle at minimum. They aren't all necessary, but very nice to have.
Old Canning Books
Vintage canning books are probably a dime a dozen at thrift stores and yard sales. But I would highly recommend spending the extra money on new ones instead.
I'm sure there are probably a ton of great recipes in the old canning books that would still work just fine today. But canning and food safety standards have changed a lot over the past few decades.
Following up-to-date canning instructions from a reliable source is extremely important for food safety.
If you only get one book, I recommend buying the latest version of the Ball Canning Blue Guide To Preserving.
Not only does it have tons of delicious canning recipes, it also has the most updated safety instructions, and tips for canning all kinds of food.
Buying used canning supplies is a fantastic way to save a ton of money, just make sure you are smart about it! Sometimes it can be more expensive than brand new. Shop around before purchasing any used canning equipment to ensure you're getting the best (and safest) deal.
Related Products
More Food Canning Posts
What safety tips would you give someone who is shopping for used canning equipment?