Even if they aren't growing outside, your houseplants experience the changing of seasons too. Houseplants grow differently in the winter than they do during the summer, and fall can be a difficult time for them. Follow my fall houseplant care tips so yours won't suffer through the transition.
Now that it's getting colder outside, it's time to start focusing on houseplants and indoor gardening.

In the fall, as the days start to get shorter and the furnace goes on, our houseplants start to change their growing habits to get ready for winter.
It can be a difficult transition for some plants, so let's give them some extra TLC this fall, shall we?
Fall Houseplant Watering Tips
Most houseplants don't need as much water in the winter as they do in the summer, so fall is the time to start cutting back.
Help ease the transition for your houseplants by slowing down on the amount of water you give them in the fall.
This will be a nice trigger for them that it's ok to begin their rest period and hibernate until spring.
Control Houseplant Pests
During the fall, you will also want to pay close attention to any plants that were outside for the summer and make sure there are no houseplant pest infestations showing up. Even if the plant was never outside, it can still have problems with a few different types of houseplant bugs.
If you find any bugs, start treating the houseplant immediately. I recommend investing in some organic neem oil, horticultural spray oil, or an organic insecticidal soap to use on your houseplants.
You can buy a ready-made organic insecticidal soap spray, or make your own (my recipe is 1 tsp organic liquid soap to 1 liter of water). Learn how to debug houseplants before bringing them indoors in the fall.
Repotting Your Houseplants
The best time to repot a houseplant is in the spring. But, if the soil on one of your houseplants is constantly drying out and your plant is suffering, this is a sign that the plant is root bound and needs to be repotted.
If that's the case, then potting the plant up into a slightly larger container in the fall will help it survive through the long winter months.
Related Post: Tips For Repotting Houseplants
Houseplant Fertilizing
If you fertilize your houseplants during the summer, try to wean them off of the fertilizer during the late summer and fall months.
Some houseplants are more sensitive than others, so slowly weakening the dose of fertilizer you give them will help reduce the shock of seasonal change. Don't fertilize houseplants during the winter.
If you struggle to keep your houseplants thriving through the winter, check out my Winter Houseplant Care eBook. It's got everything you need to not only keep your indoor plants alive, but keep them thriving all winter long!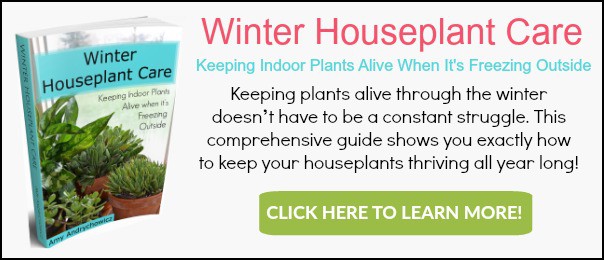 Indoor gardening takes some practice and work to be successful. Knowledge is key. The more you know about your houseplants needs, the happier you both will be.
More Houseplant Care Posts
How do you ease the seasonal transition for your houseplant during the fall? Leave a comment below and share your ideas.