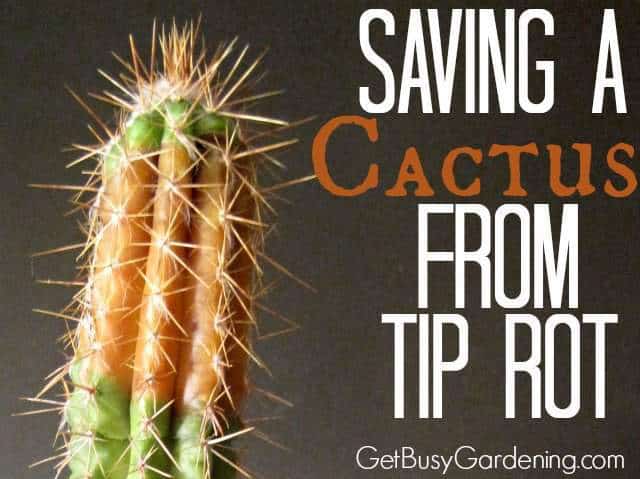 Shortly after bringing this cactus in for the winter, I noticed something looked very wrong. The top appeared to be turning brown. At first I thought it was just a reflection or shadow. But upon closer inspection, my fear was confirmed…
Yep, this cactus has tip rot – and it's BAD. Dang it! This cactus has had tip rot in the past, and I should have paid closer attention to it! No time for kicking myself, I had to take action immediately.

How To Save a Plant From Tip Rot
Once a plant has tip rot, all the rot must be cut off in order the save the plant. If the rot is not completely removed, it will continue to spread and eventually kill the plant. And tip rot spreads very quickly.
Tip rot like this will probably need to be removed in sections. Here you can see that the center of the healthy looking portion of the plant still has some rot. So I continue to cut off layers of the cactus until I see the entire section of cactus is healthy, and there are no more signs of rot. You can use a sharp knife or clippers to remove the rot. I prefer to use a knife because clippers can crush the stem.
It's extremely important that the knife or clippers are clean and sterile before cutting. I also wash my knife with soap and water, and then dry it after each cut You could also dip it in rubbing alcohol to sterilize it. I don't know what caused this tip rot – but if it's a disease or fungus, I don't want to help it spread. Cleaning the knife or clippers between each cut will help with prevention.
Related Post: How To Control Houseplant Pests
Unfortunately, this cactus was pretty far gone by the time I noticed the rot. I had to cut off over half of the cactus to remove all of the rot. As difficult as it was for me to remove a large section of this cactus, I know my plant would be dead in a matter of weeks if I left behind any rot.
Related Post: Keeping Houseplants Happy During The Winter
If you have to perform this type of surgery on one of your beloved plants, keep an eye on it afterward to make sure it doesn't continue to rot. After a couple of days, the wound should callus over, and eventually sent out new growth near the cut.
If you spot more rot, cut another small section follow the same steps above to remove the rot. Like I said, I was super sad to have to cut this cactus in half, but heck, in the end I think it added more character to the plant.
Cacti aren't the only plants that get tip rot. I've had to remove tip rot from my plumeria and angel wing begonia plants in the past too. If you notice the tip of any plant is turning black or brown, and it's mushy… then it's probably tip rot.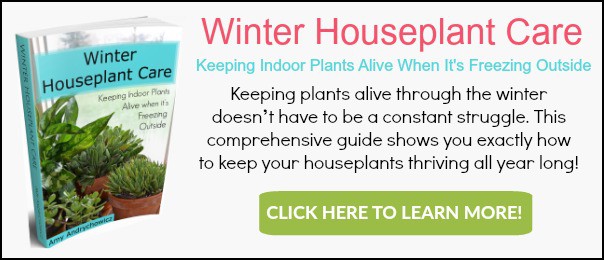 More Posts About Growing Cacti and Succulents
Click here to read more about the basics of how to care for a houseplant… Houseplant Care
Have you ever had to deal with tip rot on one of your plants before? Tell me about it in the comments below.
Pin It!