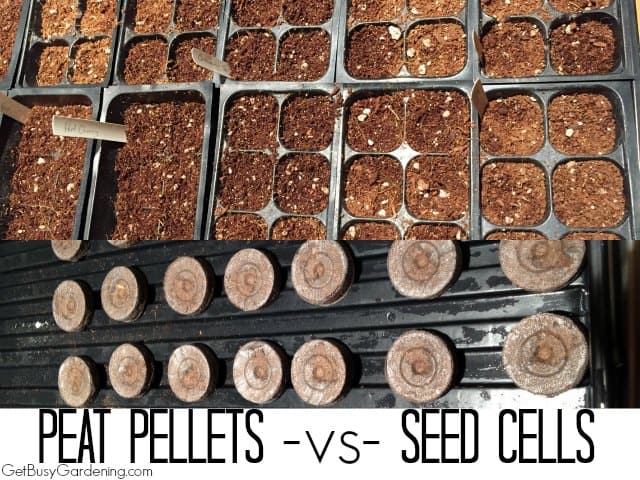 Over the past few years, seed starting peat pellets have become very popular. I've used these peat pellets in the past with mixed results. Normally I prefer to use traditional seed starting flats with plastic cells and trays. Some people really love the seed pellets, and there are definitely advantages of using them. So I thought it would be fun to do a side-by-side comparison of using seed starting peat pellets vs using seed starting cells and trays for growing seeds.
Seed Starting Peat Pellets -vs- Cells And Trays
When I decided to try using the seed starting peat pellets, the first thing that jumped out at me right away was the cost. These are not as economical when compared to a large bag of seed starting dirt and reusable plastic flats (although if you're just starting out, it will be more expensive to buy the seed starting flats – but then you can reuse them year after year). But you really have to weigh all the pros and cons, not just the cost… and one of the biggest pros for peat pellets is convenience. Ok, I'm getting a bit ahead of myself here, so let's do a side-by-side comparison of the pros and cons for each of these two seed starting methods.
Seed Starting Peat Pellets
What I like (pros):
What I don't like (cons):
Seed Starting Cells And Trays
What I like (pros):
What I don't like (cons):
There are two main things that keep me from switching to using the peat pellets for all of my seed starting. One is cost, and the other is the mesh outside that won't decompose. Neither of these are huge deal breakers for me though (the mesh outside is actually pretty easy to peel it off before you plant the seedlings into the garden), and I will continue to use a mix of both methods (seed starting peat pellets are a must for seedlings that hate to be transplanted). But, I do prefer the cells and trays over the peat pellets.
If you're trying to decide whether peat pellets are right for you, or if you should use the traditional plastic cells and trays, I say try both and see which method you like the best! I really love how easy it is to transplant the seedlings when I use the peat pellets, and if you don't start a ton of seeds, then the added cost won't be a huge issue. Both methods are great, you just have to decide what's best for you.
More Help For Growing Seeds: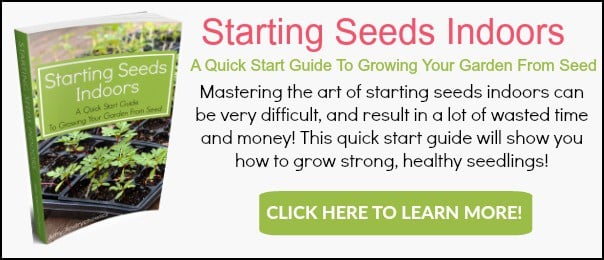 For more information about how to start seeds inside, and tons of tips for starting seeds indoors, click here… Sowing Seeds
What about you – do you love the convenience of the seed starting peat pellets, or are you a penny pincher like me? Leave a comment below and tell me how you start your seeds.