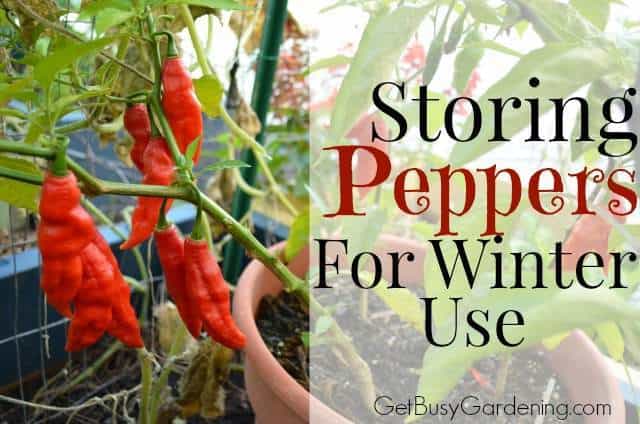 Have you ever been overwhelmed by an overabundance of peppers from the vegetable garden? It's a great problem to have, but sometimes it can be hard to figure out what to do with all of those peppers.
I love growing peppers, and plant a ton of different varieties every summer. It's wonderful to have garden fresh peppers on hand at all times, but when you're harvesting more than you can possibly use (Ummm… 15 gallons?), it's time to find ways to preserve and store peppers for winter use.
Storing Peppers For Winter Use
There are lots of ways to store peppers for winter use, here are my favorites…
Canning Peppers – It's not hard to can peppers (you can use any type of pepper for canning), and there are a few ways you can do it. I prefer canning peppers in water, but peppers can also be pickled.
If you want to try canning peppers in water, you will need a pressure canner. Don't be intimidated, a pressure canner isn't as hard to use as it sounds.
If you've never tried canning before, or you don't want to buy a pressure canner, then try pickling peppers. You don't need any special equipment for canning pickled peppers, and the process is similar to canning pickles.
Freezing Peppers – Freezing is another way to preserve all types of peppers, and it's super easy. Freezing peppers takes less time than canning, but make sure you have enough room in the freezer for long term storage.
To freeze peppers for winter use, simply cut the peppers in half (I cut larger ones in fourths) and remove the stems and seeds. Put the peppers on a cookie sheet so they aren't touching each other, then flash freeze them for about 15-30 minutes.
Flash freezing them will keep the peppers from sticking together. Frozen peppers can be stored in freezer bags or any other freezer safe container. Don't forget to label your containers before putting them into the freezer.
Frozen peppers are great to have around to toss into recipes throughout the winter, I use them for everything.
Drying Peppers – Peppers of all kinds can be dried and stored for winter use. The nice part about drying peppers is that you don't need a lot of storage or freezer space. Peppers can be dried in a dehydrator, or in the oven on the lowest setting.
The thicker the pepper, the longer it will take to dry. You can cut up peppers and remove the seeds before drying them, or you can dry peppers whole. Dried peppers can be used in tons of recipes.
My favorite use for dried hot peppers is making crushed red pepper. It's easy to make your own crushed red pepper, and it's just like the stuff they have at your favorite Italian restaurant.
Related Post: How To Grow Peppers From Seed
Storing peppers for winter use can be a bit time consuming, but it's totally worth it to be able to enjoy garden fresh peppers all winter long.
More Food Preservation Posts
What's your favorite way to store garden peppers for winter use?
Pin It!