Preserving peppers is a great way to enjoy your summer bounty all year round. In this post, I'll show you how to store peppers for both short and long term use.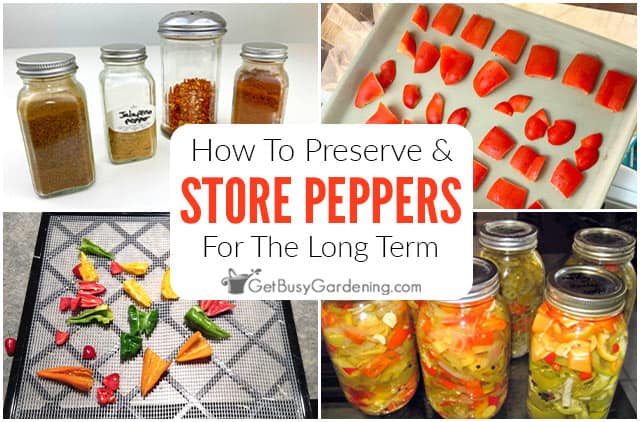 Being overwhelmed by an over abundance of fresh peppers from the vegetable garden is a great problem to have.
But when you end up with more than you can possibly eat before they go bad (ummm… 15 gallons!?), it's time to find ways to preserve and store peppers for later use.
Below I will guide you through all of my favorite methods for keeping peppers longer, and the benefits of each.
Here's what you'll find in this guide for preserving peppers…
How To Store Peppers In The Refrigerator
Storing peppers in the fridge is a great way to save them for the short term. To keep them fresh as long as possible, put them in your crisper drawer.
Most types will last in the refrigerator for 1-2 weeks. I find that smaller ones start to shrivel several days before the larger ones. Also keep in mind that green ones will last longer than ripe ones (e.g.: red, yellow, or orange).
If you won't be able to use them up within a few weeks, then you'll need to find a way to preserve peppers for the long term.
Related Post: How To Grow Peppers: The Ultimate Guide
How To Preserve & Store Peppers Longer
If you came looking for this, I'm sure you have way more than you can possibly use right away. Fortunately, there are lots of ways to store peppers for winter use. Here are my favorite methods…
Canning Peppers
It's not hard to can peppers, and there are a few ways you can do it. I prefer preserving them in water, but they can also be pickled.
If you want to try canning them in water, you will need a pressure canner. Don't be intimidated, they aren't as hard to use as it sounds.
If you don't have a pressure canner, then try pickling them. You don't need any special equipment for this method, and the process is similar to canning regular pickles.
How To Freeze Peppers
Freezing is another way to preserve all types of peppers, and it's super easy. They're great to have around to toss into recipes throughout the winter – I use them for everything.
This method is one of the fastest ways to preserve any variety, but make sure you have enough room for long term storage.
You can simply cut them in half, in fourths, or in strips, and remove the stem and seeds. Put the pieces on a cookie sheet so they aren't touching, then flash freeze for about 15-30 minutes. This will keep them from sticking together.
Once solid, you can store peppers in a baggie, or any other freezer safe container. Don't forget to label your storage container so you know what they are later on.
How To Dry Peppers
The nice part about drying peppers is that you don't need to worry about taking up precious freezer space. Plus, you can do this with any variety that you have.
Larger ones need to be cut up first, but you can leave smaller ones whole if you want to. Then simply pop them into your dehydrator, or put them into the oven on the lowest setting.
It can take several hours for them to dry completely. Keep in mind that the thicker the pepper, the longer this will take.
Related Post: How To Grow Peppers From Seed
Fill Your Spice Rack
My favorite way to use up hot peppers is to make crushed red pepper flakes. It's easy to do, and it's just like the stuff they have at your favorite Italian restaurant.
I also like to grind other varieties (both sweet and hot) into powder to fill up my spice jars. You can easily make your own chili powder, or any other type of spice blend that you want.
How Long Do Peppers Last In Storage?
How long peppers will last in storage depends on the method you used to preserve them. Canned ones will be good for a couple of years. But it's best to replace your stock of dried or frozen ones annually.
FAQs About Storing Peppers
Storing peppers is easy, and there are lots of options. But you might still have some questions, so below are answers to the ones I frequently get asked. If you can't find an answer here, ask your question in the comments below.
How long will peppers last unrefrigerated?
Unrefrigerated peppers can last up to one week on the counter before they start to shrivel. However, smaller ones don't last that long.
So, for the best results, you should keep them in the refrigerator instead of leaving them out on the counter.
What is the best way to store peppers?
This depends on how you plan to use them, and how long you want to store peppers. They will last longer when canned, but this is also the most labor intensive. Using a few of the different methods above will give you the most options.
Preserving peppers is easy, and there are so many great ways to store them. Don't be afraid to try something new each time. It's a perfect way to bring a bit of your summer garden to your kitchen all year long.
Related Products
More Food Preservation Posts
Share you tips for how to store peppers in the comments section below!